Jump to Recipe
These little hand pies are one of my favorite Summer treats! Everything about gluten free cherry pie is appealing to me, from the flaky pie dough to the sweet filling.
Is it just me or do hand pies (no matter what kind) feel like Summer? This is one of those things I had never attempted to make from scratch, but I was SO ready for the challenge.
This gluten free cherry pie recipe is easier to make than you would think, but it did take me a couple of attempts to get it just right. There are a few tips and tricks I picked up, especially as it relates to achieving that perfect flaky pie dough and assembling these little hand pies.
And of course, there's the filling. It will take you just a few minutes and is just about perfect. So without further ado, let's just dive right into it!
Why You'll Love These Gluten Free Cherry Pies...
Look at how cute they are! This is the perfect single-serve dessert to take to a summer cookout or party.
Once you get the technique down, you can experiment with different fruit fillings. I think berries would work great here!
The dough is so buttery and flaky. When you combine that with the sweet cherry filling, it's just so dreamy.
What You'll Need...
How To Make Cherry Hand Pies...
To make my gluten cherry pie, we'll start with the dough. You know I am all about making things easy, especially because I know gluten free and allergy friendly baking can be intimidating or overwhelming at first. Enter: store bought pie crust mix!
This post is totally not sponsored - I just love the stuff! I used Bob's Red Mill GF Pie Crust Mix to make my blackberry pie and also use it for my gluten free pop tarts... so I knew it would work great here, too. All you need to do is cut butter into the mix to form a crumbly dough, then add ice cold water, a bit at a time, until the dough JUST comes together.
Split the dough in half, flatten to a round disc, and wrap each one in plastic wrap. Chill in the refrigerator for at least 1 hour.
For the filling, you will just combine all 4 ingredients in a medium saucepan. Heat over medium-high heat until it starts to thicken and bubble just a little bit. Transfer it into a bowl and set it aside to cool.
How To Assemble The Mini Pies...
Assembling these hand pies might seem tricky at first, but once you get the hang of it, it's actually kind of fun! We'll start by rolling each disc of dough out to ¼ inch thickness. Use a round cookie cutter to cut out rounds and transfer each one to a lined baking sheet.
Scoop a little bit of filling onto the centers of each one. Top with a second circle of dough -- remember to cut slits in the center of each one -- and use your fingers to gently pinch all around the edges to seal the pies shut. Bake on 375ºF for about 28 minutes.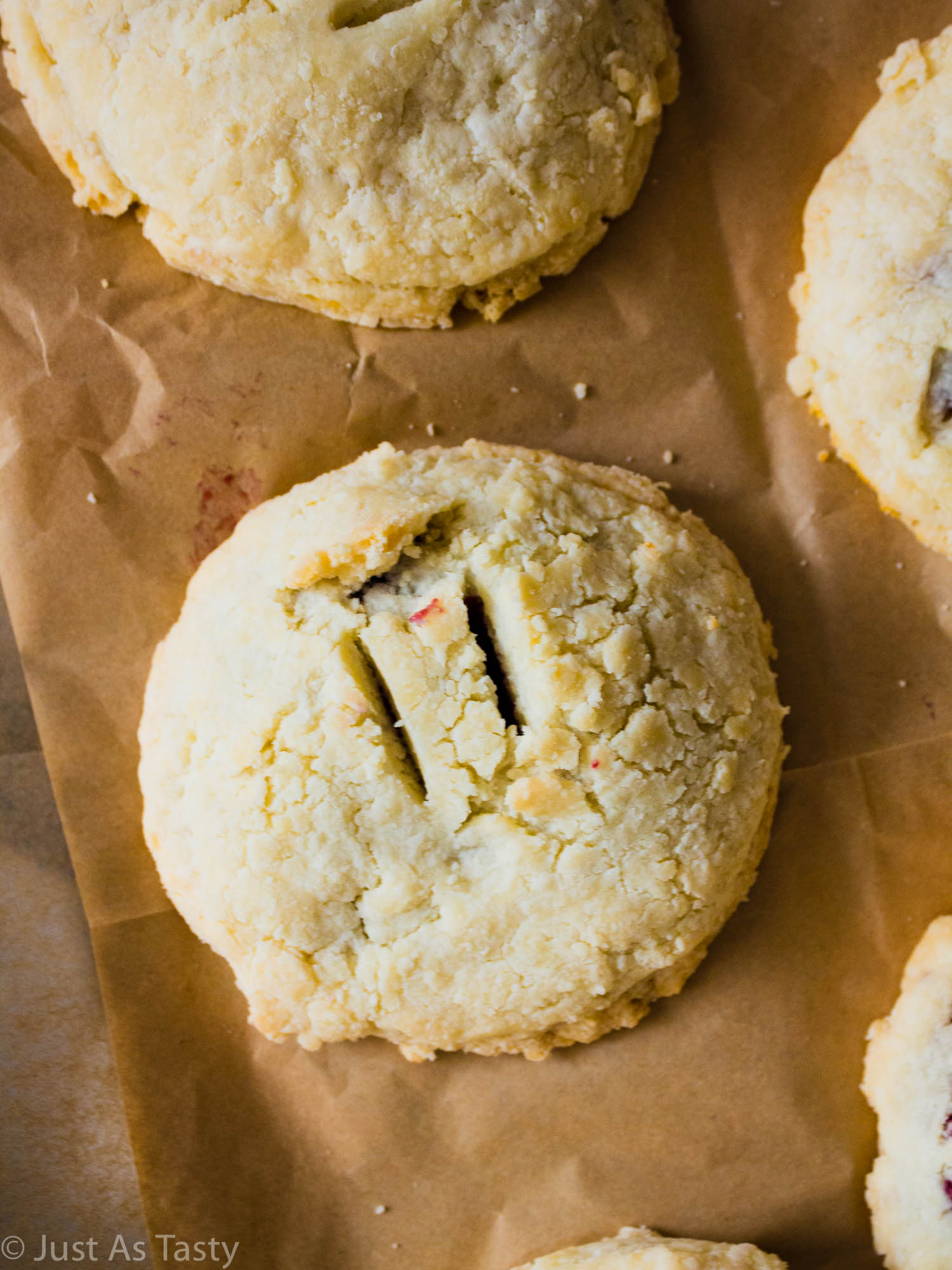 Tips For Making Cherry Hand Pies...
It's very important that both the butter and water that you are using for the dough are COLD. To ensure that your dough is nice and flaky, cut the butter up into small cubes before incorporating.
I recommend adding the water to the dough one tablespoon at a time, just to ensure you're not going overboard. You want the dough to JUST start to come together when pressed with your hands, but you don't need it to be too wet.
If you are having trouble keeping the dough together while rolling, it may be because your dough is too dry. Dip your fingertips in ice cold water and gently knead the dough to add a bit of moisture back in.
I recommend using a 3.5 inch round cookie cutter (anything slightly bigger could work too, but I think smaller would be difficult to fill). I use the round one from this set.
When filling the hand pies, make sure to leave enough of a border around the edges to seal the two pieces of dough shut. I typically only put in 2 tablespoons of filling per pie.
To fully seal the pies, dab some cold water all around the edges of the bottom piece of dough before placing the top piece.
For obvious reasons, I skipped the egg wash (which is why my pies are light in color). If you are not allergic to eggs, feel free to brush some egg wash on top of your pies to give it a nice golden color.
Gluten Free Cherry Pie Ingredient Substitutions...
I have never tested this recipe with fresh cherries, only frozen. I don't see why it wouldn't work, as long as you remove the pits and pat them dry after rinsing!
To make these hand pies vegan, simply use your favorite non-dairy butter in the pie dough.
Cornstarch can be used as a 1:1 substitute for arrowroot. They both achieve the same thing here: thickening the filling.
Did you make my gluten free hand pies? Leave me a comment below or tag me on Instagram @justastastyblog and #justastastyblog!
More Gluten Free Pie Recipes...
Cherry Hand Pies - Gluten Free, Eggless
Print Recipe
These mini cherry pies are so fun for Summer!
Ingredients
For the crust:
1

package

Bob's Red Mill Gluten Free Pie Crust Mix

1

cup (226g)

unsalted butter

cold and cut into cubes

6-8

tablespoons

ice cold water
For the filling:
2

cups (226g)

frozen dark sweet cherries

¼

cup (25g)

granulated sugar

2

tablespoons

arrowroot

1

tablespoon

lemon juice
Instructions
To make the crust, empty the pie crust mix into a large bowl. Using a pastry blender or two knives, cut the cold butter into the mix until crumbly. Add ice cold water, one tablespoon at a time, and mix until the dough just comes together.

Split the dough in half and form each half into a round disc. Wrap tightly in plastic wrap and chill in the refrigerator for at least 1 hour.

To make the filling, combine the frozen cherries, sugar, arrowroot, and lemon juice in a medium saucepan. Heat over medium-high heat, stirring constantly, until mixture thickens and starts to bubble, about 5-6 minutes. Remove from heat and transfer to a heat-proof bowl to cool.

Preheat the oven to 375°F and line 2 baking sheets with parchment paper. Remove the dough from the refrigerator and, working with one disc at a time, roll the dough out to about ¼ inch thickness. If the dough is still crumbly, sprinkle ice cold water onto the surface and work it into the dough until it comes together.

Use a round cookie cutter to cut out circles of dough. Gather the scraps of dough and re-roll as necessary. Arrange half of the circles on the prepared baking sheet. Scoop 2 tablespoons of cherry filling onto the centers of each round.

The remaining circles will be the top crust. Use a sharp knife to cut 2 slits into the centers of the remaining circles. Use your fingers to brush cold water around the edges of each pie, then place the top crust on each and gently seal all around the edges. Bake for 28-30 minutes. Allow the hand pies to cool on the baking sheets for 10 minutes before removing.
Notes
Do not defrost the frozen cherries before using. Make sure you are using pitted cherries. 
Cornstarch can be used as a 1:1 substitute for arrowroot. 
If the dough becomes too difficult to work with and starts to fall apart as you are rolling and cutting your circles, refrigerate for 15 minutes. The warmer the dough gets, the harder it is to use. 
I recommend using a 3.5 inch round cookie cutter for these mini pies. 
I chose not to brush the tops with egg wash because I don't use eggs in my baking. If you are not allergic to eggs, you can go ahead and use egg wash to achieve a more golden color.