Jump to Recipe
These easy no-bake pumpkin truffles are so much fun to make and the perfect treat to serve up at a Halloween party!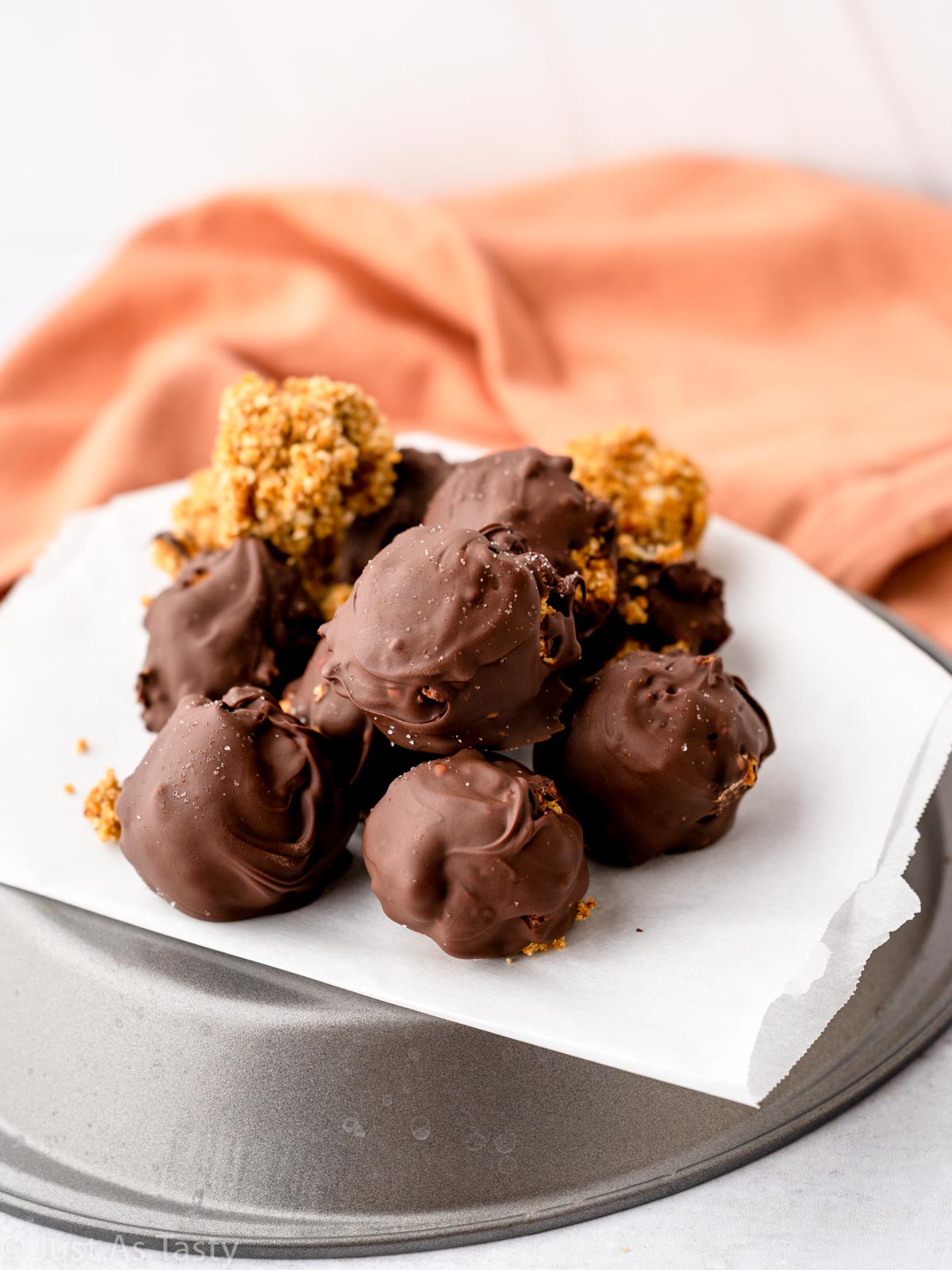 If you're a fan of these truffles, you need to try my pumpkin bread and pumpkin scones!
Anyone else looove to make homemade candy? I find it so much fun, and the end result is always SO much better than anything from the store. The good news with this particular homemade candy recipe is, you don't even need a candy thermometer or any other fancy equipment or ingredients!
If you've never had no-bake pumpkin truffles, let me break it down for you. It's basically a rich, sweet little ball of goodness. We're taking the best parts of pumpkin pie, rolling them up into little bite-sized truffles, then coating it all in melted chocolate and finishing off with a pinch of sea salt.
If you HAVE ever made no-bake pumpkin truffles before, you may have used graham cracker crumbs. I wanted a more neutral base, something that would still give these truffles the structure we want but will also let the other flavors shine through.
So I experimented with plain rice cereal and it ended up working out wonderfully! You can use graham cracker crumbs instead of the cereal if you want to, just keep in mind that your truffles will be even sweeter.
Jump to: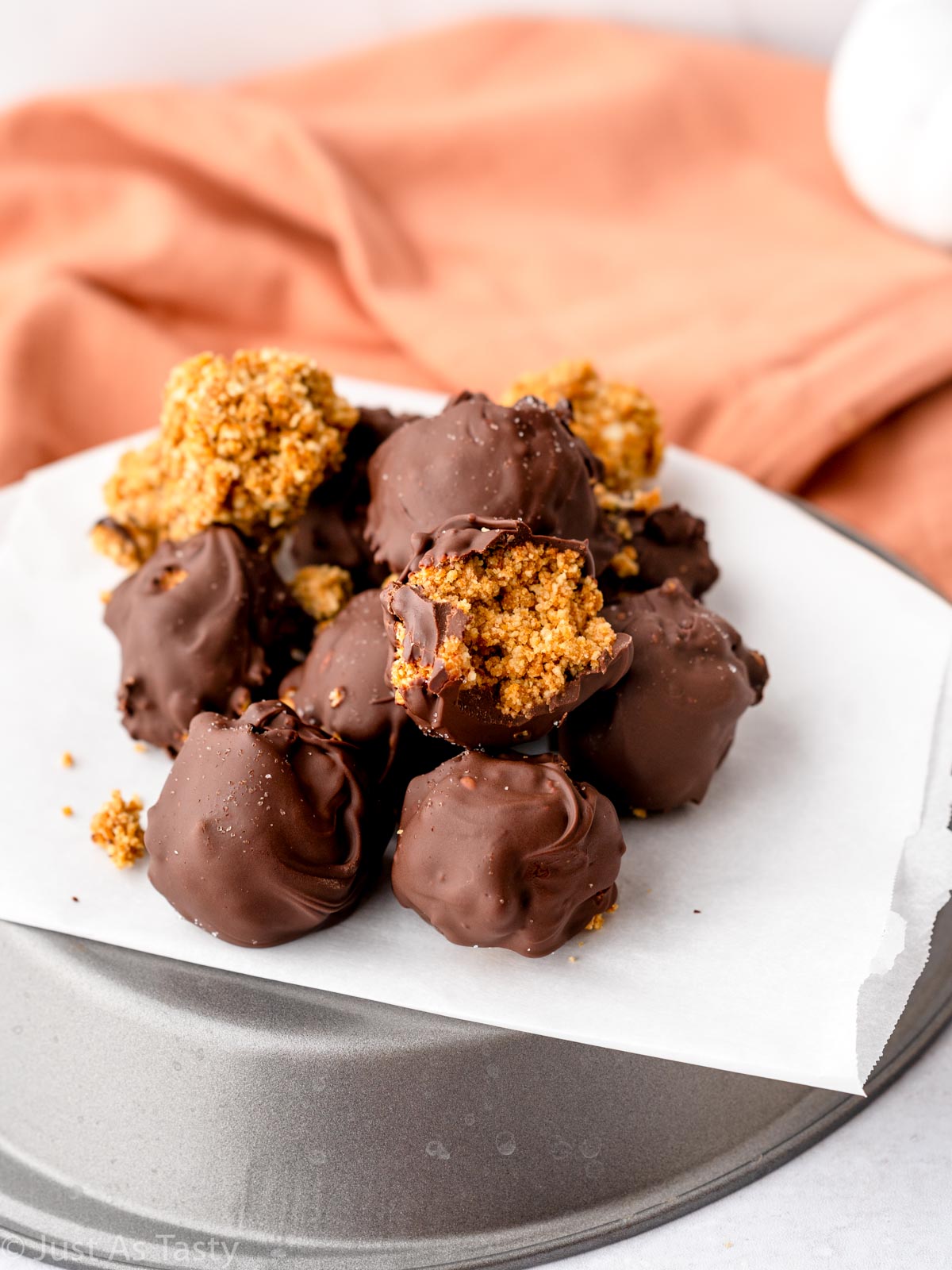 Why You'll Love This Recipe
This combination of flavors is just SO good. The pumpkin, the tiny bit of tang from the cream cheese, the chocolate, the sea salt. It all just works.
Like I said, this is a fun one to make. There is some waiting time between steps, because it's important to allow these to chill in the fridge. But it's worth it. If you really need to speed things up, you can try freezing instead.
They're the perfect bite-sized treat! You can satisfy that sweet tooth and/or pumpkin craving with just 1 truffle (but go ahead and have seconds if you want... I won't judge). And if you like these no-bake truffles, you definitely have to check out my cookie dough truffles, too!
Ingredient Notes and Substitutions
Pumpkin: Make sure you're using 100% pumpkin puree, which usually comes in a can. You don't want to use pumpkin pie filling here.
Brown sugar: Either light or dark brown sugar will work in this recipe.
Cream cheese: I like to use full-fat cream cheese. We're only using 2 ounces, which is a small amount.
Pumpkin pie spice: This spice blend is usually easy to find in most major grocery stores, but if you can't find it, you can also make your own.
Rice cereal: I like to use Rice Chex, but any gluten free rice cereal should work. As mentioned above, you can also opt for gluten free graham cracker crumbs, but this will result in sweeter truffles.
Chocolate: Any chocolate will work here, feel free to use a variety! These truffles would be absolutely delicious with white, dark, or milk chocolate.
Step-by-Step Instructions
STEP ONE: In a large bowl, combine the pumpkin with both sugars, softened cream cheese, vanilla, and pumpkin pie spice using a wooden spoon or rubber spatula (you can also use a mixer to speed things up, if you really wanted to).
STEP TWO: In a food processor, pulse the cereal until you get crumbs. Add to the pumpkin mixture and mix until it all comes together. The mixture will be sticky!
STEP THREE: Cover the bowl and pop the whole thing into the refrigerator for at least 1 hour, or longer.
STEP FOUR: After the mixture has chilled, start rolling into balls and place on a parchment paper-lined baking sheet. You can really make your truffles as big or as small as you'd like.
STEP FIVE: Refrigerate for another 30 minutes. Before pulling the pumpkin truffles out of the refrigerator, melt your chocolate. I like to keep it easy and I microwave mine in 30 second intervals, taking the chocolate out and mixing every time until smooth and fully melted.
STEP SIX: Use two forks to dip each pumpkin truffle into the chocolate. Let the chocolate drip down off the truffle, then place back on your parchment paper. Sprinkle with sea salt, and repeat for every pumpkin pie truffle. Then just pop them back into the refrigerator so that the chocolate sets. That's it!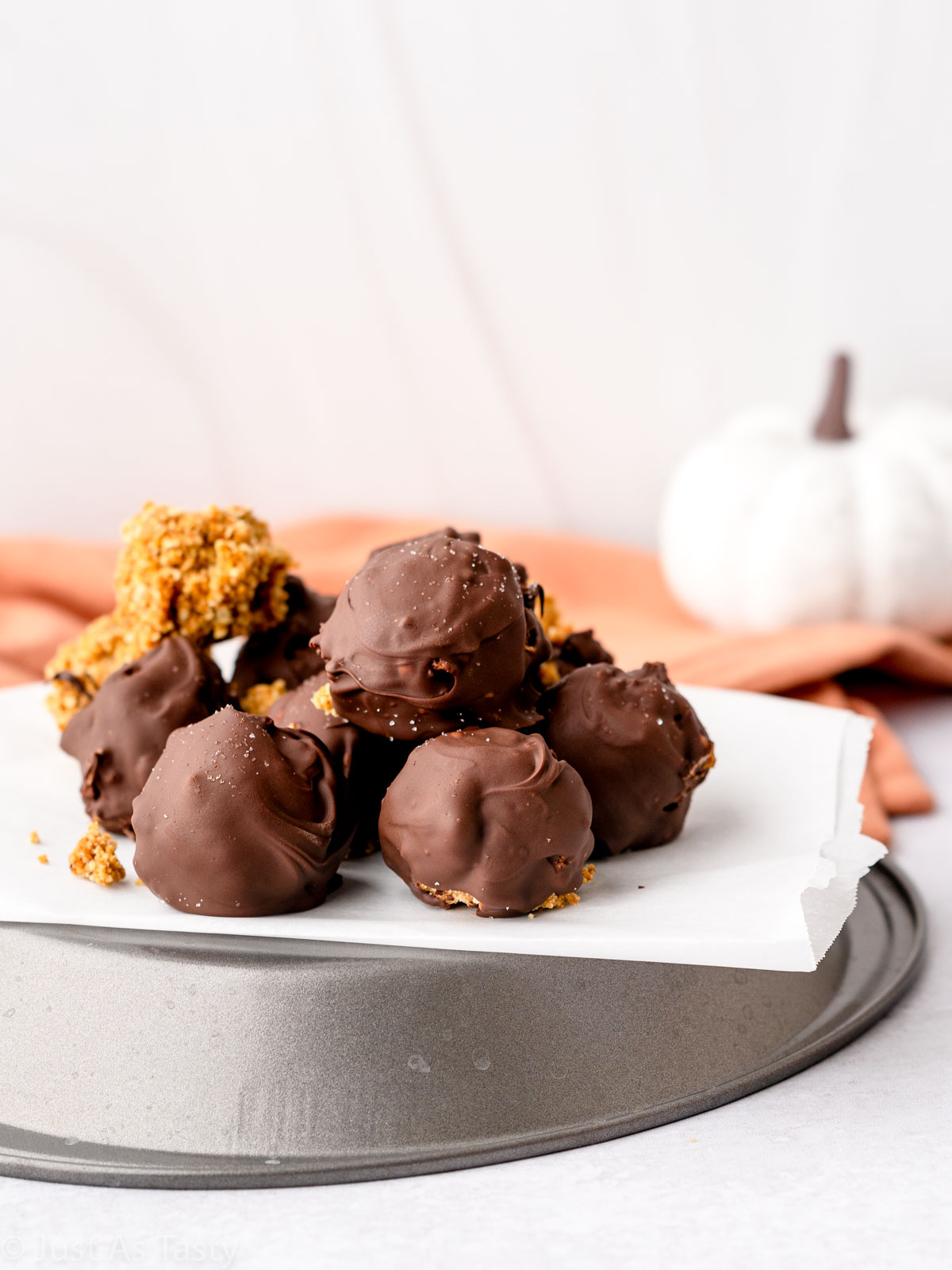 Frequently Asked Questions
Can I make these truffles dairy free?
To make these truffles dairy free, simply use your favorite non-dairy cream cheese and make sure to use dairy free chocolate.
How should I store the truffles?
You can store the truffles in an airtight container in the refrigerator for up to 4 days.
Can I freeze the pumpkin truffles?
Yes! Place the truffles in a zip top bag and freeze for up to 3 months.
Did you make my no-bake pumpkin truffles? Leave me a comment below or tag me on Instagram @justastastyblog and #justastastyblog! And don't forget to subscribe to get new recipes directly in your inbox.
📖 Recipe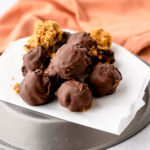 No-Bake Pumpkin Truffles
Print Recipe
Delicious bite-sized pumpkin truffles dipped in chocolate and topped with a generous pinch of sea salt!
Ingredients
⅓

cup (75g)

pumpkin puree

2

tablespoons

brown sugar

1

tablespoon

powdered sugar

2

ounces

cream cheese

room temperature

½

teaspoon

vanilla extract

½

teaspoon

pumpkin pie spice

4

cups (64g)

gluten free rice cereal

10

ounces

chocolate (dark, semi-sweet, or white)

sea salt
Instructions
In a large bowl, stir the pumpkin puree with the brown sugar, powdered sugar, cream cheese, vanilla extract, and pumpkin pie spice until smooth.

⅓ cup (75g) pumpkin puree,

2 tablespoons brown sugar,

1 tablespoon powdered sugar,

2 ounces cream cheese,

½ teaspoon vanilla extract,

½ teaspoon pumpkin pie spice

Pulse the rice cereal in a food processor to form crumbs. Add cereal to the pumpkin mixture and stir until fully incorporated. Cover and chill in the refrigerator at least 1 hour.

4 cups (64g) gluten free rice cereal

Remove the mixture from the refrigerator and roll into balls, measuring about 1 tablespoon per ball. Place on a parchment lined baking sheet and chill for another 30 minutes.

Right before removing the balls from the refrigerator, melt the chocolate using a double boiler or in 30 second intervals in the microwave. Cool chocolate slightly, then remove balls from the refrigerator and dip into melted chocolate. Place each ball back onto the lined baking sheet, sprinkle with sea salt, and allow to set completely (in the refrigerator) before serving.

10 ounces chocolate (dark, semi-sweet, or white),

sea salt
Nutrition
Related Recipes To Try