Jump to Recipe
These eggless scones are beyond easy to make and are not too sweet, making them perfect to enjoy for breakfast or brunch!
Okay so it's safe to say you'll probably see some variation of an eggless scone recipe on here again and again (case in point: apple cinnamon scones for Fall and blueberry scones for Spring). These honey scones were my first attempt at eggless scones, and I could barely stop myself from reaching for seconds and thirds.
I think, when done right, gluten free scones can be such a special treat, especially paired with a cup of coffee for breakfast. When done wrong, they can be dry and a little hard to get down. Lucky for you, these are PERFECT 😉 they are definitely NOT dense and dry, which I know is how some people might picture scones (particularly after a bad experience with one).
I know I have readers from all over the world, so I feel the need to specify that these are American scones. Traditional English scones are similar in taste and texture to what we consider biscuits here in the States. They're delicious, but not the kind of scone we're making here today.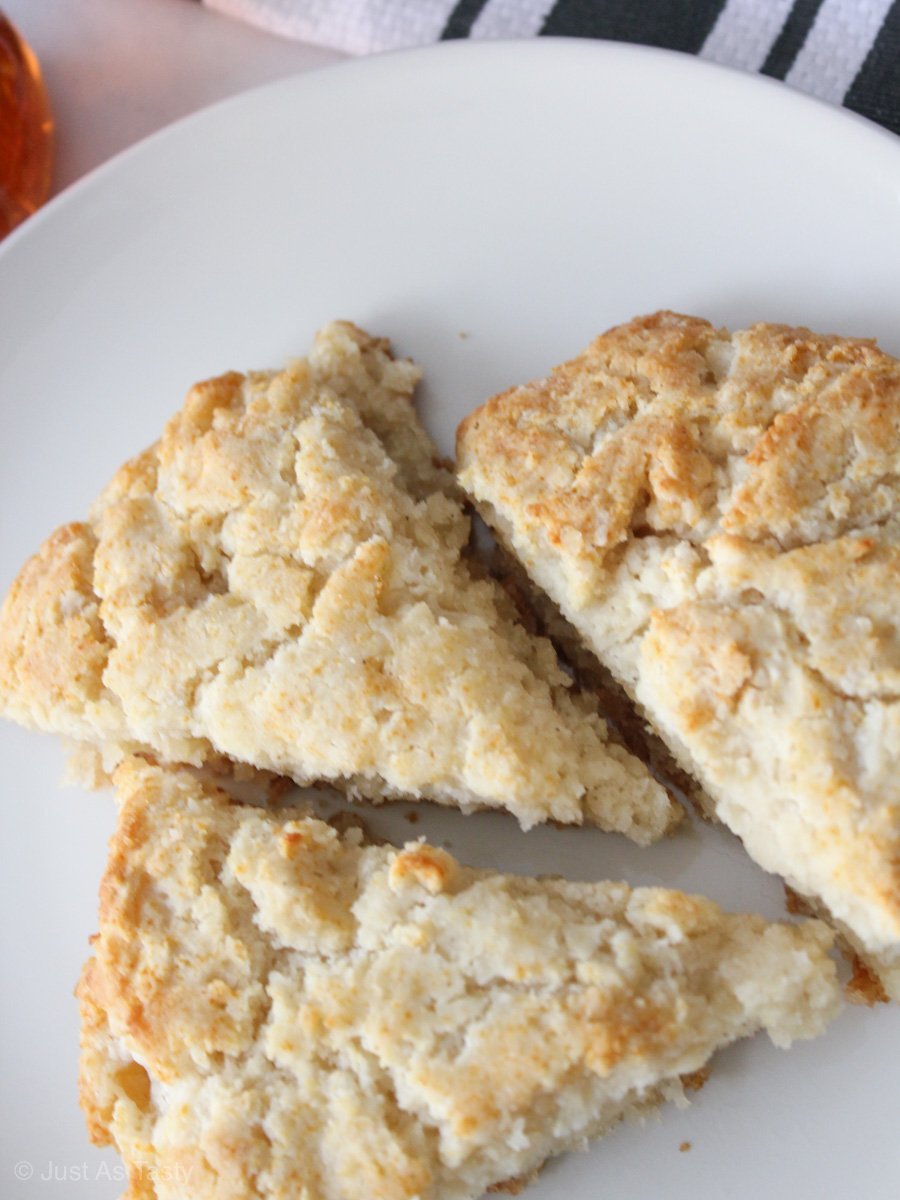 Why You'll Love These Eggless Scones...
They've just got the right texture going on. They're extra moist and soft on the inside, but slightly crunchy on the outside. They are crumbly, as scones should be, but definitely won't fall apart on you.
These eggless scones are naturally sweetened with honey. You read that right: there's no sugar in this recipe. As a whole, while this is very much a dessert-focused blog, I try not to go overboard on the sugar in my recipes and lately I've been more and more interested in learning more about natural sweeteners.
And, as a sub-point to the point above, they're just sweet enough. They have a subtle honey flavor that is not too over-powering or cloying.
What You'll Need...
The dry ingredients: just gluten free flour + baking powder + salt.
The fat: cold unsalted butter. The key to good scones is cold ingredients, especially your butter.
The moisture: half & half (you could probably use heavy cream or whole milk instead, though I haven't tested that) + Greek yogurt.
The flavor: vanilla extract + honey.
How To Make Eggless Scones...
If you've never made eggless scones before, you might assume that it's going to be a lengthy process. Scones just sound fancy, right? But I promise this couldn't be easier.
You will start by combining your flour, baking powder, and salt. Then, cut in the cubes of cold butter using a pastry blender or two knives. Work the butter into the flour until you have a coarse and crumby mixture.
In a separate, smaller bowl, combine the rest of your ingredients. Fold the wet ingredients into the flour mixture until just combined. Then pour the dough onto a lined baking sheet, use clean hands to form into a round disc, and cut into 8 even wedges.
And you're done! Bake on 400ºF for 18-20 minutes (for me, 18 minutes is just perfect) or until the tops look slightly golden brown. Remove from the oven and let the scones cool on the baking sheet for 5-10 minutes.
NOTE: While most of my recipes can be stored in an airtight container and enjoyed for a few days, enjoying these eggless scones freshly baked is the way to go! They are just so, so good fresh out of the oven and really are at their best the day you bake them.
PS - you might also enjoy my salted honey pie recipe!
📖 Recipe
Honey Scones - Gluten Free, Eggless
Print Recipe
Moist and flaky scones sweetened naturally with just the right amount of honey!
Ingredients
2

cups

gluten free flour (I use Bob's Red Mill 1 to 1)

2

teaspoons

baking powder

¼

teaspoon

salt

½

cup

unsalted butter

cold, cubed

¼

cup

Greek yogurt

½

cup

half & half

1

teaspoon

vanilla extract

⅓

cup

honey
Instructions
Preheat oven to 400°F. Line a baking sheet with parchment paper and set aside.

In a large bowl, whisk together the flour, baking powder, and salt. Using a pastry blender (or two knives), cut in the cubes of butter until the mixture comes together and is crumby.

In a smaller bowl, combine the yogurt, half & half, vanilla extract, and honey. Fold into the dry ingredients until combined.

Pour dough onto lined baking sheet and use your hands to form into a round disc. Use a sharp knife to cut into 8 even-sized wedges. Bake for 18-20 minutes or until scones are slightly browned. Allow the scones to cool on the baking sheet for 5-10 minutes.
Notes
Make sure your butter is cold. No need to remove from the refrigerator to soften beforehand. 
The dough will be sticky, so be gentle when slicing into wedges. 
Did you make my honey scones? Leave me a comment below or tag me on Instagram @justastastyblog and #justastastyblog!