Jump to Recipe
These gluten free tiramisu cupcakes are made without eggs and do not contain alcohol, but between the cocoa powder, espresso, and mascarpone frosting, they taste just like the classic Italian dessert!
I have always loved tiramisu. If you're not familiar, tiramisu is a classic Italian dessert and it involves ladyfingers dipped in espresso, then covered in deliciously creamy mascarpone and a dusting of unsweetened cocoa powder. What's not to love? I finally decided I needed to attempt gluten free tiramisu, but then I thought... why not make tiramisu cupcakes instead?
These gluten free tiramisu cupcakes are easier to make than you would think. I based the recipe off of my favorite vanilla cupcake recipe, so you just know the cupcakes are going to be super soft, just sweet enough, and, frankly, the perfect base for what we're doing here!
Baking With Mascarpone Cheese...
Mascarpone is a soft Italian cheese.
It's similar in texture to cream cheese (although it does have twice as much fat and is not as tangy as American cream cheese).
It's thick, but spreadable, and very rich.
You should have no problem finding it at your local grocery store.
I think these cupcakes are perfect to serve at a dinner party, because they look (and taste!) impressive but are really so easy.
By the way, if you're looking for even more recipes to use up that espresso powder, be sure to check out my espresso chocolate chip cookies and my homemade fudge!
Why You'll Love These Gluten Free Tiramisu Cupcakes...
If you're a coffee lover, you will definitely appreciate this recipe. The espresso isn't overpowering, but offers just the right amount of flavor (and moisture!).
The mascarpone frosting is completely irresistible. I'm not even going to lie, I could eat it straight from the bowl with a spoon.
This recipe is much easier than you would think! Who doesn't love that?
What You'll Need...
The dry ingredients: flour + baking powder + salt.
The fat: vegetable (or canola) oil.
The flavor: sugar + vanilla + instant espresso powder (plus hot water to dissolve the espresso in).
Instead of eggs: Bob's Red Mill Egg Replacer.
For added moisture: whole milk.
For the frosting: unsalted butter + mascarpone + powdered sugar.
How To Make Gluten Free Tiramisu Cupcakes From Scratch...
To make my gluten free tiramisu cupcakes, you'll start by combining your dry ingredients in a small bowl. Set that aside, then move onto your wet ingredients.
In a larger mixing bowl, mix the oil with the sugar, egg replacer, and vanilla extract (I just use a rubber spatula for this recipe but feel free to use a whisk or wooden spoon).
Next, we'll be adding the dry ingredients to the wet ingredients but we're alternating the milk. So, start by adding in a third of the dry mixture, give it a quick mix to combine, then add half the milk, then another third of the dry mix, then the rest of the milk, then the rest of the dry mixture.
Fill your cupcake liners with the batter . Bake on 350ºF for around 18 minutes. While the cupcakes are baking, add the instant espresso powder to some hot water and mix to dissolve. Once your cupcakes are out of the oven (and still warm), brush the top of each cupcake with the coffee. For full coffee flavor, be sure to use up all of your coffee.
Now, set the cupcakes aside to cool and start working on your frosting. Use a mixer to beat the mascarpone with the softened butter until smooth and creamy. This will take around 5 minutes, so just let your mixer do its thing and stop to scrape the sides of the bowl as needed. Add in your sifted powdered sugar and continue to beat until smooth.
Wait until your cupcakes have cooled completely, then spread or pipe the frosting onto your cupcakes.
Tips For Making Tiramisu Cupcakes...
This one goes for all of my recipes: the best way to get perfect cupcakes is to weigh your flour using a kitchen scale. Too much flour can drastically affect the texture and can result in dry cupcakes. We'll need 222 grams of flour for this recipe.
When adding the dry ingredients in and alternating with the milk, be sure to briefly stir after each addition. This will ensure that everything gets incorporated along the way so that you won't inadvertently over-mix the batter in the end.
I always like to fill my cupcake liners a little over halfway full.
Tiramisu Cupcake Ingredient Substitutions...
Unfortunately, I'm not sure how the frosting can be made dairy-free. However, you can make the unfrosted tiramisu cupcakes vegan by substituting the milk for your favorite non-dairy milk.
If you're not allergic to eggs and would rather not use the egg replacer, you can substitute with 1 egg.
Did you make my gluten free tiramisu cupcakes? Leave me a comment below or tag me on Instagram @justastastyblog and #justastastyblog!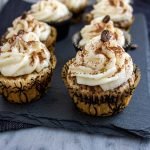 Tiramisu Cupcakes - Gluten Free, Eggless
Print Recipe
Moist vanilla cupcakes soaked in espresso and topped with mascarpone frosting!
Ingredients
For the cupcakes:
1 ½

cups (222g)

gluten free flour blend

1

teaspoon

baking powder

¼

teaspoon

salt

⅓

cup (80ml)

vegetable or canola oil

⅔

cup (134g)

granulated sugar

1

tablespoon

Bob's Red Mill Egg Replacer

mixed with 2 tablespoon water

2

teaspoons

vanilla extract

½

cup

whole milk

room temperature

2

teaspoons

instant espresso powder

¼

cup (60ml)

hot water
For the mascarpone frosting:
½

cup (113g)

unsalted butter

room temperature

8

ounces

mascarpone

room temperature

2

cups (240g)

powdered sugar

sifted
Instructions
Preheat oven to 350°F. Line a muffin tin with cupcake liners and set aside.

In a medium bowl, whisk the flour, baking powder, and salt. Set aside.

In a large bowl, mix oil, sugar, egg replacer, and vanilla. Add the dry ingredients in thirds, alternating with the milk and making sure to start and end with dry ingredients (the order should be: dry mix, milk, dry mix, milk, dry mix; stirring slightly after each addition until everything is combined).

Spoon batter into the cupcake liners, a little over halfway full. Bake for 18-20 minutes, or until a toothpick inserted into the center of a cupcake comes out clean.

Dissolve instant espresso powder in the hot water. Brush or spoon an even amount of coffee over each cupcake, using up all of the coffee. Allow cupcakes to cool completely before frosting.
For the mascarpone frosting:
Using a hand mixer or a stand mixer fitted with the paddle attachment, beat butter and mascarpone until light and creamy, about 5 minutes. Add powdered sugar and continue to mix until smooth.
Notes
Be sure to follow the instructions on the package of Bob's Red Mill Egg Replacer. Once mixed with water, the egg replacer must sit for just a few minutes to thicken.
If you are not looking to replace eggs, you should be able to use 1 egg instead of the egg replacer.