Jump to Recipe
These butterscotch chocolate chip cookies are so perfectly soft, thick, and packed with lots of delicious butterscotch and chocolate flavor!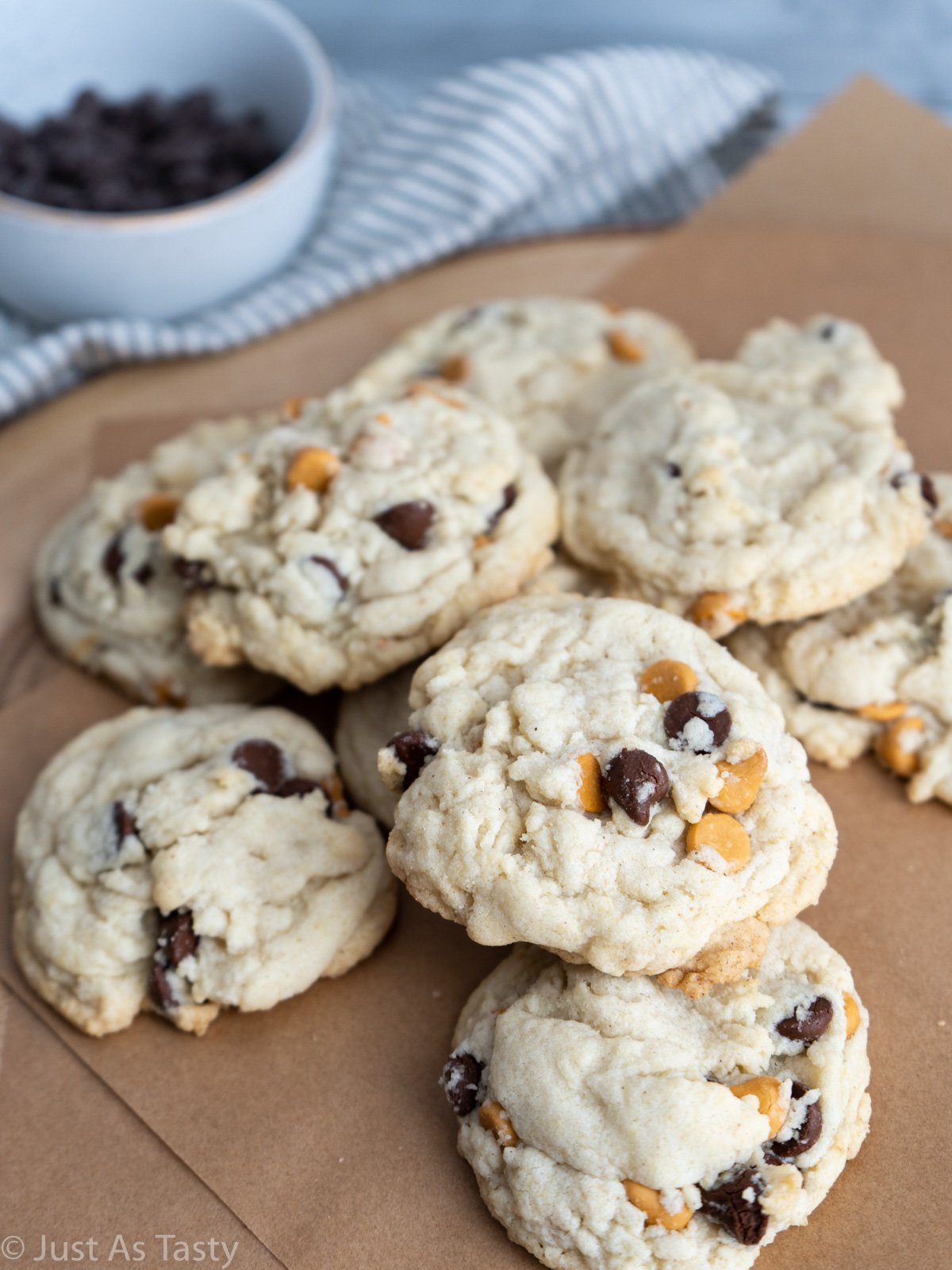 I am such a sucker for butterscotch-flavored desserts. I've already shared my butterscotch cake AND butterscotch pie recipes, both of which I could eat over and over and never get sick of.
So when I found myself in possession of a bag of butterscotch chips recently, I just knew what I had to do. Develop a butterscotch chocolate chip cookie recipe, naturally!
These cookies are so beyond easy to make. We're basically taking a classic chocolate chip cookie recipe but enhancing it with the addition of the butterscotch chips. What's not to love about that?
Warning: you may want to enjoy these straight from the oven, when they're warm and gooey. No judgment if you do! But they will set up better if you let them be for just a little while. More on that below.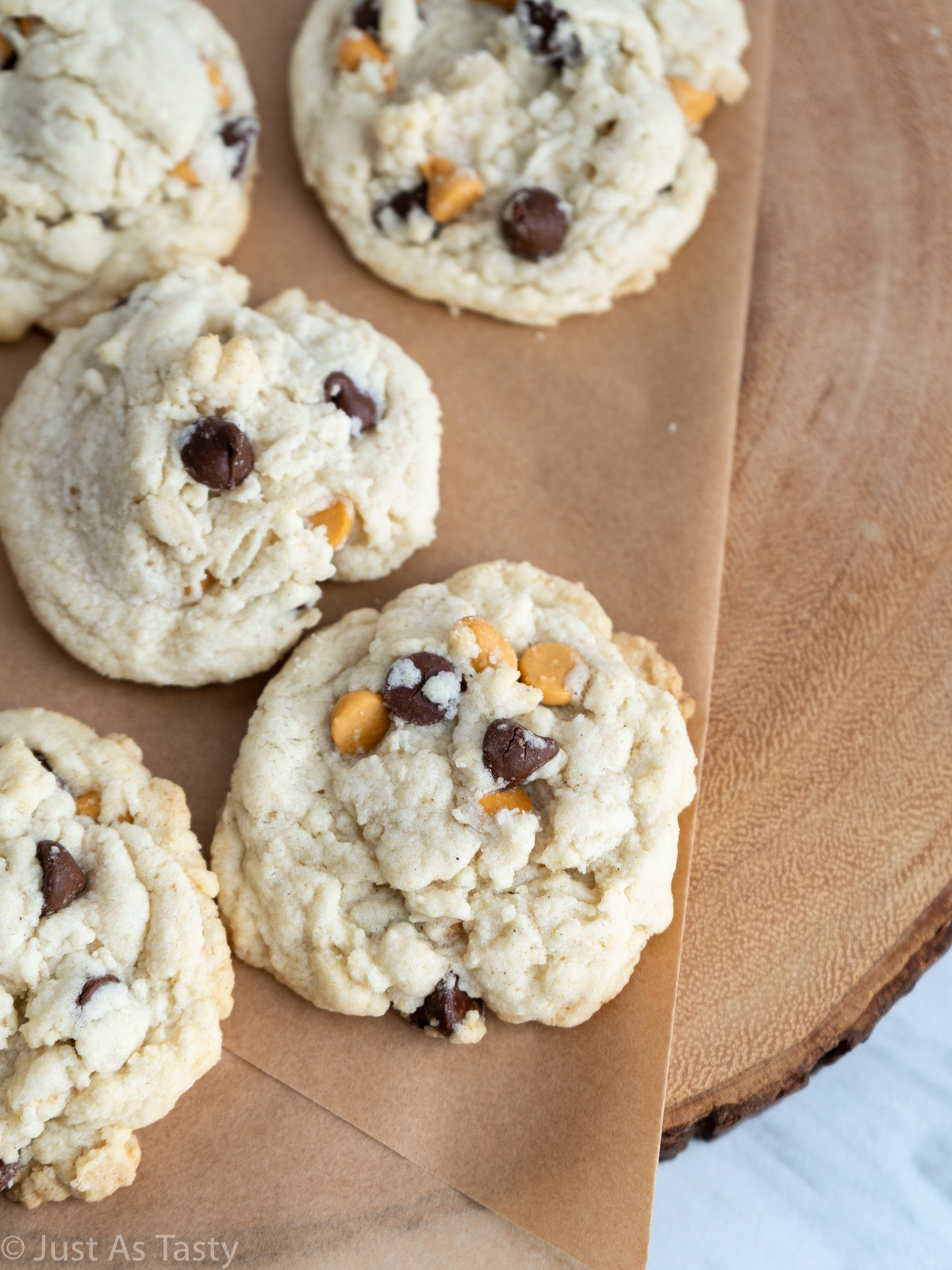 Why You'll Love These Butterscotch Chocolate Chip Cookies...
Because the butterscotch + chocolate combination is just plain delicious, that's why!
Also, these cookies come together so quickly. This is an unbelievably easy drop cookie recipe that is still sure to impress despite how little effort you will be putting into it.
The cookie dough freezes well! So if you wanted to, say, double the batch and freeze some dough to bake and enjoy later... I think that would be a wonderful idea 🙂
What You'll Need...
GF flour blend (as always, I use and love Bob's Red Mill 1 to 1 flour)
Baking powder
Salt (my preference for baking has always been fine sea salt)
Unsalted butter
Granulated sugar
Egg replacer
Vanilla
Butterscotch + semi-sweet chocolate chips
Are Butterscotch Chips Gluten Free?
The short answer here is, it depends. It goes without saying, but be sure to ALWAYS check the ingredients, even on products I recommend here on my site. That being said, I know both Hershey's and Guittard brand butterscotch chips are labeled as gluten free.
I've personally also never had an issue using Nestle chips, although I did learn that they used to contain barley in their formulation. I have never see barley on the ingredients label when I've checked, but they also are not labeled gluten free... so use your best judgment on that one.
How To Make...
To make my butterscotch chocolate chip cookies, we'll start by combining the flour, baking powder, and salt in a small bowl. Whisk it up and set it aside for now.
Next, you'll want to grab your electric mixer (either stand or hand mixer will work) and cream the butter with the sugar. Make sure it's nice and smooth, and slightly lighter in color. Add the vanilla extract and prepared egg replacer.
Now just add the dry ingredients right in and continue to beat on low speed until a soft cookie dough comes together. We're nearly there! Fold in both types of chips.
Cover the bowl and pop in the refrigerator for at least 30 minutes. Once the cookie dough has chilled, bake on 350ºF for 8-10 minutes.
Tips For Making The Best Butterscotch Cookies...
I say this all. the. time. but it's such an important tip when it comes to gluten free baking. Weigh your flour using a kitchen scale if you have one. This is so much more accurate than measuring cups, believe it or not! Adding even a little bit more flour than what the recipe calls for will result in a dry cookie (no one wants that). We will need 259 grams of flour for this recipe.
I know it can be hard to wait, but the chill time is so important! This will help prevent spreading, giving you thick and perfect cookies every time.
While the bake time in the recipe is 8-10 minutes, I recommend starting to check at the 8 minute mark because all ovens are different. You don't want to over-bake these cookies because they are meant to be soft. You will notice they are ready to come out when the edges look slightly golden.
It might be tough, but I suggest waiting about 10 minutes after removing the cookies from the oven before transferring. This really helps the cookies set and they will even continue to cook slightly while sitting on the hot baking sheet (which is what we want). But if you really can't resist, feel free to taste test one or two. I won't tell!
Ingredient Substitutions...
As far as I'm aware, butterscotch chips tend to contain dairy, so it would not be possible to make these cookies dairy-free. If you do happen to find dairy-free butterscotch chips, though, feel free to test it out with this recipe! Just remember to also swap in your favorite non-dairy butter.
If you are not looking to make butterscotch cookies without eggs, you can use 1 egg instead of the egg replacer.
Did you try my butterscotch chocolate chip cookies? Leave me a comment below or tag me on Instagram @justastastyblog and #justastastyblog!
Just As Tasty: Gluten-Free & Eggless Baking Through the Seasons
Be sure to check out my cookbook for tons of festive and easy-to-make gluten-free treats! From Valentine's Day and Easter to the holiday season and every celebration in between, this book has got you covered.
For More Gluten Free Cookie Recipes, Try My...
📖 Recipe
Butterscotch Chocolate Chip Cookies - Gluten Free, Eggless
Print Recipe
These cookies are thick, soft, and packed with both kinds of chips!
Ingredients
1 ¾

cups (259g)

gluten free flour blend

½

teaspoon

baking powder

½

teaspoon

fine sea salt

¾

cup (170g)

unsalted butter

room temperature

¾

cup (150g)

granulated sugar

1

tablespoon

Bob's Red Mill Egg Replacer

mixed with 2 tablespoon water

½

teaspoon

vanilla extract

⅓

cup (57g)

butterscotch chips

⅓

cup (57g)

semi-sweet chocolate chips
Instructions
In a small bowl, whisk the flour, baking powder, and salt together. Set aside

Using a hand mixer or a stand mixer fitted with the paddle attachment, cream the butter with the sugar until smooth. Mix in the egg replacer and vanilla extract. Add the dry ingredients and mix on low speed until cookie dough forms. Fold in the butterscotch and chocolate chips. Cover and chill the dough for at least 30 minutes.

Preheat the oven to 350°F. Line a baking sheet with parchment paper. Scoop out cookie dough measuring 2-3 tablespoons per cookie and arrange on prepared baking sheet, 1-2 inches apart. Bake for 8-10 minutes. Allow cookies to cool on baking sheet at least 10 minutes before transferring to a wire cooling rack.
Notes
Be sure to follow the instructions on the package of Bob's Red Mill Egg Replacer. Once mixed with water, the egg replacer must sit for just a few minutes to thicken.
If you are not looking to replace eggs, you should be able to use 1 egg instead of the egg replacer.
I like to use a large cookie scoop to scoop out the dough.