Jump to Recipe
This chocolate orange cake is a must-bake for anyone who loves citrus in their dessert. The chocolate drizzle is the best complement to all of that bright orange flavor.
I don't know about you, but personally I think whoever first thought of taking a piece of fruit and dipping it in melted chocolate was a genius. I mean, what better way to enjoy your daily serving of fruit than with a bit of chocolate coating 😉 I'm only half joking, of course.
But in all seriousness, I first thought about making a chocolate orange cake simply because I love the two paired together. The orange juice and zest lend such a bright flavor, it's like a little slice of sunshine right on your plate.
Then the dark chocolate glaze comes in and balances everything out. It's rich, not as sweet as the cake itself, and complements things perfectly. Hence why chocolate covered fruit works so brilliantly. It's all about that balance!
I love making this particular cake in a bundt pan because I love the way a good drizzle looks on bundt cake. Personally, I love it more when it looks a little imperfect (and trust me, mine usually does.. sometimes unintentionally, ha!).
Why You'll Love This Chocolate Orange Cake...
There's so much moisture going on in this cake, in the best way. We can thank the Greek yogurt and orange juice for that.
No decorating necessary! Don't you love an easy, effortless cake that still looks good as part of your brunch spread? The drizzle adds a nice touch to this cake but doesn't need to be perfect.
I've already mentioned this but it's worth repeating: orange + chocolate together is a winning combination.
What You'll Need...
How To Make...
To make my gluten free chocolate orange cake, we'll start by combining all of the dry ingredients so that it's ready to go when we need it. Set that aside and move on to your mixer.
Cream the butter with the sugar until it's nice and smooth and slightly lighter in color. Add in the Greek yogurt, orange juice, vanilla, and orange zest. Beat to combine that all together.
Next, you'll just want to add in the dry ingredients and mix on low speed until it's just combined. Pour the cake batter into your greased bundt pan and bake on 350ºF for around 45 minutes. Check that the cake is done using the toothpick test before removing from the oven. Give it another 15 minutes to cool before inverting out of the bundt pan.
The drizzle also couldn't be any easier. Simply melt the chocolate with the butter in the microwave. Then add in the heavy cream, one tablespoon at a time, until you reach the right consistency to drizzle. Make sure the cake is completely cooled before drizzling the glaze on top.
Tips For Making The Best Chocolate Orange Cake...
As always, I recommend using a scale to weigh your flour. This way, you'll be 100% sure that you have the right amount. Too much flour will drastically change the end result, making your cake dry. We'll need 333 grams of flour for this recipe.
When it comes to preparing the bundt pan, I'm going to be honest and admit that I rarely flour my pan. I just make sure it's greased really, really well. I will spray some cooking spray in the pan, and then take a paper towel and really make sure to spread all around, getting every nook and cranny. I never have an issue getting my bundt cakes out when I do it this way. It's also important to cool the cake slightly before attempting to invert it onto a plate or stand.
When microwaving chocolate, I do it in 30-second bursts and stop to stir after each interval. You know your microwave best, though, so keep an eye on it as every microwave is different. This is why I don't indicate how long you should microwave for -- you'll know when the chocolate is melted and smooth.
Chocolate Orange Cake Ingredient Substitutions...
To make this orange cake vegan, you would need to use your favorite non-dairy butter and yogurt. I haven't tested it, so I can't speak to the results. I just recommend finding yogurt that is similar in texture and fat content to plain Greek yogurt. It needs to be rich in flavor and thick in texture.
While I highly recommend using fresh orange juice whenever possible (you WILL need an orange for the zest after all, so may as well juice it up!), you can use bottled juice in a pinch. Just make sure it's pure orange juice, without any added sugar.
You can theoretically leave out the orange zest, but it definitely amps up the citrus flavor in this cake. You will still taste the orange if you omit the zest, but it won't come through as much.
When it comes to the chocolate in the glaze, I didn't specify what type of chocolate to use because I think most kinds would work great! I would go with dark or semisweet, but milk chocolate may also be really good here.
Did you try my chocolate orange cake? Leave me a comment below or tag me on Instagram @justastastyblog and #justastastyblog!
For More Gluten Free Cake Recipes, Try My...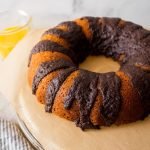 Chocolate Orange Cake - Gluten Free, Eggless
Print Recipe
This ultra moist bundt cake is full of orange flavor. The chocolate glaze pairs perfectly with the citrus!
Ingredients
2 ¼

cups (333g)

gluten free flour blend

2

teaspoons

baking powder

½

teaspoon

baking soda

½

teaspoon

salt

1

cup (226g)

unsalted butter

room temperature

1

cup (200g)

granulated sugar

¾

cup (169g)

plain Greek yogurt

room temperature

½

cup (120ml)

orange juice

½

teaspoon

vanilla extract

1

tablespoon

orange zest

optional
For the chocolate glaze:
6

ounces

chocolate

roughly chopped

3

tablespoons (42g)

unsalted butter

room temperature

2-3

tablespoons

heavy cream
Instructions
Preheat the oven to 350°F. Grease a bundt pan and set aside.

In a large bowl, whisk the flour, baking powder, baking soda, and salt together. Set aside.

Using a hand mixer or a stand mixer fitted with the paddle attachment, cream the butter with the sugar until smooth. Add the yogurt, orange juice, vanilla extract, and orange zest and beat to combine. Add the dry ingredients to the wet ingredients and mix on low speed until just combined.

Transfer the cake batter to the greased bundt pan. Bake for 45-50 minutes, or until a toothpick inserted into the center comes out clean. Allow the cake to cool in the pan for 15 minutes before inverting onto a plate. Cool completely before glazing.
To make the chocolate glaze:
In a microwave safe bowl, combine the chocolate with the butter. Heat in the microwave in 30 second intervals, stopping to stir after each interval, until completely smooth. Add heavy cream, one tablespoon at a time, and stir well until the desired consistency is achieved.