Jump to Recipe
My gluten free thin mints taste JUST like the kind you can buy during Girl Scout cookie season! This vegan thin mint cookie recipe is so much fun to make and perfect for those with food allergies.
I loooove Girl Scout cookie season! Who's with me?! Anytime someone at our office brings their kids' loot in, I can't stop myself from buying a box.. or two.. I mean, it's for a good cause, right?
But unfortunately, for those of you out there with food allergies or a gluten intolerance (like my husband), you probably aren't able to indulge in the same way. Until now... because we're making these cookies gluten free!
My copycat thin mint cookie recipe is a total game changer. These cookies taste JUST like the real thing, except they're gluten free. And they're also vegan! I never actually knew that the actual Girl Scout cookies are vegan, too.
Anyway, these thin mint cookies are so chocolatey and minty and delicious. And they're seriously easy. The dough is slightly crumbly, but I've found ways to work with it, and I'm about to talk you through the whole process!
And if you want to try another gluten free Girl Scout-inspired treat, be sure to check out my Samoa cookie bars.
Why You'll Love These Gluten Free Thin Mints...
They're SO easy. You'll see what I mean when you read through the ingredients below. I'm willing to bet you already have everything you need on hand, except maybe the peppermint extract, which you can easily find in the baking aisle at your local grocery store.
The texture is perfect (and literally exactly like actual thin mint cookies). They're crisp but not dry. And that thick chocolate coating is everything.
Chocolate + mint is so dreamy (as evidenced by my Andes mint chocolate cookies). We're only adding mint to the chocolate coating, and not the actual cookies, so it's not overpowering.
What You'll Need...
The dry ingredients: flour + baking powder + salt.
The flavor: unsweetened cocoa powder + sugar.
The fat: coconut oil works great as a butter substitute here, making these thin mint cookies vegan!
The final minty touch: melted chocolate (I use semisweet) + peppermint extract.
How To Bake With Coconut Oil...
While this is the first recipe I've developed for the blog that uses coconut oil, I know it definitely won't be the last. As I mentioned above, coconut oil can be a great butter substitute! I would argue it even makes for healthy thin mints. Or, healthier than some other cookies at least 😉
Coconut oil is solid when stored at room temperature, but can quickly be melted down. You can either submerge the tightly sealed jar in some hot water, or scoop out what you need into a microwave-safe bowl and melt it on 50% power in the microwave (but keep a close eye on it).
I use refined coconut oil in this recipe, which is neutral (it's processed under high heat and doesn't have a coconut flavor or smell). Some recipes may call for unrefined coconut oil, which tastes more like coconut.
How To Make Gluten Free Thin Mint Cookies From Scratch...
To make my gluten free thin mints, start by whisking the dry ingredients together. Set that aside for now, and stir the melted coconut with the sugar in a medium bowl.
Add the coconut oil + sugar mixture into the dry ingredients and mix well, until completely combined. The dough will be crumbly but should come together easily. Pour the cookie dough out onto a piece of parchment paper, and use your hands to work it together into a flattened round disc.
Next, grab another sheet of parchment paper to put on top, and roll the dough out to about ½ inch thickness. And pop it into the fridge to chill for about an hour! The chilling helps the crumbly dough stick together, too.
Use a round cookie cutter (I used the small round cutter from this set) to cut your cookies out, and place them on a lined baking sheet. Gather up your scraps of dough and re-roll as necessary. Bake on 350ºF for 12-14 minutes, and let the cookies cool on the baking sheet completely before attempting to coat.
To make the mint chocolate coating, simply add the peppermint extract to your melted chocolate and mix it all up! Let the chocolate drip off the cookie, then place back on your parchment paper. Once you've dipped all of your cookies, pop them back into the refrigerator for another 20 minutes to set.
To store homemade thin mint cookies, I recommend keeping them in an airtight container in the refrigerator -- otherwise, the chocolate gets melty. Plus they just taste better cold! Anyone else love keeping thin mints in the freezer? You can do that too, if you'd like 🙂
Tips For Making Homemade Thin Mints...
If possible, use a kitchen scale to weigh your flour. This is the best way to ensure accuracy, because too much or too little flour can greatly impact the final product.
The chill time is super important in this recipe! Not only does it help keep the cookies from spreading in the oven, it will also help bring the dough together, since it's a bit on the crumbly side.
When you pull the cookie dough out of the refrigerator, you'll notice that it has hardened quite a bit. Let it rest at room temperature for around 30 minutes. It will soften, making it much easier to cut.
When it comes to dipping the cookies in the melted chocolate, I find it easiest to use two forks to fully submerge each cookie. Just be sure to let the excess chocolate drip off.
Did you make my homemade thin mint cookies? Leave me a comment below or tag me on Instagram @justastastyblog and #justastastyblog!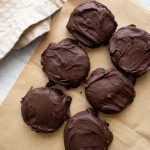 Homemade Thin Mint Cookies - Gluten Free, Vegan
Print Recipe
Copycat thin mint cookies that taste just like the original!
Ingredients
1 ½

cups (222g)

gluten free flour blend

½

cup (42g)

unsweetened cocoa powder

1

teaspoon

baking powder

¼

teaspoon

salt

⅔

cup (134g)

granulated sugar

½

cup (113g)

coconut oil

melted

14

ounces

semisweet chocolate

melted

¼

teaspoon

peppermint extract
Instructions
In a large bowl, whisk the flour, cocoa powder, baking powder, and salt together. Set aside.

In a smaller bowl, combine the sugar with the melted coconut oil. Add to the dry mix and stir until fully combined.

Flip dough out onto a piece of parchment paper and use your hands to push together into a round disc. Place another piece of parchment paper on top of dough and roll to about ½ inch thickness. Chill for 1 hour.

Remove from the refrigerator and let dough sit at room temperature for 20-30 minutes, to soften slightly. Preheat oven to 350°F and line a baking sheet with parchment paper.

Use a round cookie cutter to cut out cookies. Gather and re-roll scraps of dough as necessary. Arrange on prepared baking sheet and bake 12-14 minutes. Cool completely.

To make the mint chocolate coating, add peppermint extract to melted chocolate and mix well to combine. Use two forks to dip each cookie completely into the melted chocolate and place on parchment paper. Repeat with each cookie, then refrigerate for about 20 minutes to allow the chocolate to set completely.