Jump to Recipe
These chocolate sugar cookies are an adaptation of my absolute favorite cut-out cookie recipe! They're rich, easy to make and decorate, and perfect for the holidays.
Boy do I have the ultimate Christmas cookie recipe for you! These gluten free chocolate sugar cookies have quickly become one of my favorites, because they're SO rich, buttery, chocolatey... the list goes on and on.
You all know I have my beloved cut-out sugar cookie recipe that I've shared on here before. It was only a matter of time before I took that recipe and added chocolate to make the best chocolate sugar cookie recipe!
I've said it before and I'll say it again: cut-out sugar cookies are just so much fun to make. It may seem like it's a lot, between the rolling, the chilling, the cutting, and the (optional) icing. But they're so worth it, plus it's just a fun holiday activity to do with the whole family!
You can get creative with the shapes and decorating. I use this cookie cutter set and love it because I have SO many options for the different seasons and holidays.
Personally, I really love how soft these chocolate cut out cookies are. The little bit of baking powder also gives them a nice lift -- they're not too flat, and just about perfect.
Why You'll Love These Chocolate Sugar Cookies...
If you're a chocolate lover (and really, who's NOT?!) then this is THE gluten free chocolate cookie recipe for you. Seriously, you don't even need any other chocolate cookie recipes beyond this one.
It's a pretty classic and straightforward recipe, but you end up with such a rich and delicious cut out cookie. These would make great gifts for neighbors, or your kids' teachers... or anyone in your life!
Good old fashioned holiday fun for the whole family 🙂 honestly though, if you have little ones in the house, this is a great way to keep them entertained and do something fun together.
What You'll Need...
The dry ingredients: flour + baking powder + salt.
The flavor: unsweetened cocoa powder + sugar + vanilla.
The fat: two sticks of unsalted butter.
For cut out sugar cookies without eggs: Bob's Red Mill Egg Replacer.
Tips For Rolling Out And Cutting Cookies...
I've made cut out sugar cookies enough times to have a few pro tips about the easiest way to roll and cut for perfect shapes every time. First, I highly recommend splitting your cookie dough into two parts. This will make it much easier to manage overall.
In terms of rolling out, I use this mat on my countertop but, even with the mat, I will set down a piece of parchment paper, place my cookie dough on top, then top off with an additional piece of parchment paper.
I've found this is the cleanest way to roll out my cookie dough, and rolling between the two pieces of parchment paper means the dough will not stick to my rolling pin!
Finally, make sure to chill the rolled out chocolate sugar cookie dough BEFORE attempting to cut your shapes. This particular dough can be a bit crumbly, so the chill time really helps bring it all together and prevents the cookies from spreading in the oven.
How To Make Chocolate Sugar Cookies From Scratch...
To make my chocolate sugar cookies, we'll start by combining the dry ingredients (flour, cocoa powder, baking powder, and salt) in a medium bowl. Give that all a quick whisk to combine and set aside for now.
Then, using a mixer, cream the softened butter with the sugar until smooth. Add in your prepared egg replacer and vanilla extract, and beat again to combine. Now just add your dry mixture right in and mix on low speed until your cookie dough has formed!
Once you have your dough, separate it out into two rounds. This just makes it easier to handle overall. Roll out each round (between two pieces of parchment paper, to keep things clean) to about ¼-inch thickness. Then pop it into your refrigerator to chill for at least 1 hour.
After your dough has chilled, you can start cutting your shapes. This is where you can get really creative! Remember to gather up your scraps and re-roll to continue cutting shapes with any remaining dough.
Bake on 350ºF for about 11 minutes. Make sure to cool the chocolate sugar cookies completely before decorating.
Decorate with your favorite icing, sprinkles, etc. If you'd like to use the same icing I did, you're simply going to mix sifted powdered sugar + tablespoons of water + vanilla extract.
I always eyeball the icing until I get the right consistency. If it's too thick, add more water (gradually) and if you accidentally thin it out too much, just add more powdered sugar.
📖 Recipe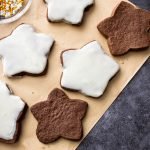 Chocolate Sugar Cookies - Gluten Free, Eggless
Print Recipe
These chocolate cut-out cookies are perfectly rich, soft, and delicious!
Ingredients
2

cups (296g)

gluten free flour blend

½

cup (42g)

unsweetened cocoa powder

½

teaspoon

baking powder

¼

teaspoon

salt

1

cup (226g)

unsalted butter

room temperature

¾

cup (150g)

granulated sugar

1

tablespoon

Bob's Red Mill Egg Replacer

mixed with 2 tablespoon water

1

teaspoon

vanilla extract
Instructions
In a medium bowl, whisk flour, cocoa powder, baking powder, and salt together until fully combined. Set aside.

Using a hand mixer or a stand mixer fitted with the paddle attachment, cream butter and sugar together until smooth. Add egg replacer and vanilla. Lower the speed on the mixer and slowly add in the flour mixture while continuing to mix.

Split the dough into two large rounds. Place each round between two sheets of parchment paper and roll with a rolling pin until each is about ¼ inch thick. Cover and chill in the refrigerator for at least 1 hour.

Preheat oven to 350°F and line a baking sheet with parchment paper. Use cookie cutters to cut the dough into desired shapes and arrange on baking sheet.

Bake for 11-12 minutes. Let cool on sheet for 5 minutes before transferring to a cooling rack and allow to cool completely before decorating.
Notes
Be sure to follow the instructions on the package of Bob's Red Mill Egg Replacer. Once mixed with water, the egg replacer must sit for just a few minutes to thicken.

If you are not looking to replace eggs, feel free to use 1 egg instead of the egg replacer.

As you can see in my photos, I use large cookie cutters. This recipe always yields right around 16 cookies for me, but this will vary based on the size and shapes you are cutting. 
Did you make my chocolate sugar cookies? Leave me a comment below and tag me on Instagram @justastastyblog and #justastastyblog!