Jump to Recipe
These gluten free blueberry muffins taste like they came straight from your favorite coffee shop or bakery!
I love the idea of curling up with a good book and a big cup of coffee.. and a jumbo bakery-style muffin. Honestly, that's my idea of a perfect morning. The muffin just needs to be warm, perfectly soft yet dense, and just sweet enough.
It's safe to say I have cracked the code on gluten free bakery-style muffins, and I am so excited to share it with you. Because if you've loved my chocolate chip banana, cinnamon streusel, zucchini, double chocolate, or white chocolate raspberry muffins, this is the recipe for you.
I've always found muffins and quick breads to be especially fun to bake, and I'm not even really sure why. I think it might be because it's so straightforward (hard to mess up) and there are so many delicious variations you can try.
Why You'll Love This Recipe...
It's just so easy! It might seem like a lot of ingredients but I promise it's a super straightforward process.
It works for breakfast, dessert, or as an anytime snack!
This recipe is flexible so, while I highly recommend making these jumbo/bakery-style, you can easily use this recipe to make 12 standard size muffins instead. See recipe notes about how to adjust the bake time.
What You'll Need...
How To Make Jumbo Blueberry Muffins From Scratch...
To make my gluten free blueberry muffins, we'll start by combining the dry ingredients in a large mixing bowl. Set that aside, and mix the melted butter with the sugar in a separate, smaller bowl.
Once that's nice and incorporated, add in the vanilla, egg replacer, and buttermilk. Pour this wet mixture into the dry ingredients and mix until just incorporated. Gently fold in the blueberries.
And that's really all there is to it! Pour the batter into a greased (or lined) muffin tin and bake on 425ºF for 5 minutes. Then, without removing the muffins, reduce the oven temperature down to 350ºF and bake for around 25 minutes.
Let the muffins cool in the tin for at least 10 minutes before removing and serving.
Tips For Making Gluten Free Blueberry Muffins...
This goes for all of my recipes, but it's worth repeating: if you have a kitchen scale, I highly recommend weighing the flour rather than using measuring cups. This is the only way to ensure absolute accuracy. Too much or too little flour will definitely yield different results! You need 296 grams of flour for this recipe.
If you are using frozen blueberries, do not thaw them! Use straight out of the freezer. If you use fresh berries, like I did, pat them dry with a towel after rinsing. In both instances, we want to avoid adding additional moisture to the batter.
Be sure to bring the melted butter to room temperature before adding it to the sugar.
Do not overmix! It's important to ensure that everything is combined, but don't go overboard with the mixing.
Ingredient Substitutions...
I haven't tested it, but you should be able to make these blueberry muffins vegan by substituting your favorite non-dairy butter and using non-dairy milk to DIY your own buttermilk.
Speaking of DIY buttermilk, you can totally make your own if you don't have some on hand. Grab a liquid measuring cup and add one tablespoon white vinegar. Fill the rest of the cup up with whole milk, until it reaches the 1 cup mark. Let the mixture sit at room temperature for a few minutes, then stir and add to your batter as directed in the recipe.
If you are not worried about egg allergies and are not looking to make blueberry muffins without eggs, go ahead and use 1 egg instead of the egg replacer.
Can I Freeze Blueberry Muffins?
I definitely think these muffins are best enjoyed fresh. However, you should be able to freeze these blueberry muffins for up to 1 month. Store the muffins in an airtight container or resealable bag before popping into your freezer. Be sure to thaw them at room temperature before serving.
Did you make my jumbo blueberry muffins? Leave me a comment below or tag me on Instagram @justastastyblog and #justastastyblog!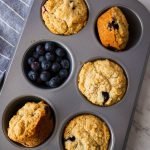 Jumbo Blueberry Muffins - Gluten Free, Eggless
Print Recipe
Extra soft bakery style muffins with blueberries in every bite!
Ingredients
2

cups (296g)

gluten free flour blend

2

teaspoons

baking powder

½

teaspoon

baking soda

¼

teaspoon

cinnamon

optional

¼

teaspoon

salt

½

cup (113g)

unsalted butter

melted and cooled

½

cup (100g)

granulated sugar

1

tablespoon

Bob's Red Mill Egg Replacer

mixed with 2 tablespoon water

½

teaspoon

vanilla extract

1

cup (240ml)

buttermilk

1

cup (170g)

fresh or frozen blueberries
Instructions
Preheat the oven to 425°F. Grease a jumbo muffin tin and set aside.

In a large bowl, whisk the flour, baking powder, baking soda, cinnamon, and salt together. Set aside.

In a separate bowl, stir the melted butter with the sugar until combined. Add the prepared egg replacer and vanilla, then mix in the buttermilk. Add the wet ingredients into the dry mixture and stir until just combined. Gently fold in the blueberries.

Pour the batter into the prepared pan, filling each cup all the way to the top. Bake for 5 minutes, then, without removing the muffins from the oven, reduce the temperature to 350°F and bake for another 25-30 minutes, or until a toothpick inserted into the centers of the muffins comes out clean. Allow the muffins to cool in the pan for 10 minutes before removing.
Notes
Be sure to follow the instructions on the package of Bob's Red Mill Egg Replacer. Once mixed with water, the egg replacer must sit for just a few minutes to thicken.

If you are not looking to replace eggs, you should be able to use 1 egg instead of the egg replacer.

This recipe yields 6 jumbo muffins or 12 standard size muffins. For standard muffins, reduce bake time to 20 minutes total (still baking for 5 minutes at 425

°F initially then reducing the heat and baking another 15 minutes). 

If using frozen blueberries, do not thaw. If using fresh blueberries, pat the berries dry after rinsing to avoid adding extra moisture to the batter.