Jump to Recipe
This easy no-churn coffee ice cream only calls for 5 ingredients. It's so indulgent and perfect for all of you coffee lovers!
If you have been around for a while, you may already know that I love making homemade no-churn ice cream. Don't get me wrong, there's no shame in keeping things easy and going the store-bought route once in a while.
But homemade ice cream is SO much easier than you might think, and we're not adding any funky ingredients that you may find in packaged ice cream. Plus, some ice cream can contain eggs. Not around here!
I like to always have some form of no-churn ice cream on hand because it's just an easy way to satisfy a sweet tooth after dinner.
Why You'll Love This Ice Cream...
It's so rich and indulgent. I'm definitely not claiming that this is a healthy ice cream recipe. I mean, we're using heavy cream and sweetened condensed milk, after all. But that's what makes it an extra delicious treat!
It's such a simple dessert to whip up and, once frozen, it will keep a long time. So, you can always just keep some in your freezer for when you have guests over (or for when a late night craving strikes).
There are so many ways to serve this one up! You can simply scoop it into pretty serving bowls or grab some gluten free waffle cones.
What You'll Need...
Sweetened condensed milk: traditionally sold in 14 ounce cans and can be found in the baking aisle. We'll be using the whole can for this recipe. Remember, this is NOT the same thing as evaporated milk.
Espresso powder: this one is my favorite to use. You can also substitute instant coffee granules, if you'd like.
How Does No-Churn Ice Cream Work?
If you've never attempted it before, you may be wondering how it's possible to make ice cream without an ice cream maker. The answer is in the ingredients!
No-churn ice cream works because of the heavy whipping cream. By beating the cream until it reaches stiff peaks, we're adding air to it. This lightness is similar to the texture that's achieved in the churning process.
How To Make...
To make my no-churn ice cream, we'll start by beating the heavy whipping cream for a few minutes, until stiff peaks form. It may seem like it's taking a while, especially if using a hand mixer vs. stand mixer, but it will get there. Be careful not to over-whip!
Once the whipped cream is ready, we are just going to fold in the espresso, sweetened condensed milk, and chocolate chips. And that's all there is to it! That's how easy it is to make ice cream without an ice cream maker.
Pour the ice cream into your container of choice. I like to use a loaf pan and cover it up with foil, but you could use any airtight container. Pop it into your freezer and let it hang out there for at least 6 hours.
Tips For Making No-Churn Coffee Ice Cream...
You really want to ensure that your heavy whipping cream is COLD. It's even better if you have a few minutes and can pop your mixing bowl and whisk attachment in the refrigerator to chill before using.
As mentioned above, you do want to be careful when beating the heavy cream. It can go from soft peaks, to stiff peaks, to butter (yes, butter!) fairly quickly. We will want stiff peaks for this recipe. To check, lift your whisk or beaters out from the whipped cream. If peaks form and they stand straight up vs. quickly sinking back in, it's ready.
Give yourself a couple of minutes before you start to ensure that the espresso fully dissolves in the hot water. You'll want the espresso to cool completely before you add it into the cream.
Ingredient Substitutions...
You can use instant coffee granules instead of espresso powder, if that's what you have on hand. The espresso powder will result in a stronger coffee flavor but both will be equally delicious!
If you prefer the texture of chocolate chunk ice cream, feel free to use roughly chopped chocolate instead of chocolate chips.
Did you make my no-churn coffee ice cream? Leave me a comment below or tag me on Instagram @justastastyblog and #justastastyblog!
For More Recipes Using Espresso, Check Out My...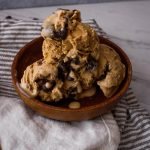 No-Churn Coffee Ice Cream
Print Recipe
This easy no-churn ice cream is full of rich coffee flavor plus
Ingredients
2

tablespoons

instant espresso powder

2

tablespoons

hot water

1

pint

heavy whipping cream

14

ounces

sweetened condensed milk

1

cup

semisweet chocolate chips
Instructions
In a small cup, stir the instant espresso powder with the hot water until completely dissolved. Set aside and allow to cool completely before using.

Using a hand mixer or a stand mixer fitted with the whisk attachment, beat the heavy cream until it starts to thicken and stiff peaks form. Fold in the espresso, sweetened condensed milk, and chocolate chips.

Pour the mixture into a loaf pan. Cover and freeze for at least 6 hours.