Jump to Recipe
This easy no churn Oreo ice cream is such a creamy and delicious treat! You won't need an ice cream maker for this one. The cookies and cream flavor is completely irresistible and tastes so much better homemade.
If you're looking to use up any leftover Oreos, try my Oreo cupcakes, Oreo cheesecake cookies, or my chocolate mousse pie!
I'm a HUGE fan of ice cream and, while I always struggle to pick just one favorite flavor, I definitely think cookies and cream is in the top three. It's probably because I just love chocolate sandwich cookies.
Regular readers know I'm also obsessed with making homemade no churn ice cream. Not only do I love how easy it is, it's just so sweet and creamy.
Personally, I think homemade ice cream is better than anything you can get at a store. And considering how super simple it really is, I don't see a need for ever going store-bought again!
Jump to:
What Is No Churn Ice Cream?
If you've never heard of no churn ice cream, then you are really in for a treat today. This is an easy technique that does not involve an ice cream maker and allows us to make ice cream without eggs. The process of whipping the cream is what gives it that perfect texture.
Why You'll Love This No Churn Oreo Ice Cream
This no churn Oreo ice cream recipe only calls for three ingredients and is made in just one bowl. It doesn't get much easier than that!
It's oh-so-delicious. The base is rich and sweet on its own, but add in the gluten free Oreos and it takes it to the next level.
You can make this ahead and store in your freezer for a long time, so it's a great frozen dessert option to have on hand for any occasion!
Ingredient Notes and Substitutions
Heavy cream: It's important that your heavy cream is COLD. Leave it in the refrigerator right up until you're ready to use it.
Sweetened condensed milk: You can find this in the baking aisle of most major grocery stores. Not only does it add delicious flavor to the ice cream, it also gives it that creamy consistency.
Gluten free Oreos: Yes, gluten free Oreos are now officially a thing! And I'm happy to report that they taste just like the originals. It goes without saying that, if you're not gluten free, you can use any type of Oreo you like in this recipe.
Step-By-Step Instructions
STEP ONE: Whip the cream. This is going to take a few minutes, so be patient. We'll whip the heavy cream until stiff peaks form. This means that when you pull the whisk out, you'll see peaks stick straight up. They shouldn't flop over or melt back into the cream.
STEP TWO: Add the sweetened condensed milk. You'll want to gently fold in the condensed milk. I always think of Schitt's Creek when I say "fold" and it makes me giggle. Here are some basic instructions for folding in ingredients, if you're unsure of what it means.
STEP THREE: Add the gluten free Oreos. Fold in the crushed up Oreo pieces. Make sure to use the entire cookie (both the wafers and the creme filling).
STEP FOUR: Freeze. Transfer the ice cream into a loaf pan and sprinkle a few larger cookie pieces on top. Cover it with foil and freeze for 4-6 hours. I typically keep mine in overnight.
Expert Tips
You want to keep a close eye on the heavy cream as you're beating it. It takes a little while to get to the stiff peaks, but after that it can quickly turn into butter (yes, really) if you over-whip it.
I like larger cookie pieces in my cookies and cream ice cream, so I really just roughly chopped them, then broke a few up with my hands to sprinkle on top before calling it good.
If you're looking for gluten free ice cream cones to serve with your no churn Oreo ice cream, you can try these sugar cones or these cones.
Frequently Asked Questions
Can I use evaporated milk?
No. Sweetened condensed milk and evaporated milk are two completely different ingredients and they are not interchangeable, especially not in this recipe. The condensed milk adds a sweet flavor and creamy consistency to this ice cream, which you simply would not get with evaporated milk.
What is the best way to crush Oreos?
Personally, I just roughly chop my Oreos for this recipe because I like larger pieces. If you want smaller pieces or even crumbs, you can use a food processor.
Can I use any other cookies?
Yes, you can use any gluten free sandwich cookies. If you're not gluten free, feel free to use original Oreos or any of the flavored ones.
How long can I store the ice cream?
While I like to store my no churn ice cream in a loaf pan covered with foil, you can also store in an airtight container. The ice cream can be stored for several months. If you are planning to keep it longer than 1-2 weeks, then an airtight container is your best bet to avoid freezer burn.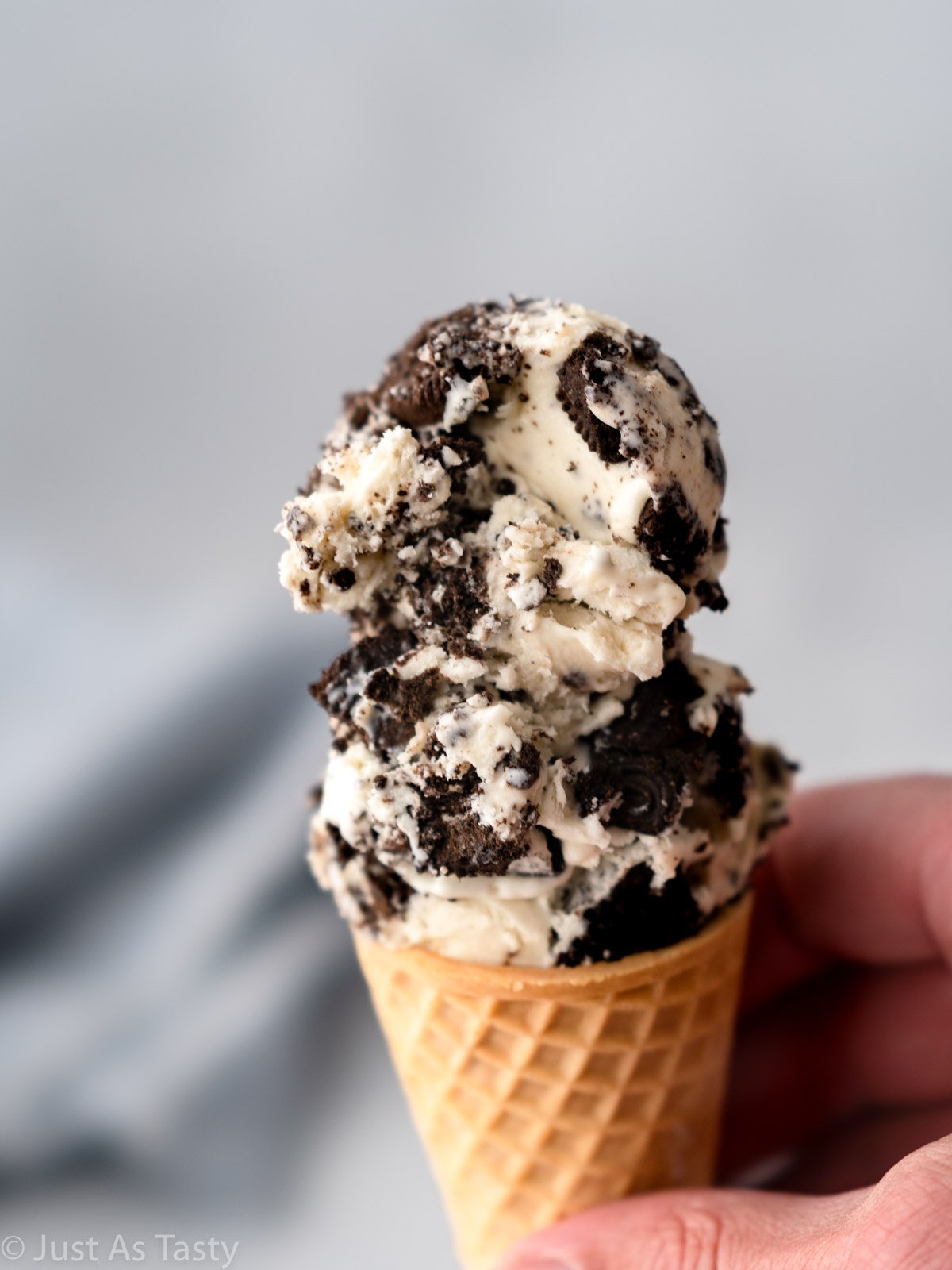 Did you try my no churn Oreo ice cream? Leave me a comment below or tag me on Instagram @justastastyblog and #justastastyblog! And don't forget to subscribe to get new recipes directly in your inbox.
📖 Recipe
Easy No Churn Oreo Ice Cream
Print Recipe
Deliciously creamy no churn ice cream packed with Oreos!
Ingredients
1

pint

heavy whipping cream

14

ounces

sweetened condensed milk

20

gluten free Oreos

crushed or roughly chopped
Instructions
Using a hand mixer or a stand mixer fitted with the whisk attachment, beat the heavy cream until stiff peeks form. Fold in the sweetened condensed milk until combined. Gently fold in the crushed Oreo pieces.

Transfer to a 9" loaf pan. Scatter additional pieces of Oreo on top. Cover with foil and freeze for 4-6 hours.
Notes
If you're not gluten free, feel free to use any flavor of Oreos you like! 
I like having larger pieces of Oreos in my ice cream, so I just roughly chop the cookies up, but you can also use a food processor. Be sure to use the entire cookie, including the creme filling. 
Nutrition
Related Recipes You Might Like