Jump to Recipe
These s'mores bars are admittedly a little messy, but SO worth it... truly the perfect summer treat!
I don't know about you, but it almost feels like you can't have summer without s'mores. There's just something about this sticky little treat, whether you're making them around a bonfire at the beach, at camp, or in your own backyard, that just tastes like warm summer nights.
Coming up with this recipe got me thinking about the origins of s'mores. I did some research and, while it's unclear who actually came up with it, the earliest "recipe" was found in a Girl Scout publication circa the 1920s (back when they were called "some mores"). You learn something new every day!
My s'mores bars are incredibly sweet and are a fun twist on the old classic. We start with a gluten free and eggless honey-flavored bar as our base (think graham crackers but in an extra soft, cakey form). I love this base so much, I used it as inspiration for my sugar cookie bars!
Add milk chocolate and some allergy friendly marshmallows (no corn syrup or artificial ingredients in these little guys)... and you've got yourself a s'mores bar.
I mentioned the brand Smashmallow when I shared my s'mores cookies. Again, this is not sponsored 😉 they didn't pay me to tell you how good they are. But they really are good. The flavor I'd highly recommend for this recipe is Cinnamon Churro, but if you want to go for something more classic, you can try Toasted Vanilla.
One note that I feel is important to call out: these bars are sticky, and gooey, and can get a little messy. But that's okay! Pro tip: to make these easier to cut and serve, I would highly recommend spacing the marshmallows out a bit (more than I did here). The closer your marshmallows are together, the stickier your knife will get... trust me, I know.
Why I Love These S'mores Bars...
The combination of flavors is just out. of. this. world. Between the honey graham flavored base, the slightly melted chocolate, and the cinnamon sugar coated marshmallows, there's a lot going on. In a good way.
The textures are also incredible and I'd say very unique to s'mores bars. Like I said before, the bar itself is super soft and cakey. When it comes to the chocolate, I don't melt it all the way, so it's still solid yet softened (which I think tastes the best). And then the marshmallows are just so pillowy and fluffy.
The whole process takes me under an hour. And it's all made in one bowl. Love fast and easy, always!
How To Make S'mores Bars...
These s'mores bars really come together so quickly. You will start by beating your softened butter with some brown sugar, until it's all creamy. Mix in the egg replacer and honey, and then follow that with the dry ingredients: just gluten free flour, baking powder, and salt.
Stir in (or mix using the lowest speed on your mixer) until it comes together. Then pour right into your lined square baking pan. The mixture will be quite sticky, so it may be helpful to use a lightly greased rubber spatula to get it all in place. Bake on 350ºF for just about 15 minutes, being careful not to over-bake.
Now on to the s'mores making! Once your bars have cooled, add a single layer of milk chocolate. I use Hershey's milk chocolate (the regular 1.55 ounce bars) and basically lay down the full bars. You may have to take your last bar and break it into smaller pieces to fill any gaps or edges along the bottom or sides.
Then add the marshmallows on top of the chocolate. As I mentioned above, try to space them out a bit farther than mine so that the marshmallows aren't touching. Future you will thank you.
Pop the whole pan under your broiler and keep a veryyyy close eye on it. Every broiler is different but it should only take a few minutes for the marshmallows to get a bit toasted and the chocolate to melt a little.
When you see that starting to happen, you can pull the pan out. Wait for it to cool completely before attempting to cut and serve.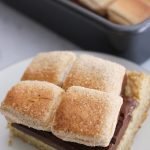 S'mores Bars - Gluten Free, Eggless
Print Recipe
A deliciously soft honey-flavored base topped with milk chocolate bars and toasted marshmallows!
Ingredients
½

cup

unsalted butter

room temperature

½

cup

brown sugar

packed

2

tablespoons

honey

1

tablespoon

Bob's Red Mill Egg Replacer

mixed with 2 tablespoon water

1 ½

cup

gluten free flour blend

1 ½

teaspoons

baking powder

¼

teaspoon

salt

4

1.55 ounce

milk chocolate bars

7

ounces

marshmallows
Instructions
Preheat oven to 350°F. Line a square baking pan with parchment paper and set aside.

Using a hand mixer or a stand mixer fitted with the paddle attachment, cream the butter with the brown sugar until combined. Add the honey and egg replacer and continue to beat.

Add the flour, baking powder, and salt. Mix on the lowest speed until just combined. Pour into prepared pan and bake for 16-18 minutes, or until a toothpick inserted in the center comes out clean.

Once cooled, add chocolate bars on top in a single layer, breaking off pieces of chocolate to fill any edges or gaps as necessary. Add marshmallows on top of the chocolate layer. Place in broiler for just a few minutes, keeping a close eye on it, just until the marshmallows start to brown and the chocolate melts.

Remove from broiler and allow to cool completely before slicing into bars.
Notes
Be sure to follow the instructions on the package of Bob's Red Mill Egg Replacer. Once mixed with water, the egg replacer must sit for just a few minutes to thicken.

If you are not looking to replace eggs, you should be able to use 1 egg instead of the egg replacer.

Feel free to experiment with different flavors of marshmallows. The one I used for this recipe is Cinnamon Churro.
Did you make my s'mores bars? Tag me on Instagram @justastastyblog and #justastastyblog.