Jump to Recipe
This gluten free strawberry shortcake is so dreamy! Between the biscuit-like cake layers, homemade whipped cream, and sweet strawberry topping, this is one seriously impressive dessert.
Strawberry shortcake has always been appealing to me. It's just such a winning combination. You've got the buttery biscuit, which is not too sweet in and of itself. And then you top it with fresh whipped cream and juicy strawberries. What's not to love?
I've been determined to develop a gluten free strawberry shortcake recipe for some time now, and I'm happy to report that I've landed on a recipe that I am so thrilled with! This is one that I'll be making again and again every Summer, and I'm willing to bet you will, too.
Rather than making single-serving shortcake, I wanted to make a whole cake using 8-inch round pans. I just think this looks extra pretty served at a brunch or party -- and it's easier than having to roll out and cut the dough, in my opinion.
So if you happen to have some strawberries that you're looking to use up, this is the recipe for you (and check out my strawberry custard tart, too). But the good news is, you can absolutely use frozen berries in this shortcake if that's what you have on hand. More on that below!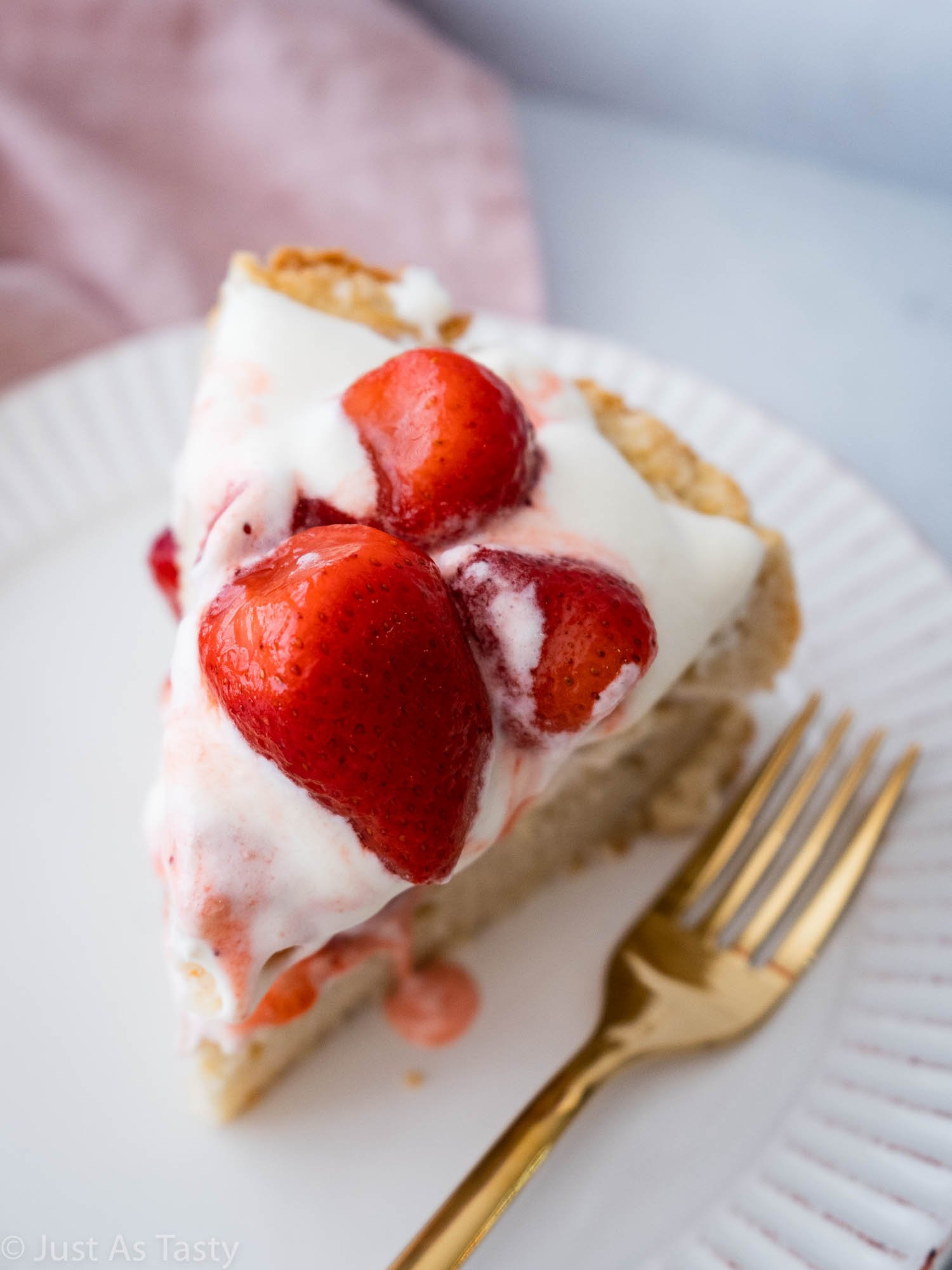 Why You'll Love This Gluten Free Strawberry Shortcake...
The cake layers are so good. This isn't your traditional soft and fluffy cake. It's got more of a dense texture and is not too sweet, just like biscuits.
While it might seem like a lot of steps, it's all SO easy. And you can totally make all of the different pieces the day before you plan to serve. I will talk you through all of that below.
Like I said, you can use fresh OR frozen berries in this instance. And if you really want to make this even easier, you could technically use store-bought whipped cream. No judgment here!
What You'll Need...
How To Make Gluten Free Strawberry Shortcake From Scratch...
Make the strawberry topping:
To make my gluten free strawberry shortcake, let's start with the strawberry topping. It really couldn't be any easier! We're just tossing the strawberries with jam and sugar in a large bowl. Let it chill in the refrigerator until you're ready to use it.
Make the cake:
Now we'll move onto the two cake layers. This is not a light and fluffy cake, so we will not be creaming the butter with the sugar. The technique is more in line with making flaky biscuits.
Start by combining all of the dry ingredients, including the sugar, in a large bowl. Cut your butter in using a pastry blender. If you don't have one, you can totally use two butter knives. The mixture should be crumbly, and it's ok if you have some pea-sized pieces of butter throughout.
Add the cold milk and stir to combine. Your batter will be thick. Divide evenly between two greased 8-inch pans (you may need to use your hands to press it in). Bake on 350ºF for about 15 minutes. Allow the cakes to cool for about 10 minutes before transferring to a cooling rack to cool completely before assembling.
Make the homemade whipped cream:
To make homemade whipped cream, we'll just beat the cream with the sugar and vanilla extract until medium peaks form. You don't want the peaks to be so soft that they quickly fall over into the cream. This will take a good few minutes of beating, so be patient!
And to assemble the cake, you'll just layer the whipped cream and strawberry topping on top of each cake layer.
Tips For Making The Best Strawberry Shortcake...
I always like to make the strawberry filling first, because this will really allow the mixture to sit and marinate, for lack of a better word, while you work on the cake and whipped cream.
If you end up using frozen berries, make sure to thaw them first. You can mix the frozen berries up with the sugar and jam, just let it sit for longer than you would fresh berries.
As always, I recommend weighing the flour using a kitchen scale. This is the best way to ensure accuracy and avoid accidentally using too much flour. We'll be using 518 grams of flour in this recipe.
When making the batter for the cake, you want to use COLD butter (cut it up into cubes to make it easy to blend) and COLD milk.
I recommend against using your hands to incorporate the butter because you don't want to warm up the batter.
You will want to ensure your cake layers are completely cooled before assembling the shortcake. Otherwise your whipped cream will turn into a melty mess 🙂
You can make this shortcake the day before you plan to serve. Wrap each individual cake layer tightly in plastic wrap and store at room temperature. Cover the strawberry topping and whipped cream (separately), or place in airtight containers, and store in the refrigerator.
If you prefer thinner cake layers, you can try to cut each one in half or use 9" pans instead of 8" pans.
Ingredient Substitutions...
I'm unsure if this strawberry shortcake can be made dairy-free, as I've never used dairy-free whipped cream. You should be able to make the cake layers dairy-free by swapping in your favorite non-dairy butter and milk.
Did you try my gluten free strawberry shortcake? Leave me a comment below or tag me on Instagram @justastastyblog and #justastastyblog!
For More Gluten Free Recipes Using Strawberries, Try My...
Strawberry Shortcake - Gluten Free, Eggless
Print Recipe
This two layer strawberry shortcake is super easy to make and topped with homemade whipped cream!
Ingredients
For the strawberry filling:
3

cups (500g)

strawberries

2

tablespoons

granulated sugar

2

tablespoons

strawberry jam
For the cake:
3 ½

cups (518g)

gluten free flour blend

¼

cup (50g)

granulated sugar

1

tablespoon

baking powder

1

teaspoon

salt

12

tablespoons (170g)

unsalted butter

cold, cut into cubes

1 ½

cups (360ml)

whole milk
For the whipped cream:
2

cups (480ml)

heavy cream

cold

¼

cup (50g)

granulated sugar

½

teaspoon

vanilla extract
Instructions
To make the strawberries:
Combine the strawberries, sugar, and jam in a bowl. Cover and refrigerate until ready to use.
To make the cake:
Preheat the oven to 450°F. Grease two 8-inch round pans and set aside.

In a large bowl, whisk the flour, sugar, baking powder, and salt together. Cut in the cubed butter using a pastry blender (or two knives) until coarse crumbs form. Stir in the milk until the dough comes together.

Divide the dough evenly between the prepared pans. Press the dough in to fill the pan. Bake for 15-18 minutes, or until a toothpick inserted into the center of each cake comes out clean. The cakes should be slightly golden around the edges. Allow to cool in the pans for 10 minutes before inverting onto a cooling rack to cool completely before assembling.
To make the whipped cream:
Using a hand mixer or a stand mixer fitted with the whisk attachment, beat the heavy cream with the sugar and vanilla extract until medium peaks form.
To assemble the cake:
Place one cake on a plate or stand. Top with whipped cream and strawberries, then top with the second cake and layer the remaining whipped cream and strawberries on top. Serve immediately.
Notes
Make ahead instructions: this shortcake can be made a day in advance. Wrap each individual cake layer tightly in plastic wrap and store at room temperature. Store the strawberries and whipped cream separately in airtight containers in the refrigerator. Assemble right before serving. 
You should be able to use 9-inch pans instead of 8-inch. The layers will just be slightly thicker with 8-inch pans. 
You can use fresh or frozen strawberries. Thaw frozen berries before using.