Jump to Recipe
This easy cannoli pie is so decadent and dangerously delicious! It takes just a few minutes to whip up and makes for a seriously impressive dessert.
I'd like to start this post by stating that my husband, who is also my trusty taste tester, told me this cannoli pie "might be one of my favorite things you've ever made." So, there's that.
All joking aside, I really hope you make this cannoli pie. And then I hope you come right back here and tell me how you feel about it. I'm serious, it's THAT good. I couldn't wait to get on here and share this recipe with you all!
First off, I love cannoli. I don't get to have them nearly enough, but if I ever happen to be anywhere near the local Eataly, you better believe I'm popping in for a couple. So in my mind, a cannoli pie just makes sense, you know?
Now, I'm not claiming this is 100% authentic. We are using a graham cracker crust, after all. But this recipe was definitely inspired by the traditional Italian treat and does incorporate a few of its main ingredients. So let's dive right in!
What Is Cannoli?
Cannoli are little tube-shaped pastries that are filled with the most delicious creamy filling. They come from Italy (Sicily, to be exact) and are traditionally made with deep fried yet flaky pastry dough. Cannoli filling is usually made with ricotta cheese.
Some cannoli also incorporate mini chocolate chips, while others might be dipped in pistachios. And while I've never attempted to make cannoli from scratch, I'm certainly planning on trying it at some point. For now, though, I'm allll about my cannoli pie.
Why You'll Love This Cannoli Pie...
If you enjoy cheesecake, you will love this filling. There's no cream cheese in it, so it's certainly not tangy in that way, but the texture is very similar.
It's really easy to make! That's why I think this makes a great dessert option if you're looking to go a bit outside the box, but don't want to spend a ton of time and effort on it.
Honestly, this pie tastes just as good frozen. More on that later.
What You'll Need...
For the crust: gluten free graham cracker crumbs (this is my favorite brand for GF graham crackers) + brown sugar + melted butter.
For the filling: mascarpone + ricotta + sugar + sweetened condensed milk + vanilla.
Mix in: semisweet chocolate chips (I used regular ones but you can also do mini chips).
How To Make Cannoli Pie From Scratch...
To make this gluten free cannoli pie, we'll start with a simple graham cracker crust. You likely already know the drill: just combine the gluten free graham cracker crumbs (I use a food processor to quickly grind them up) with brown sugar and melted butter. Press the mixture into the bottom of a greased pan, making sure to really pack it in there.
Then, set aside the crust and move on to the filling. Use an electric mixer to beat the mascarpone until it's smooth and creamy.
Next, you'll want to add in the ricotta, sweetened condensed milk, and vanilla extract. I personally didn't strain the ricotta here because it wasn't overly wet, but if the kind you're using is, then you definitely will want to strain it with a cheesecloth. It's important not to add all of that moisture into your pie filling, otherwise it may not set up and thicken properly.
The sweetened condensed milk is important for an eggless cannoli pie, because it helps thicken and bind the filling (it's also what I use as the egg substitute in my snickerdoodle cheesecake).
After the filling is fully combined, stir in the chocolate chips, then pour your filling into the prepared crust. Bake the pie on 350ºF for about 25 minutes. Once the pie has fully cooled, chill in the refrigerator for 4 hours (or overnight).
How To Store Cannoli Pie...
To store the cannoli pie, you can keep it in an airtight container in the refrigerator for 3-4 days. If you end up with leftovers (unlikely) or just want to sneak some away to enjoy later (more likely), this pie freezes really well.
To be completely honest, we've tried it straight out of the freezer and it is SO good frozen. So really, you can either thaw the frozen pie before serving or enjoy it straight from the freezer.
Did you make my cannoli pie? Leave me a comment below or tag me on Instagram @justastastyblog and #justastastyblog!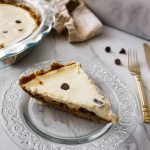 Easy Cannoli Pie - Gluten Free
Print Recipe
So rich and indulgent, this cannoli pie is made with ricotta and mascarpone cheeses!
Ingredients
For the crust:
1 ½

cups (150g)

gluten free graham cracker crumbs

¼

cup (50g)

brown sugar

packed

6

tablespoons (85g)

unsalted butter

melted
For the filling:
8

ounces

mascarpone

room temperature

1

cup (227g)

ricotta

room temperature

⅔

cup (133g)

granulated sugar

¼

cup (78g)

sweetened condensed milk

1

teaspoon

vanilla extract

⅔

cup (113g)

semisweet chocolate chips
Instructions
Preheat oven to 350°F. Grease a 9" pie dish and set aside.

To make the crust, combine the graham cracker crumbs and brown sugar in a small bowl. Stir in the melted butter. Press the mixture into the bottom of the prepared pan. Set aside.

Using a hand mixer or a stand mixer fitted with the paddle attachment, beat the mascarpone until creamy. Add the ricotta, sugar, sweetened condensed milk, and vanilla extract and beat for another 2-3 minutes. Stir in the chocolate chips.

Pour the filling into the prepared crust. Bake for 25-30 minutes. Cool completely, then chill in the refrigerator for at least 4 hours, or overnight.
Notes
The filling may seem like it's not fully set when you pull the pie out of the oven, but that's normal. It will set up further after chilling in the refrigerator. 
I didn't have to strain the ricotta cheese I used, but if yours contains a lot of moisture, you will want to strain that moisture out.