Jump to Recipe
This easy banoffee ice cream pie is one of my favorite no-bake pie recipes. The pie features a thick layer of dulce de leche on a graham cracker crust, plus a delicious banana ice cream filling.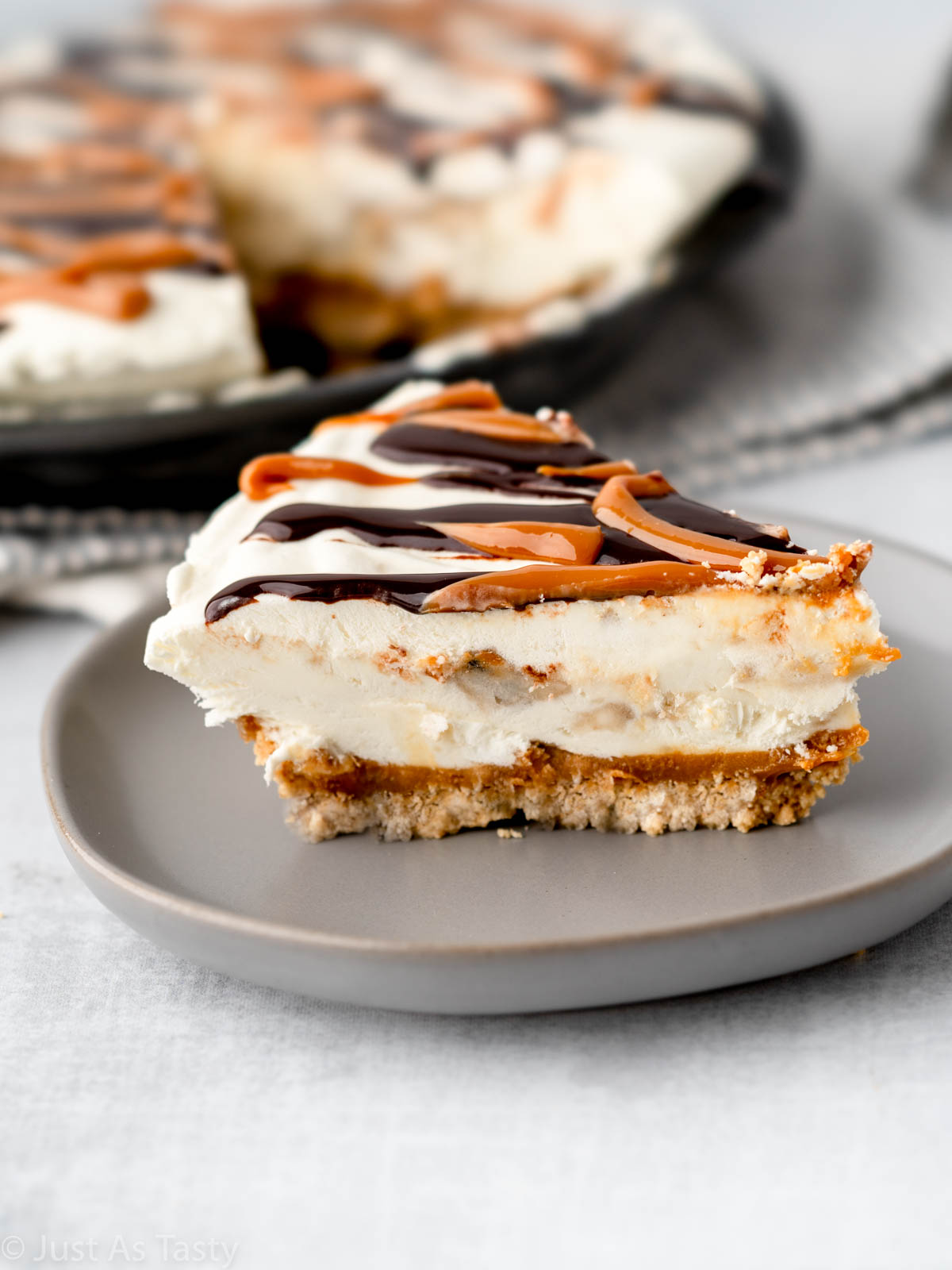 If you're looking for even more gluten free pie recipes to try, check out my easy cannoli pie and my chocolate mousse pie!
If I had to pick just one all-time favorite pie... I don't think I could do it. Ha, just kidding. Well, kind of. I really love pie. But I have to say, this gluten free banoffee ice cream pie is definitely up there.
It doesn't hurt that this recipe is probably one of the easiest ones you'll find on this blog. If you're ever stumped or trying to think outside the box for a fun and different dessert idea, this is the one for you.
What's also super enticing about this easy banoffee ice cream pie recipe is that you can practically go all store-bought. From the graham cracker crust, to the dulce de leche, and even the whipped cream.
Jump to:
What Is Banoffee Pie?
Banoffee pie is actually an English dessert that involves dulce de leche, bananas, and whipped cream. The name is a nod to its primary ingredients: banana + toffee (aka dulce de leche).
Banoffee pie is famously featured in Love Actually, when Juliet visits Mark to watch her wedding video and offers him a slice. I'm someone who watches Love Actually every Christmas and, every year, I walk away craving some banoffee pie.
Why You'll Love This Recipe
Who doesn't love that deep caramel flavor paired with bananas? I mean, really.
I think I've thoroughly covered this point but it's worth repeating: this is one SIMPLE recipe. The only thing that takes a bit of time and patience is freezing the pie (and the dulce de leche, if you make it from scratch).
Speaking of which, I typically use store-bought dulce de leche. And guess what? You can also use a store-bought gluten free crust. This pie practically makes itself!
Ingredient Notes and Substitutions
Gluten free graham crackers: You can use either homemade graham crackers or store-bought. Or if you want to make things even easier, use a pre-made crust!
Condensed milk: Sweetened condensed milk is available at most major grocery stores. It can be found in the baking aisle.
Bananas: You'll want to make sure you're using ripe bananas. If they are brown and slightly soft, you're good. I use 2 large bananas but if yours are on the smaller side, go ahead and use 3.
Dulce de leche: Dulce de leche is absolutely delicious! I like to keep it easy and buy canned dulce de leche (you can find it near the condensed milk) but see below for instructions for making your own at home.
Chocolate sauce: Totally optional but so delicious! I like to use an organic chocolate sauce that does not contain corn syrup or other artificial ingredients.
Step-By-Step Instructions
STEP ONE: Make the crust. Use a food processor to crush your gluten free graham crackers to crumbs. Stir in the melted butter, then press the graham cracker crumbs into the bottom of a pie pan. Pop it into the freezer for now.
STEP TWO: Combine the condensed milk and the bananas. Use a rubber spatula to give the two ingredients a good stir so that the mixture is fully combined.
STEP THREE: Whip the cream. Use an electric mixer to whip the heavy whipping cream to medium peaks.
STEP FOUR: Fold in the banana mixture. Add the banana mixture to the whipped cream and fold until evenly incorporated.
STEP FIVE: Add dulce de leche to the crust. Grab your crust and spread a layer of dulce de leche on top.
STEP SIX: Finish assembly. Now simply pour the filling on top of the dulce de leche and freeze for 1 hour. After that, you can drizzle on the rest of your dulce de leche and any other toppings. Cover and freeze for another 6 hours (at a minimum).
Expert Tips
If you have a pie plate that's a bit on the deeper side, that would work best. This recipe makes a good amount of filling (as you can see in my slices!).
It's important to freeze the pie for at least 1 hour before drizzling the dulce de leche and chocolate on top.
You have to melt down the dulce de leche in order to make it spreadable and, later, to easily drizzle it on top. Dulce de leche is very thick and sticky, and it's nearly impossible to spread onto the crust without it resulting in a crumbly mess. Scoop it out into a microwave safe bowl and heat it up for just 30 seconds.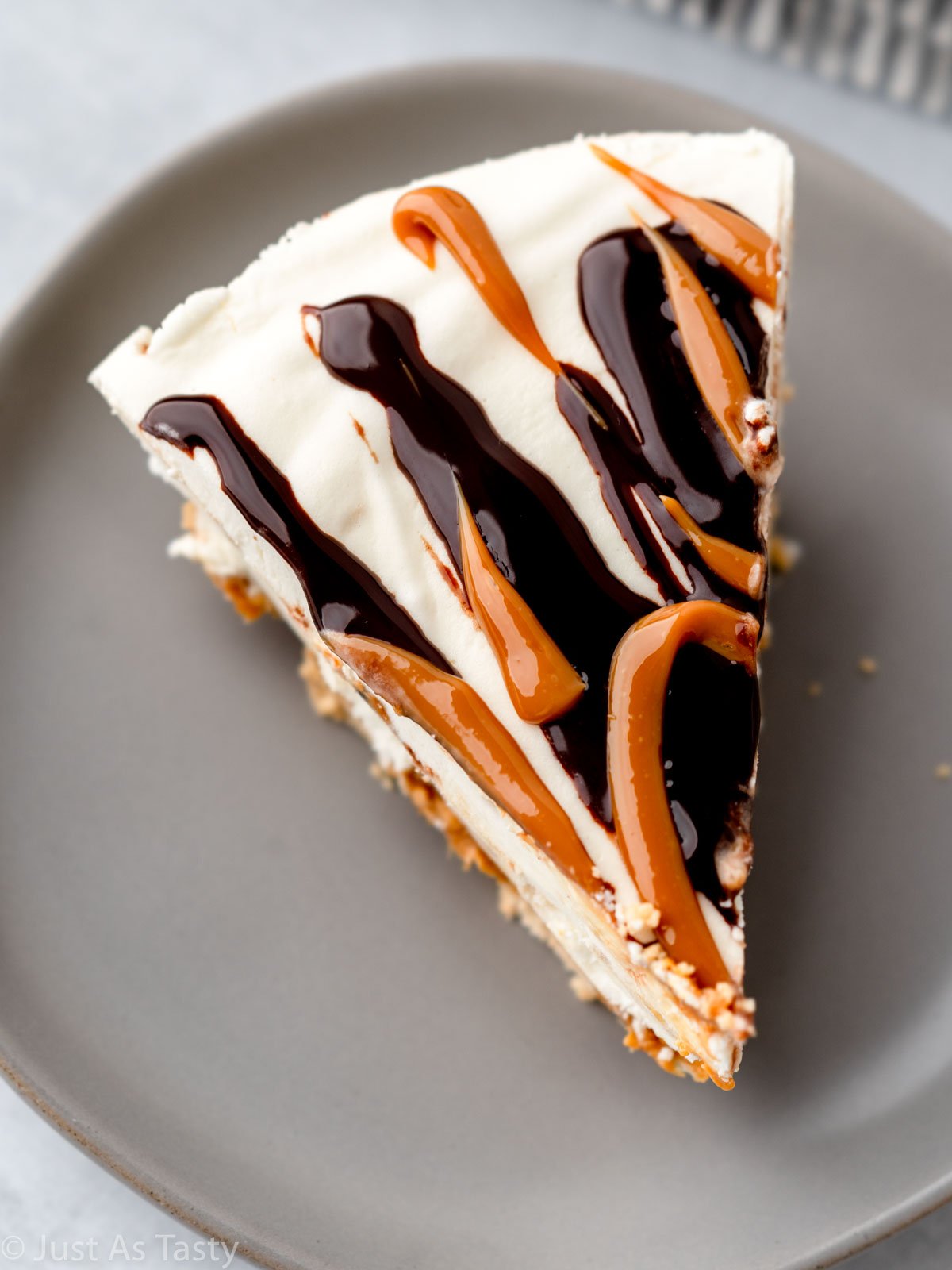 Frequently Asked Questions
Can I make this banoffee ice cream pie dairy free?
I haven't tested it, but you may be able to use coconut cream and sweetened condensed coconut milk.
Can I substitute evaporated milk?
No! Sweetened condensed milk and evaporated milk are not interchangeable. Evaporated milk is different in consistency and also doesn't have that sweet flavor that we're looking for here.
How can I tell if my bananas are ripe?
Brown spots are your friend when it comes to this recipe. If you're in a hurry, try this trick to make your bananas ripen quickly.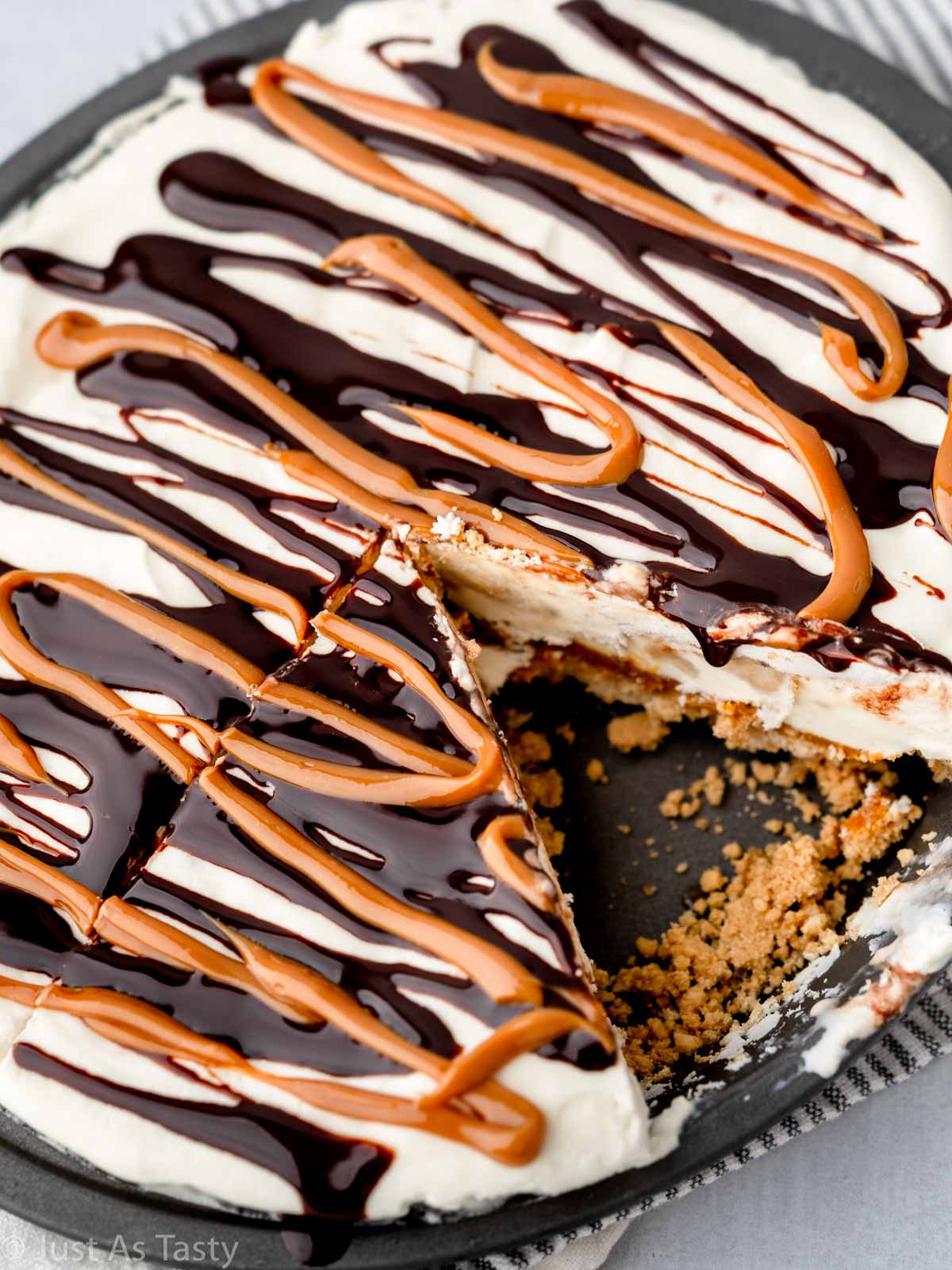 How To Make Homemade Dulce De Leche
To make your own dulce de leche, all you will need is one can of sweetened condensed milk. Pour into a square baking pan, then cover the pan tightly with foil and place it into a larger roasting pan. Pour hot water into the roasting pan until it comes to about halfway up the side of the square pan.
Bake the sweetened condensed milk on 425ºF for around an hour and a half. The longer you leave it in, the deeper your caramel color will be. I've personally never experienced evaporation, but there is a chance your water will evaporate throughout the bake time, so I'd recommend checking in and refilling as necessary.
Give it a good stir once you pull it out of the oven, and be sure to cool completely before using in your pie.
Did you try my banoffee ice cream pie? Leave me a comment below or tag me on Instagram @justastastyblog and #justastastyblog! And don't forget to subscribe to get new recipes directly in your inbox.
📖 Recipe
Best Banoffee Ice Cream Pie
Print Recipe
This rich banoffee pie features a thick layer of dulce de leche and a graham cracker crust!
Ingredients
For the graham cracker crust:
1 ½

cups (150g)

gluten free graham cracker crumbs

¼

cup (50g)

light brown sugar

packed

6

tablespoons (85g)

unsalted butter

melted and cooled to room temperature
For the filling:
14

ounces

sweetened condensed milk

2

large bananas

mashed

16

ounces

heavy whipping cream

13.4

ounces

dulce de leche

chocolate sauce

optional
Instructions
To make the crust, combine the graham cracker crumbs and brown sugar in a small bowl. Stir in the melted butter. Press the mixture into the bottom of a 9-inch pie plate and place in the freezer while you make the filling.

1 ½ cups (150g) gluten free graham cracker crumbs,

¼ cup (50g) light brown sugar,

6 tablespoons (85g) unsalted butter

In a large bowl, stir together the condensed milk and mashed bananas until fully combined. Set aside.

14 ounces sweetened condensed milk,

2 large bananas

Using a hand mixer or a stand mixer fitted with the whisk attachment, whip the heavy cream until medium peaks form. Fold in the condensed milk and banana mixture until combined.

16 ounces heavy whipping cream

Scoop the dulce de leche out of the can and into a microwave-safe bowl. Microwave for 30 seconds, until dulce de leche is creamy and spreadable.

13.4 ounces dulce de leche

Remove the crust from the freezer. Spread half of the dulce de leche on top of the crust, then pour the filling on top. Freeze, uncovered, for 1 hour. Remove and drizzle with the remaining dulce de leche and chocolate sauce (if using). Cover and freeze for at least 6 hours, or overnight.
Notes
Ripe bananas work best in this recipe. If they're brown and soft, then they're good to go! 
Make sure your heavy whipping cream is COLD. This is very important when it comes to making homemade whipped cream. 
Nutrition
Related Recipes You Might Like