Jump to Recipe
These easy chocolate coconut macaroons with condensed milk are SO rich, chewy, and delicious. This is a 4-ingredient recipe that comes together in just minutes.
If you're a coconut lover, you need to check out my coconut cake and coconut cream cupcakes.
I've been meaning to post about my chocolate coconut macaroons for some time now. Because I find that they're just about the perfect little snack/dessert to have around the house for any occasion.
These are great for when you're craving something rich and sweet, but don't necessarily want to spend much time in the kitchen. Or maybe you're out of flour, or butter, or sugar.
Enter: chocolate coconut macaroons with sweetened condensed milk. Perfectly crisp on the outside yet soft and chewy in the center. A 4-ingredient recipe (three of those ingredients are right there in the title of this post!). What's not to love about that?
Jump to:
Why You'll Love These Chocolate Coconut Macaroons
If you're a fan of all things coconut, you are truly going to love these macaroons. They're so sweet, rich, and the melted chocolate on top complements the coconut flavor perfectly.
While many coconut macaroon recipes involve whipping egg whites, my recipe is made entirely without eggs - so we're skipping that whole step! Told you this was easy.
And speaking of easy, this recipe involves 4 ingredients and 1 bowl. Does it get any better than that?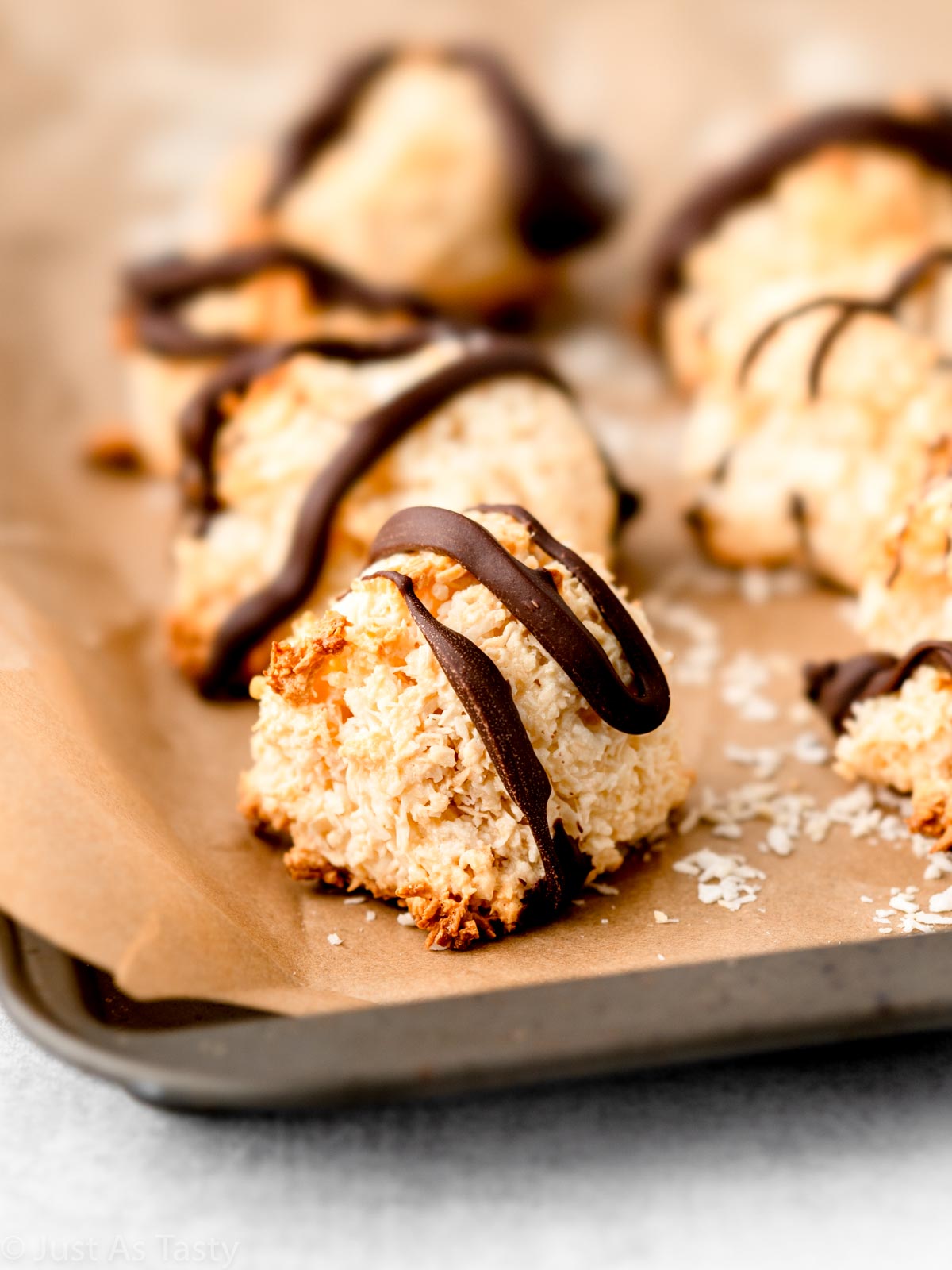 Ingredient Notes and Substitutions
Shredded coconut: While many coconut macaroon recipes call for sweetened shredded coconut (or coconut flakes), I much prefer making mine with unsweetened shredded coconut. I find that the condensed milk adds so much delicious, rich flavor and I don't think we need to make the macaroons any sweeter by using sweetened coconut. I love Bob's Red Mill shredded coconut.
Condensed milk: This ingredient is very important. It adds a ton of sweetness and flavor, and also binds everything together! You can usually find canned sweetened condensed milk in the baking aisle.
Chocolate chips: I like to use semisweet chocolate chips for the drizzle, but you can use any melted chocolate you'd like.
Step-By-Step Instructions
STEP ONE: Combine the shredded coconut, sweetened condensed milk, and vanilla extract. Toss all three ingredients into a large mixing bowl and stir with a rubber spatula or wooden spoon until the coconut is completely covered with the condensed milk.
STEP TWO: Transfer to a lined baking sheet. Use an ice cream scoop or a tablespoon to scoop out perfect little mounds. Space them out about 2 inches apart.
STEP THREE: Bake the coconut macaroons on 350ºF. Allow them to cool on the pan for 15 minutes before transferring to a cooling rack.
STEP FOUR: Drizzle with chocolate. Grab your melted chocolate and drizzle on top of the cooled macaroons. Allow the chocolate to set before enjoying.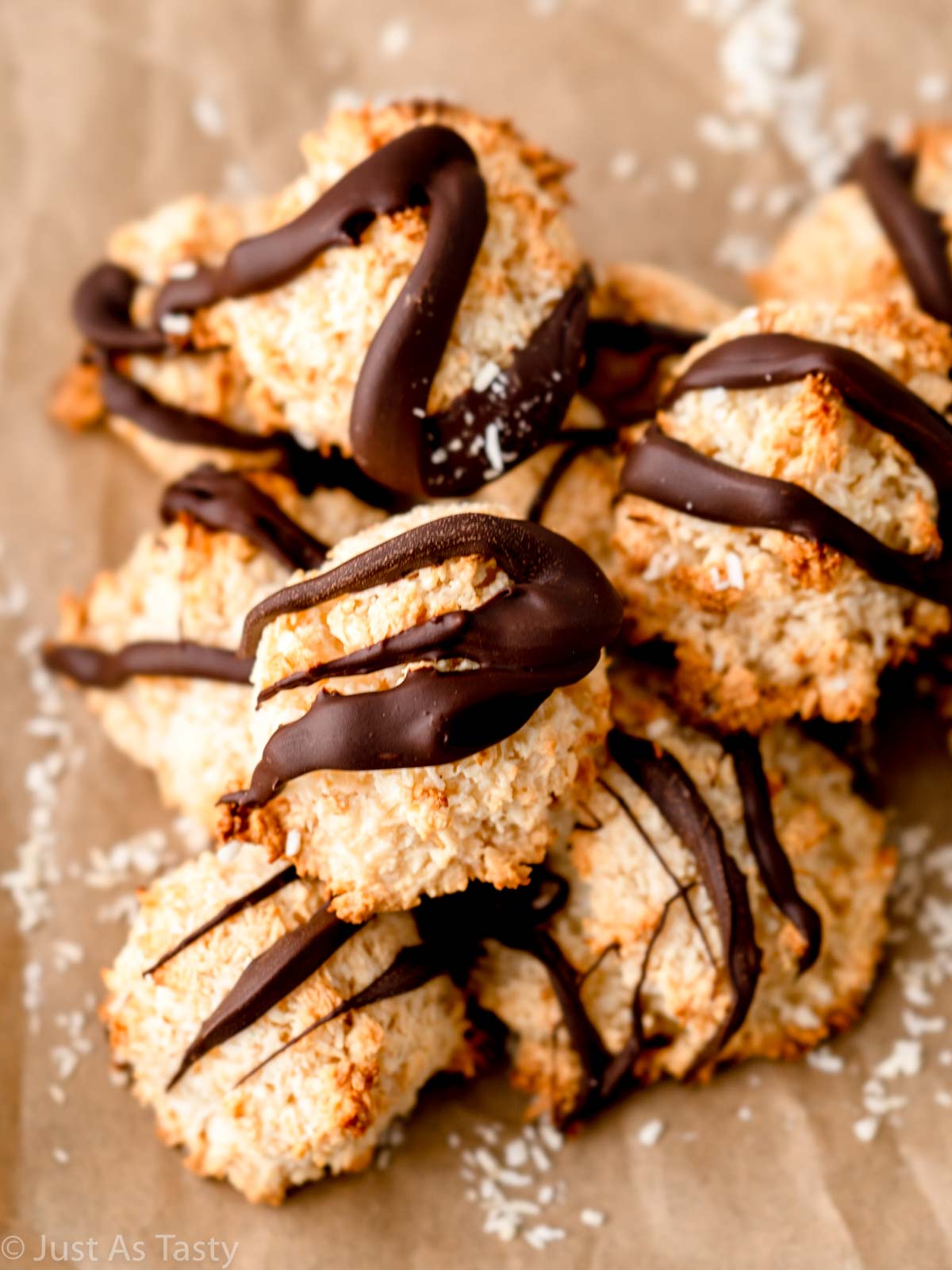 Expert Tips
I said it earlier but it's worth mentioning again: do not use sweetened coconut flakes! Not only is this recipe just so delicious with unsweetened coconut, I've found that sweetened coconut flakes also bring in a lot of moisture.
When you're scooping the macaroons out onto your baking sheet, you may find them falling apart slightly. No sweat! Just use your hands to gently press them together into the right shape. They will not fall apart once baked.
It's important to allow the coconut macaroons to cool before trying to move them. This cooling time on the baking sheet helps them set up better.
Frequently Asked Questions
What's the difference between a coconut macaroon and a macaron?
These are two completely different desserts! Both are delicious. Macarons are a French treat made with egg whites and, in many cases, almond flour. The cookies are sandwiched together and feature a flavored filling. Macaroons are more dense and chewy and are typically made with coconut.
How can I tell when coconut macaroons are done?
You'll know the macaroons are done when they are slightly golden in color and the bottoms look set.
Why did my coconut macaroons spread?
The coconut macaroons should spread a little bit in the oven, but not too much. If you find yours are spreading a lot, the mixture may have gotten too warm (like if you're making multiple batches and left the bowl sitting out while waiting). If that's the case, work in small batches and chill the mixture in the refrigerator.
Can I substitute evaporated milk?
No! Condensed milk and evaporated milk are not interchangeable, especially not in this recipe. Condensed milk is more dense and is sweetened, both of which are qualities we want to add to this recipe.
Can I make these coconut macaroons dairy free?
Yes, you should be able to use condensed coconut milk to make these dairy free. I haven't tested it myself but I don't see why it wouldn't work.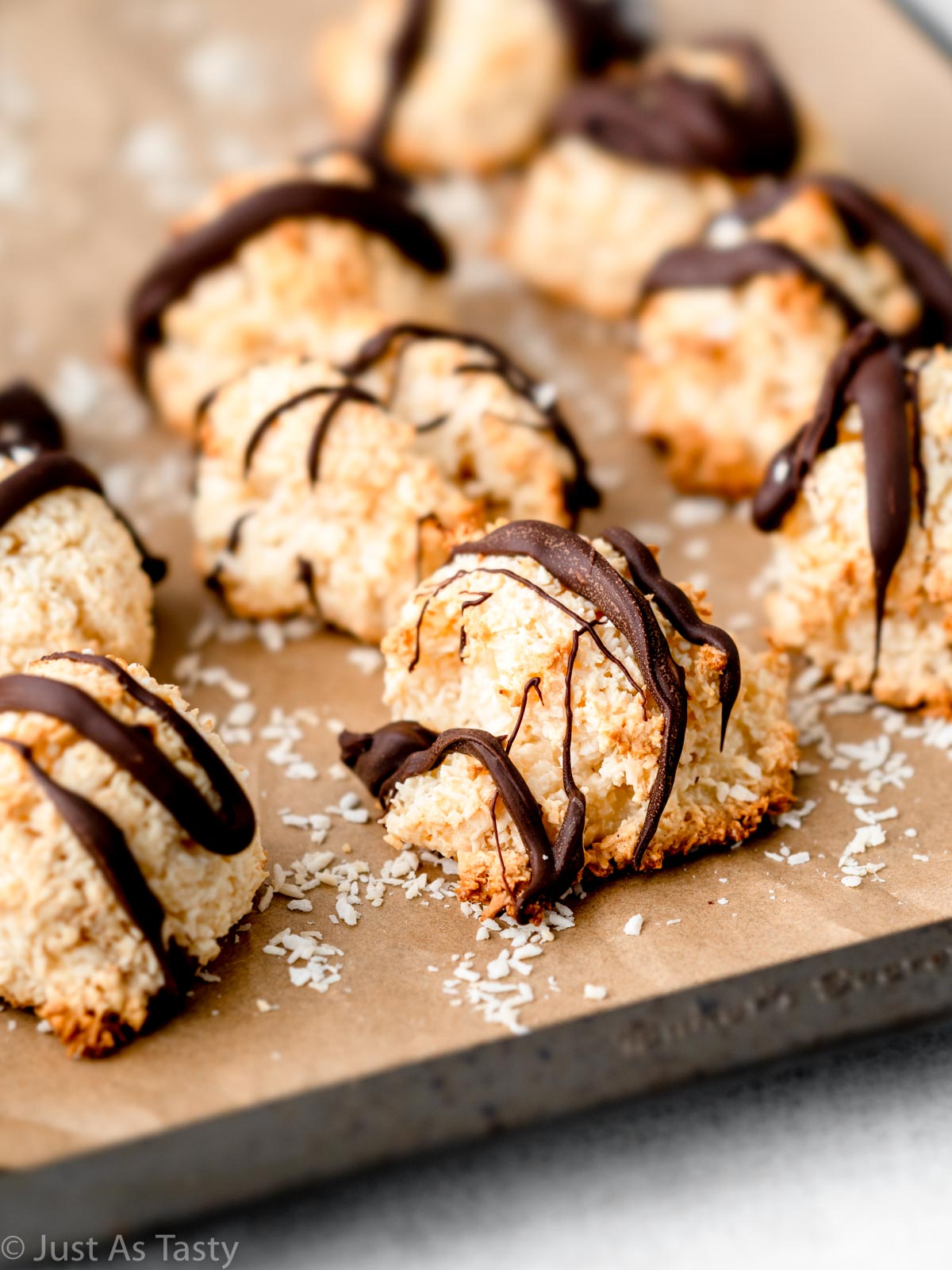 How To Store
These chocolate coconut macaroons can be stored in an airtight container at room temperature or in the refrigerator for up to 5 days.
Did you try my chocolate coconut macaroons with condensed milk? Leave me a comment below or tag me on Instagram @justastastyblog and #justastastyblog! And don't forget to subscribe to get new recipes directly in your inbox.
📖 Recipe
Easy Chocolate Coconut Macaroons With Condensed Milk
Print Recipe
These 4 ingredient coconut macaroons are so easy and completely irresistible!
Ingredients
5 ½

cups (275g)

unsweetened shredded coconut

14

ounces

sweetened condensed milk

¼

teaspoon

vanilla extract

1

cup (170g)

semisweet chocolate chips

melted
Instructions
Preheat the oven to 350°F. Line baking sheets with parchment paper and set aside.

In a large bowl, stir the shredded coconut, condensed milk, and vanilla extract together until fully combined. The entire mixture should be moist.

5 ½ cups (275g) unsweetened shredded coconut,

14 ounces sweetened condensed milk,

¼ teaspoon vanilla extract

Use a cookie scoop to scoop out and arrange macaroons on the prepared baking sheets, about 2 inches apart. Bake for 12-14 minutes, or until macaroons are slightly golden in color and hold together. Allow to cool on the baking sheets for 10 minutes before transferring to a wire cooling rack to cool completely.

Dip or drizzle melted chocolate onto cooled macaroons. Allow the chocolate to set before serving.

1 cup (170g) semisweet chocolate chips
Notes
When scooping the macaroons onto the baking sheet, you may need to use your hands to gently press the mounds together. 
I like to use a large cookie scoop for larger macaroons, but you can use any size or, if you don't have a cookie scoop, a tablespoon works too. 
Nutrition
Related Recipes You Might Like