Jump to Recipe
These gluten free shortbread cookies are a classic favorite of mine and are beyond easy (like, 5 ingredients easy) to make. Dipping them in chocolate is a total game changer, too!
This gluten free shortbread cookie is the same one used in my Twix cookies recipe -- so if you've made those, then you know just how simple the cookies are to make. If you haven't made my Twix cookies.. what are you waiting for?! 😉
But in all seriousness, you could make the gluten free shortbread cookies and maybe go the chocolate-dipped route for half the batch, and make Twix cookies using the other half? Just an idea...
This is one of those recipes that I love to make and then wrap up and store in my freezer. Because you just never know when that craving is going to strike! And with it being a slice and bake recipe, it's super easy to prep the dough ahead of time and bake later on (speaking of which, if you want to learn how to make slice and bake cookies with designs on them, check out my slice and bake sugar cookie recipe).
Why You'll Love These Gluten Free Shortbread Cookies...
They are buttery, sweet, but with the tiniest hint of salt, which I love. Which, by the way, if you're a buttery cookie fan... go ahead and check out my lavender shortbread and my snowball cookies, too!
I basically always have these ingredients on hand, so I can make these on a whim if I need to pull something together quickly.
I love that they are slice and bake cookies! So easy and, like I said, it's a great dough to freeze and bake later, too.
What You'll Need...
The dry ingredients: flour + salt.
The fat: unsalted butter.
The flavor: sugar + vanilla extract.
Top it off with: your favorite melted chocolate!
How To Make Gluten Free Shortbread Cookies...
To make these gluten free shortbread cookies, simply cream the butter, sugar, and salt together in a stand mixer fitted with the paddle attachment. Next, pour in the gluten free flour and continue beating until it comes together and forms a soft dough.
Pour your cookie dough out onto a piece of parchment paper and shape it into a log. Roll tightly, twist the ends to secure (you don't want the dough to dry out), and chill in the refrigerator for at LEAST 2-3 hours, if not longer. This will help keep the cookies from spreading, so it is an important step.
Once the dough is nice and chilled, slice it up into rounds and arrange on your baking sheet (nice bonus: you can easily use the same parchment paper, so as not to waste it). Bake on 350ºF for about 22 minutes. Allow to cool on the pan for about 10 minutes before moving to a cooling rack.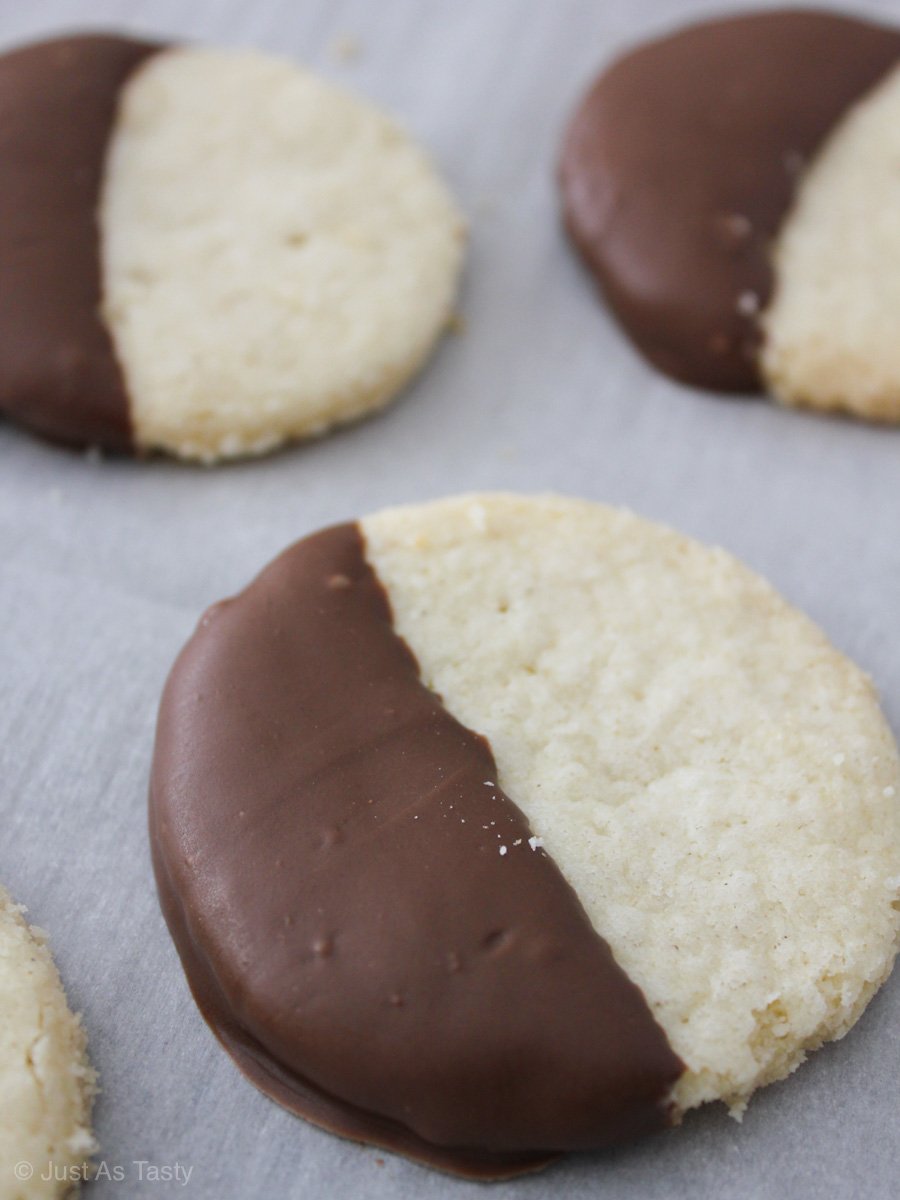 PRO TIP: every time I make these cookies, I like to use this little hack to get them perfectly round and uniform. After they're out of the oven, while they are still warm and soft, use a round cookie cutter (or the rim of a clean glass) to cut the cookies into perfect rounds.
Do not, however, attempt to pull the cookies out at this point. Leave them in place until they've cooled slightly -- this makes them much easier to pull away from the surrounding scraps and will give you the cleanest rounds. This step is not necessary, but it does make the cookies look better.
Once the cookies are fully cooled, melt your chocolate in the microwave. Dip each cookie into the chocolate so that it's about halfway coated, then place on a sheet of parchment paper to set at room temperature. Make sure your chocolate has fully set before serving.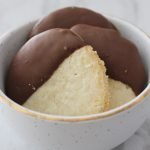 Chocolate Dipped Shortbread Cookies - Gluten Free, Eggless
Print Recipe
Easy yet decadent slice-and-bake shortbread cookies dipped in melted chocolate!
Ingredients
1

cup (226g)

unsalted butter

room temperature

½

cup (100g)

granulated sugar

½

teaspoon

salt

2

cups (296g)

gluten free flour blend

10

ounces

milk or dark chocolate candy coating
Instructions
Using a hand mixer or a stand mixer fitted with the paddle attachment, cream the butter with the sugar and salt. Add in the flour and continue to beat until combined.

Transfer dough onto a piece of parchment paper or plastic wrap and roll into a log, twisting the ends so that it's tightly wrapped. Chill in the refrigerator for at least 2-3 hours.

Preheat oven to 350°F, keeping the dough in the refrigerator until the oven is ready to use. Remove dough from the refrigerator, unwrap, and slice into ½ inch rounds. Arrange cookies on a baking sheet and bake for 22-24 minutes. Allow to cool on baking sheet for 10 minutes, then transfer to a cooling rack to cool completely before moving on to the next step.

Melt the chocolate candy coating according to package instructions (I usually melt mine in the microwave on 50% power in 30 sec. intervals, stirring between each interval). Once the cookies are completely cooled, dip to cover about half the cookie with melted chocolate. Allow chocolate to set at room temperature before serving.
Notes
For me, the recipe yields just about 24 cookies but this can vary slightly based on how thick or thin you slice your cookies.
For perfectly round and uniform cookies, I like to use a round cookie cutter when the cookies are still warm and soft, to further reinforce the round shape. Do not attempt to pull the cut cookies off until they have cooled.
Did you make my gluten free shortbread cookies? Tag me on Instagram @justastastyblog and #justastastyblog.