Jump to Recipe
This easy no-bake Halloween chocolate bark is such a fun treat for spooky season! It's especially great to make with little ones.
I absolutely love Halloween. I don't even know what it is about it, I just find this time of year to be so much fun. I love curling up on a cozy night and watching Hocus Pocus. And I especially love whipping up gluten free Halloween goodies!
Which is why I wanted to share my favorite Halloween chocolate bark here with you all. This is a classic, as far as I'm concerned. And it couldn't be any easier.
I find this to be a fun alternative to your typical Halloween candy. The best part is that you can actually USE all of that excess candy here, too. I'm going to talk you through it!
So put on your favorite Halloween movie, grab some candy corn, and let's get right to it.
Why You'll Love This Halloween Chocolate Bark...
This recipe is honestly a chocolate lover's dream. We're melting chocolate, and then throwing more chocolate on top. What's not to love about that?
It is SO, so easy. Which is why I think it's an especially fun activity to do with kids.
I think the best part about this recipe is that you can really get creative. You'll notice I didn't even really include exact measurements in the recipe. That's because you can go crazy with the toppings! You can incorporate different candy, or do more or less than I did.
What You'll Need...
White chocolate, which will serve as our base once we melt it up.
How To Make...
To make this no-bake Halloween chocolate bark, all you have to do is melt the white chocolate. Get it nice and smooth, then spread it evenly in a lined baking pan.
And here comes the fun part! Grab your toppings and sprinkle them all over the melted chocolate. Make sure you are doing this right away, while the chocolate is still melted.
Told you it was easy! Now just pop the whole thing into the refrigerator to set. It should only take 30 minutes. Once it's fully set, you can cut into squares or irregular shaped pieces.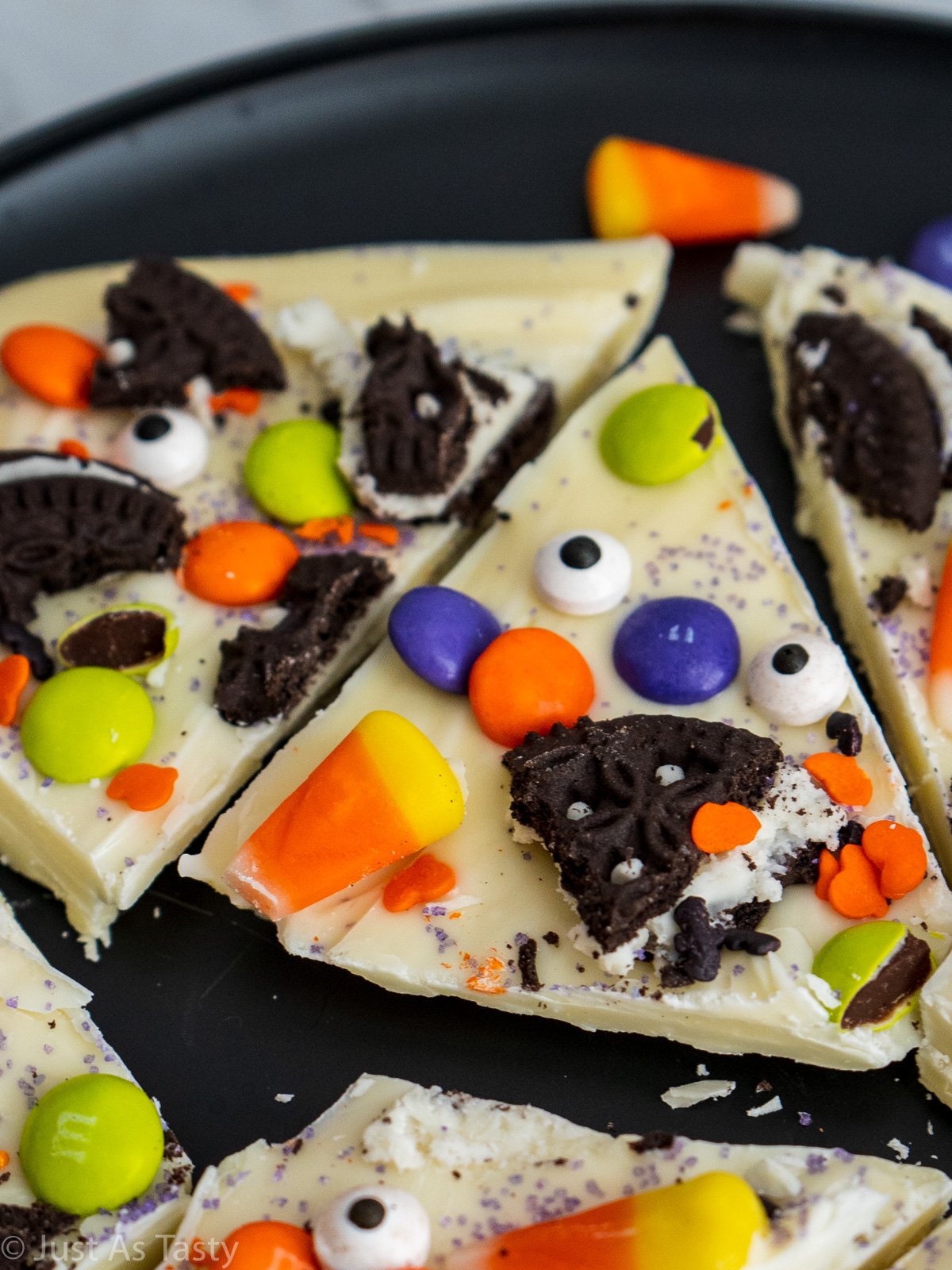 Tips For Making The Best Chocolate Bark...
I would recommend using chopped up white chocolate rather than white chocolate chips, which can be harder to melt.
And speaking of melting the chocolate, the key is just keeping a close eye on things. You can use a double broiler but I typically just melt in the microwave. I put the chocolate in for 30 seconds, stir, heat for another 30 seconds, etc. until it's fully melted and smooth.
You NEED to line your pan! I can't stress this enough. It just makes things so much easier. I like to use an 8" square pan for this recipe.
Additional Gluten Free Candy Ideas...
Like I said, you can get creative and throw any candy you like onto this chocolate bark. As long as the candy is gluten free, you are good to go!
Gluten free pretzels
Mini marshmallows
Gummy worms
Rolo Caramels
For even more gluten free Halloween recipes (plus festive treats for other holidays and celebrations), check out my cookbook, Just As Tasty: Gluten-Free & Eggless Baking Through the Seasons!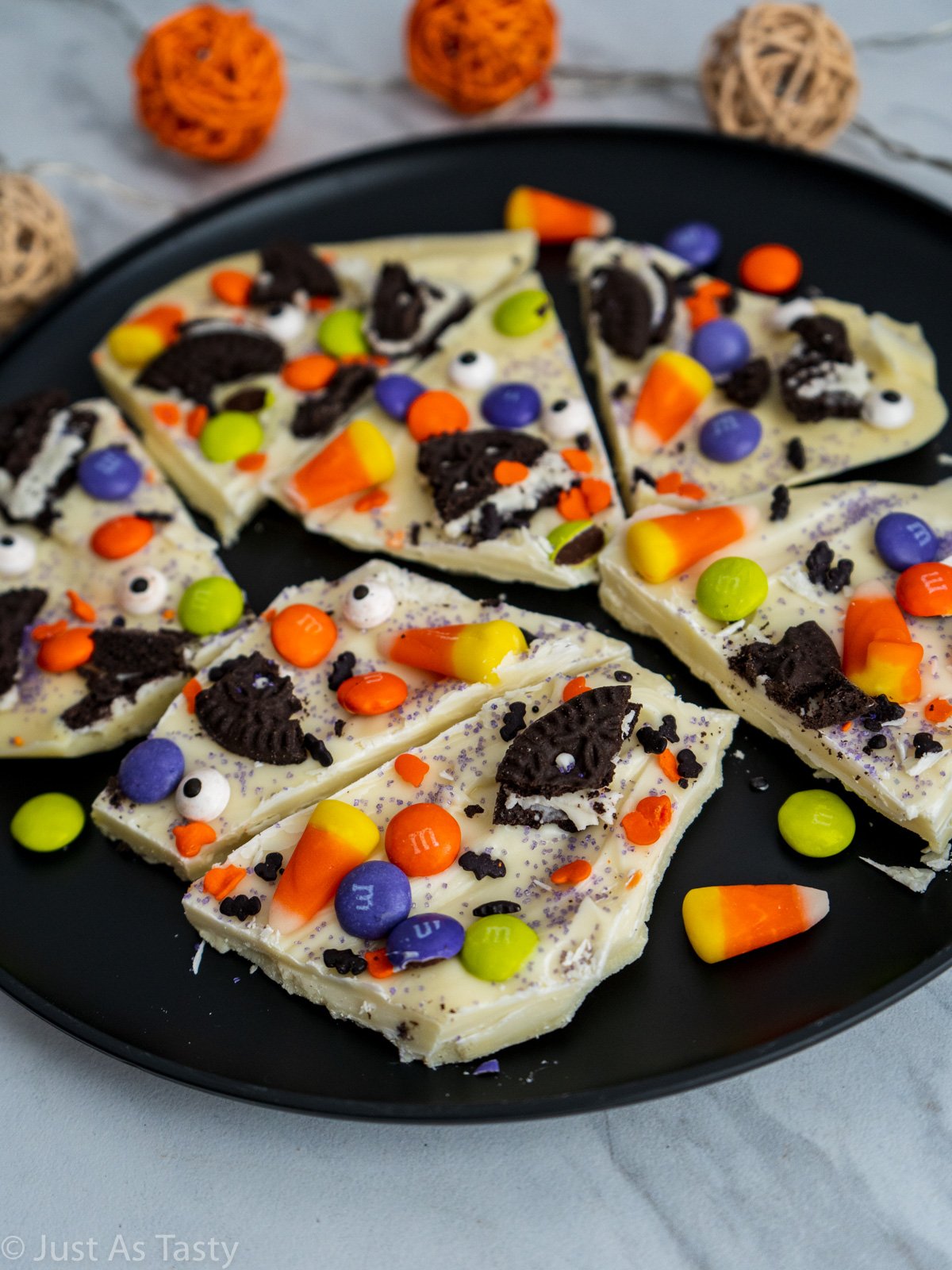 For More Gluten Free Halloween Recipes, Check Out My...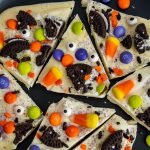 Halloween Chocolate Bark - Gluten Free, Eggless
Print Recipe
Rich white chocolate topped with all the best Halloween candy!
Ingredients
18

ounces

white chocolate

roughly chopped

3

cups

assorted candy, sprinkles, roughly chopped gluten free Oreos
Instructions
Line a square baking pan with parchment paper. Set aside.

In a double broiler or microwave, melt the white chocolate until completely smooth, stirring as necessary.

Pour the melted chocolate into the prepared pan. Use a spatula to smooth the melted chocolate out into a single layer. Sprinkle the assorted candy, sprinkles, and roughly chopped Oreos onto the chocolate. Chill in the refrigerator for at least 30 minutes, or until chocolate appears to have set. Remove and cut into pieces.
Notes
I typically melt the chocolate in the microwave in 30 second intervals, stopping to stir between each interval. 
I recommend serving the chocolate bark immediately if possible. Otherwise, store in an airtight container at room temperature.