Jump to Recipe
This gluten free pumpkin roll recipe is sure to become a fall staple in your recipe collection. The cream cheese filling is so rich and delicious, and it's all so much easier than it looks.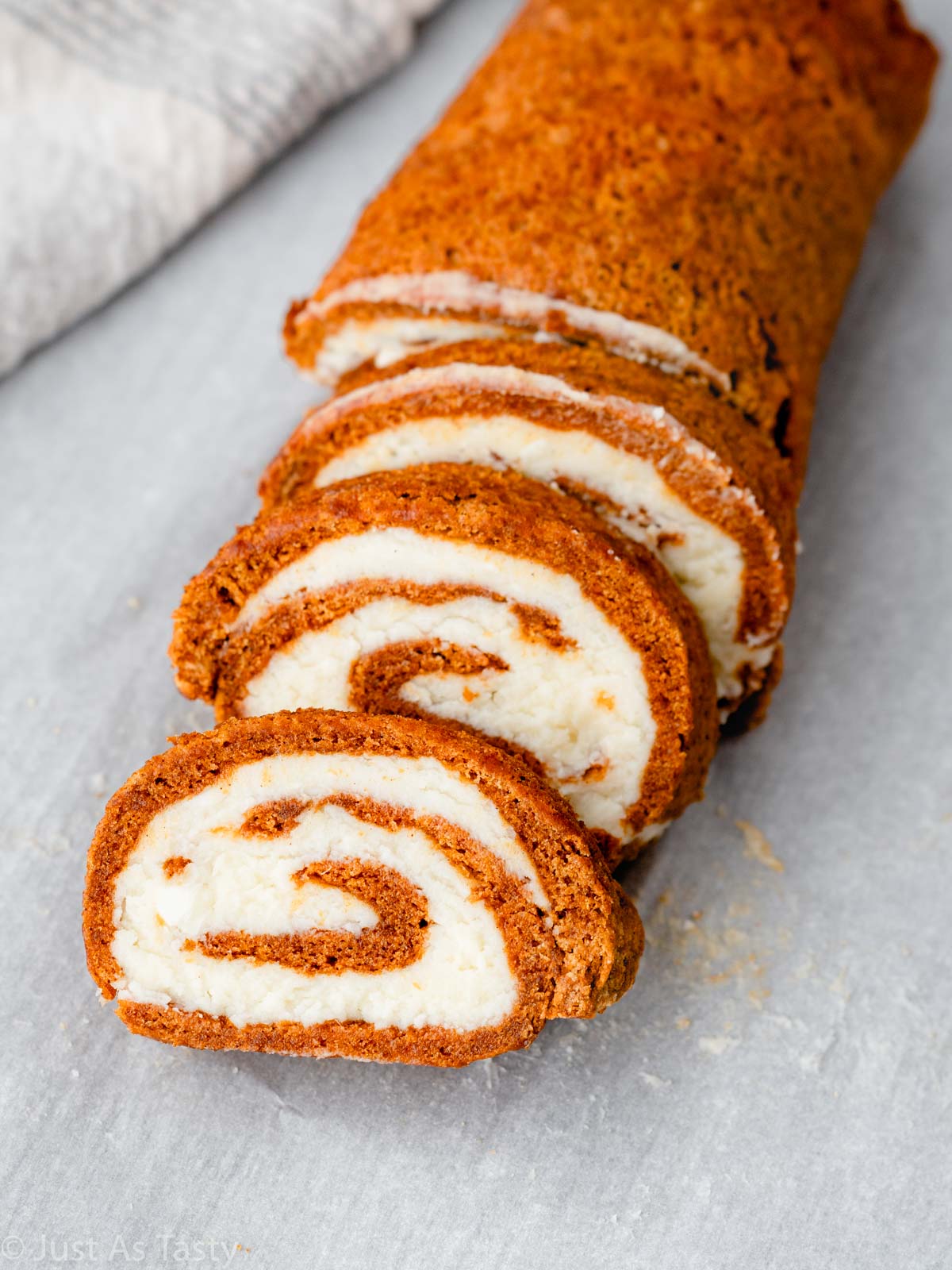 Why have I never tried to make a gluten free pumpkin roll before? This dessert is SO beautiful and delicious, but somehow it had never made its way into my to-bake list... until now.
I just had to add it into the mix for fall because, as you know, I love to take classic and well-loved recipes and give them my own little touches to make them allergy friendly.
If you ARE familiar with pumpkin rolls, then you're probably familiar enough with the recipe. This isn't a super original recipe and almost every classic pumpkin roll recipe you will find out there on the Internet has the same basic ingredients.
I adapted my gluten free pumpkin cream cheese roll straight from Libby's... a real authority when it comes to all things pumpkin, as far as I'm concerned.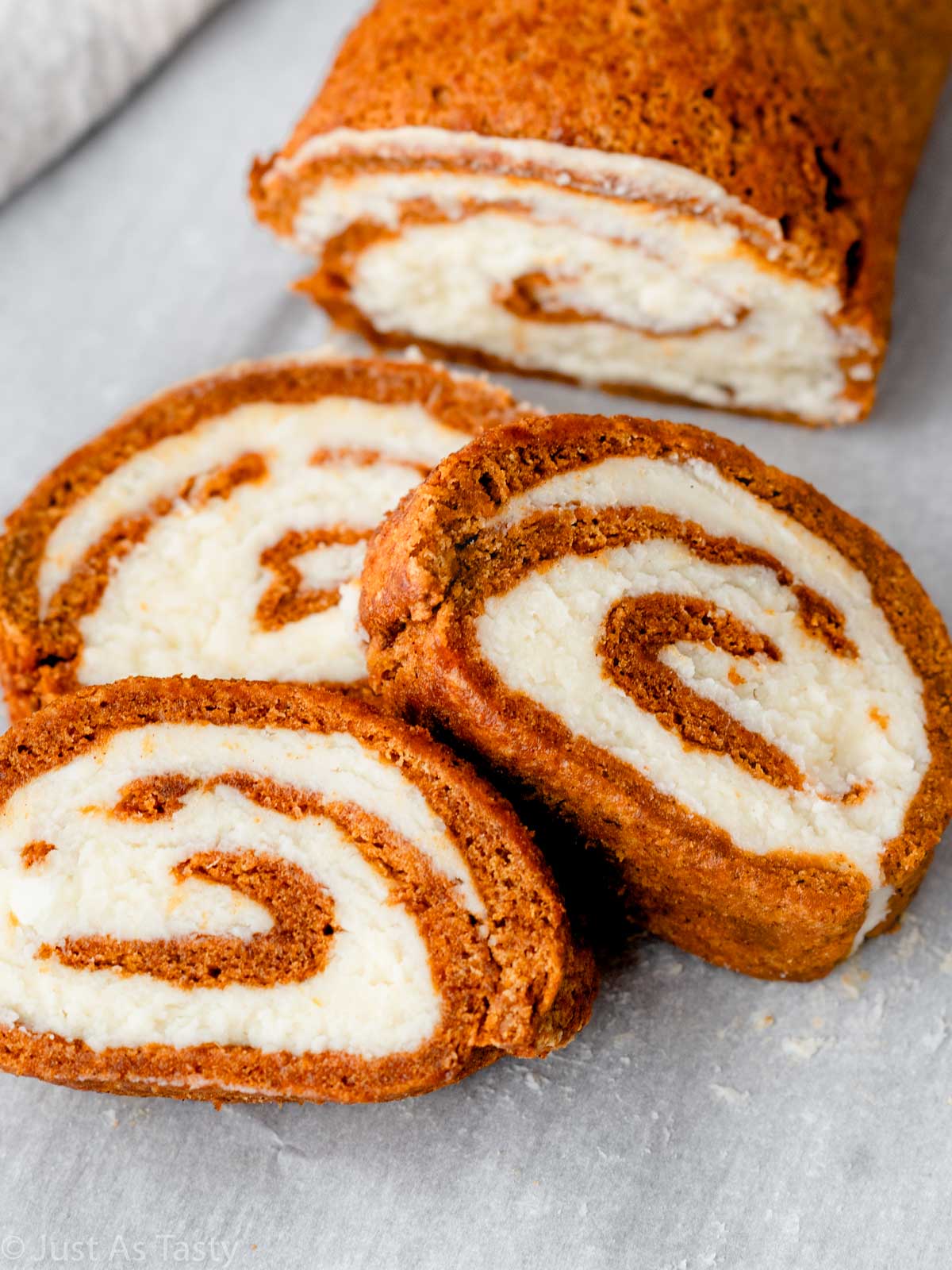 This is one of those desserts that seems way more intimidating than it actually is. The key is to read through all of the instructions and notes (maybe twice), and then be patient and gentle. I think you may end up surprising yourself... and then maybe want to go on a roll-making frenzy, like I did.
Jump to:
Why You'll Love This Recipe
There aren't a whole lot of ingredients involved. The cake itself doesn't even have butter or eggs (yes, this is an eggless pumpkin roll!), and we're using less than a cup of flour.
The cream cheese filling goes so perfectly with the pumpkin flavor. As you know from my soft pumpkin cookies, pumpkin cheesecake, and pumpkin bars, I'm a huge fan of this combo. And I just know you will be too.
Look at that presentation! This pumpkin roll is such a pretty looking cake. Definitely a fun dessert to serve at a dinner party.
Ingredient Notes and Substitutions
Gluten free flour: My favorite gluten free flour blend is Bob's Red Mill 1 to 1. You can also use AP flour if you are not looking to make this roll gluten free.
Pumpkin pie spice: This spice is pretty easy to find in most major grocery stores, but you can also make your own!
Canned pumpkin puree: Make sure you're using 100% pure pumpkin, not pumpkin pie filling.
Cream cheese: Do not use the spreadable cream cheese that comes in a tub! For best results, you need a full-fat block of cream cheese.
Step by Step Instructions
Okay, this is going to seem like a lot to take in but just stick with me. I'm going to walk you through the entire thing.
STEP ONE: The pumpkin cake itself is super simple. Start by whisking the dry ingredients together in a small bowl.
STEP TWO: Mix the sugar with the pumpkin and vanilla in a second, larger bowl.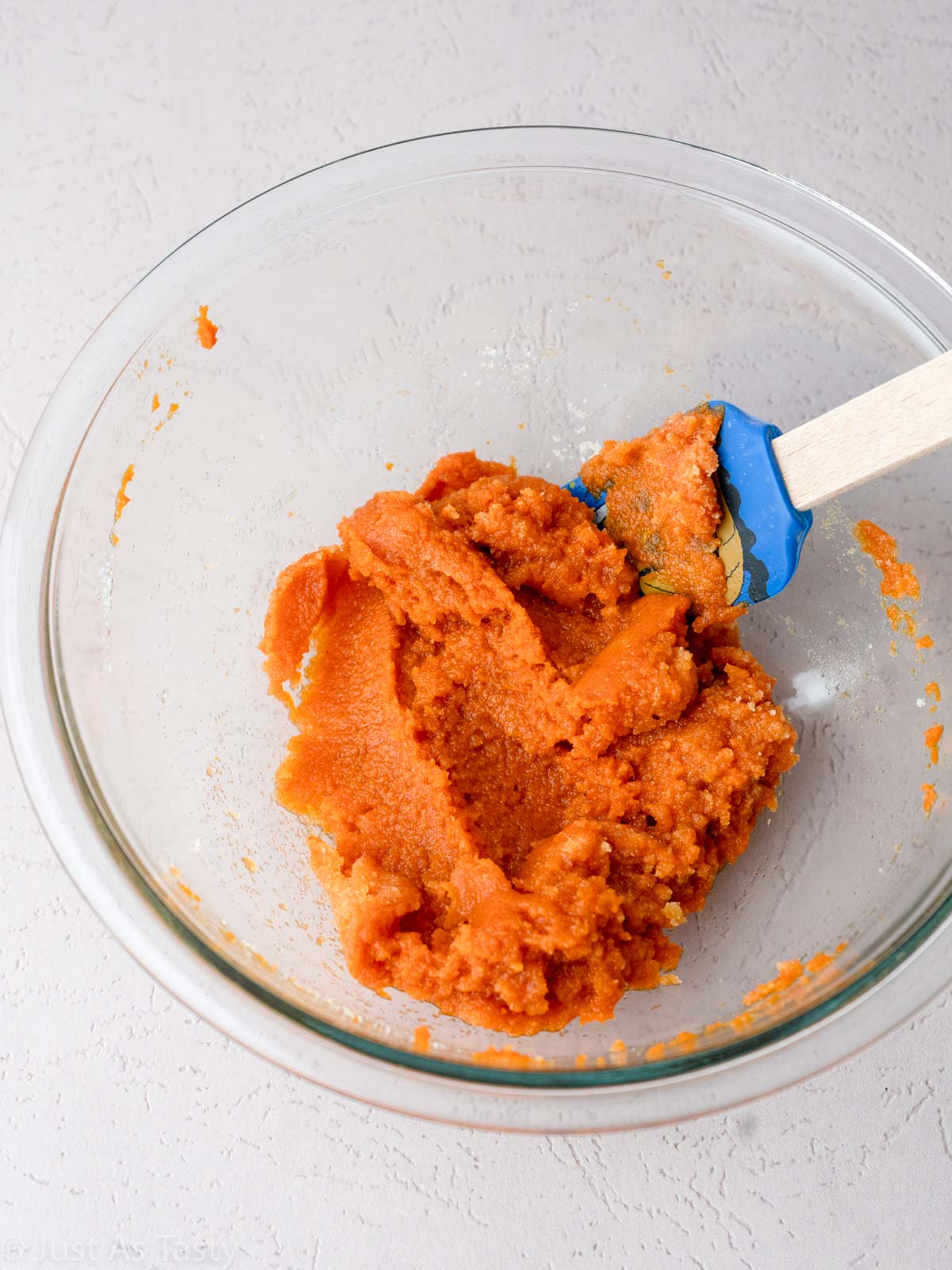 STEP THREE: Fold the dry mixture into your wet mixture.
STEP FOUR: Transfer the batter onto a parchment-lined baking sheet and bake on 350ºF for around 15 minutes. You can tell when it's done because the top of the cake will spring back slightly if you touch it.
STEP FIVE: As soon as the cake comes out of the oven, while it's still hot, lift it (parchment paper and all) off of the pan and place it onto a clean, heatproof surface. Then, starting at one of the short ends, roll the cake gently. You're going to keep the parchment paper in tact and roll it right up with the cake. Once it's all rolled up, place it seam-side down on a wire cooling rack and wait for it to cool to room temperature.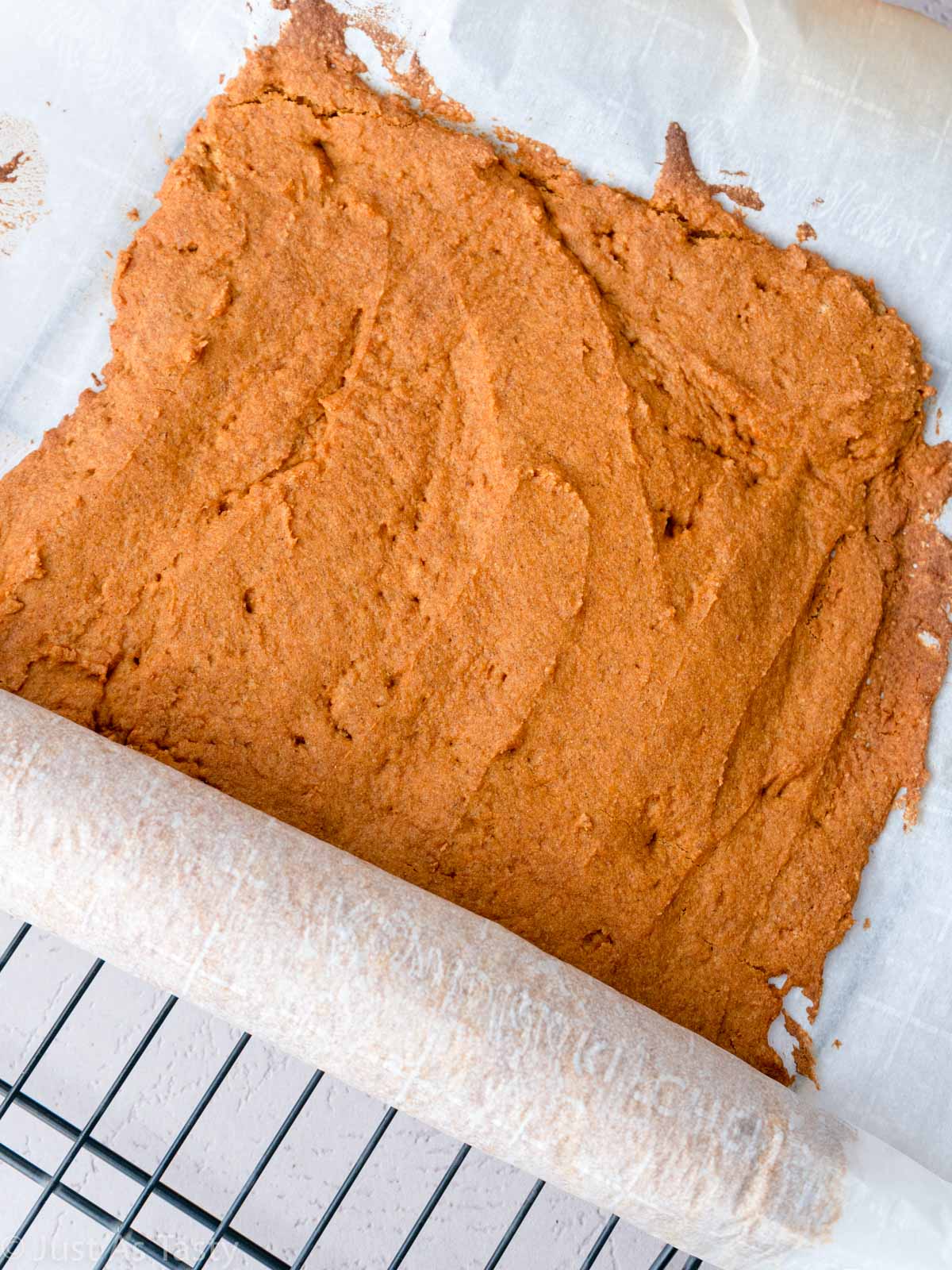 STEP SIX: In the meantime, make the filling by simply mixing up the 3 ingredients.
STEP SEVEN: When the pumpkin cake has cooled completely, unroll it. Spread the cream cheese filling evenly on top. Then we're going to roll it back up, this time without the parchment paper. Just peel it off the cake as you go.
STEP EIGHT: Wrap the pumpkin roll tightly in plastic wrap, then pop it into the fridge to chill for at least 1 hour.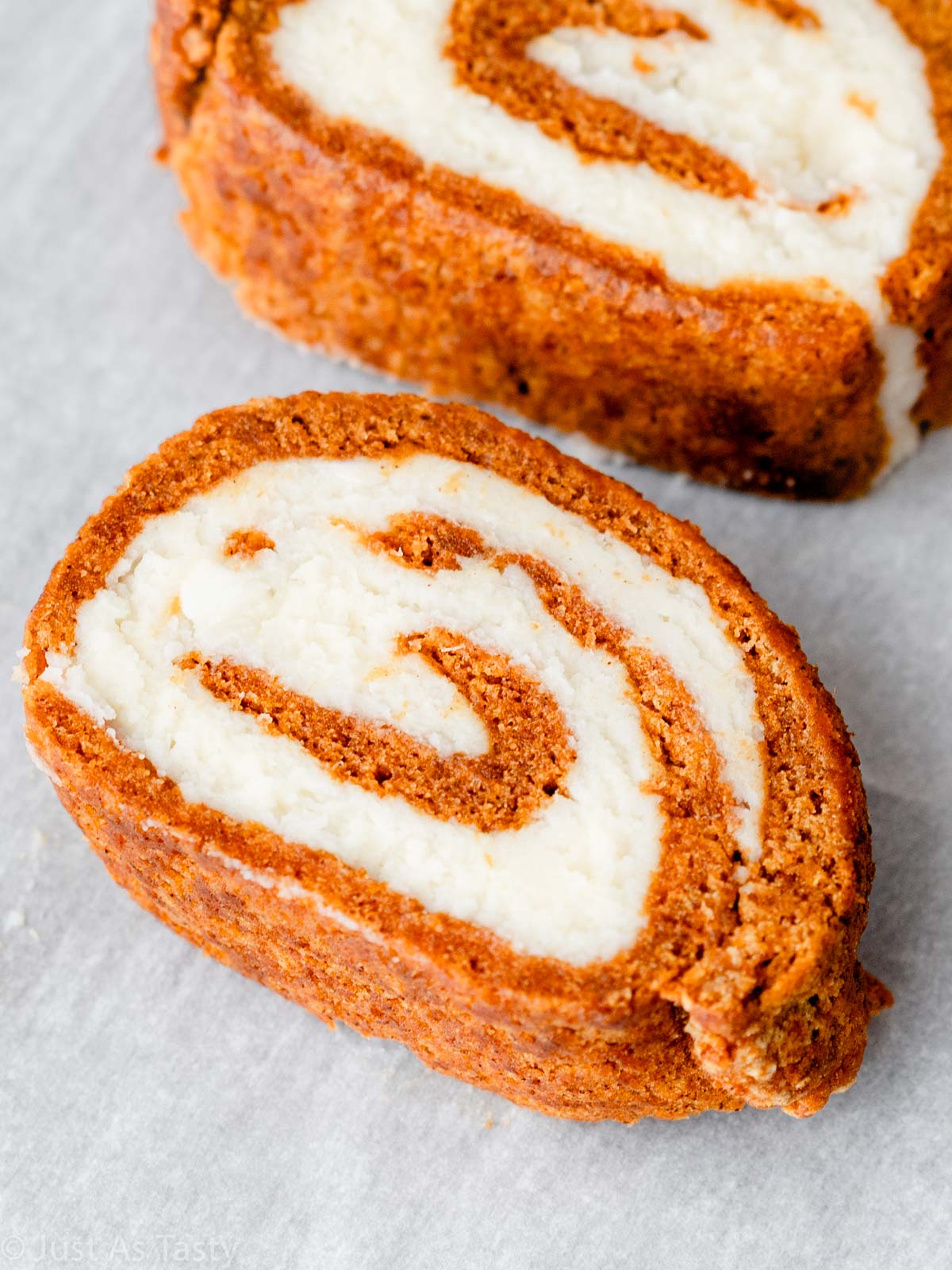 Expert Tips
This is an important tip so I'm reiterating it yet again. Remember to roll the cake up as soon as it comes out of the oven! The cake needs to be hot when it's rolled up.
Use parchment paper, not a dish towel, to roll the cake into.
Make sure your parchment paper is slightly larger than the baking sheet, so that you have a bit of overhang. It will make it way easier to lift out.
Do not attempt to unravel your pumpkin roll too early. Wait for it to cool completely before unrolling.
The chill time is important here! It really helps the cake and filling set up beautifully.
Frequently Asked Questions
Why did my pumpkin roll crack?
The trick to keeping your pumpkin roll from cracking is to roll immediately after the cake comes out of the oven. That might seem weird or counterintuitive, since it'll be warm, but trust me. If you allow the cake to cool too much, that's when it'll start to crack as you roll.
How should I store the pumpkin roll?
If you happen to have any leftovers, be sure to wrap up tightly in plastic wrap again and store in the refrigerator for a few days.
Can I make this pumpkin roll dairy free?
Yes! All you need to do is use non-dairy cream cheese and butter for the filling.
Did you make my gluten free pumpkin roll? Leave me a comment below or tag me on Instagram @justastastyblog and #justastastyblog! And don't forget to subscribe to get new recipes directly in your inbox.
📖 Recipe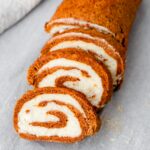 Gluten Free Pumpkin Roll
Print Recipe
A gluten free and eggless take on a classic favorite!
Ingredients
¾

cup (111g)

gluten free flour blend

½

teaspoon

baking powder

½

teaspoon

baking soda

½

teaspoon

pumpkin pie spice

¼

teaspoon

salt

¾

cup (150g)

granulated sugar

¾

cup (170g)

pumpkin puree

½

teaspoon

vanilla extract
Filling
8

ounces

cream cheese

room temperature

6

tablespoons (85g)

unsalted butter

room temperature

1

cup (120g)

powdered sugar

sifted
Instructions
Preheat oven to 350°F. Line a baking sheet with parchment paper, making sure to leave a bit of extra paper hanging over either end.

In a small bowl, whisk the flour, baking powder, baking soda, pumpkin pie spice, and salt together.

¾ cup (111g) gluten free flour blend,

½ teaspoon baking powder,

½ teaspoon baking soda,

½ teaspoon pumpkin pie spice,

¼ teaspoon salt

In a larger bowl, mix the sugar with the pumpkin puree and vanilla extract until combined. Fold the dry ingredients into the wet ingredients.

¾ cup (150g) granulated sugar,

¾ cup (170g) pumpkin puree,

½ teaspoon vanilla extract

Pour the batter onto the lined baking sheet, using a rubber spatula to spread out to a thin, even layer. Bake for 15-16 minutes or until the cake springs back slightly when touched. Immediately remove parchment paper from the pan and place onto a clean, heatproof surface. Starting at the short end, gently roll the cake, with the parchment paper attached, and transfer rolled-up cake to cooling rack to cool completely.

While the cake cools, make the filling. Mix the cream cheese, butter, and powdered sugar together until smooth.

8 ounces cream cheese,

6 tablespoons (85g) unsalted butter,

1 cup (120g) powdered sugar

Once the cake has cooled to room temperature, carefully unroll. Spread the filling over the cake. Re-roll, this time peeling the parchment paper off as you go. Wrap in plastic wrap and chill in the refrigerator for at least 1 hour.
Notes
Make sure you are using 100% pure canned pumpkin puree, NOT pumpkin pie filling.
If you don't have pumpkin pie spice on hand, you can make your own by combining cinnamon, nutmeg, allspice, and ginger. 
The cake must be completely cooled before you attempt to spread the filling on top, otherwise the filling will melt into your cake. 
Nutrition
Related Recipes To Try