Jump to Recipe
These air fryer cookies are perfectly soft, with crisp edges and gooey chocolate chips! They come together in just a few minutes, and you won't even need to turn on your oven.
When we first got our air fryer, I was so excited to try ALL the things. We were air frying french fries, chicken tenders, scallops, brussels sprouts... I'm telling you, all the things.
Naturally, it didn't take long for me to start developing air fryer dessert recipes. That's when I tried my hand at air fryer Oreos, air fryer apple fritters and cinnamon bites. Safe to say those were a hit!
So the only next natural step was to put chocolate chip cookies in my air fryer. And boy am I glad I did!
I really, really think you need to try this recipe. You will be blown away by how easy it is and how PERFECT the cookies are. Seriously.
What Happens When You Air Fry A Cookie?
I'm going to let you in on a little secret: the texture of these air fried cookies is just perfection. That's what you get when you air fry a cookie! The centers of the cookies are super soft, but the edges are crisp and golden. Just the way I like them.
The centers are so soft, in fact, that it may even look like the cookies are not done yet. But trust me, you don't want to overdo it. After cooling a bit, the cookies set up perfectly.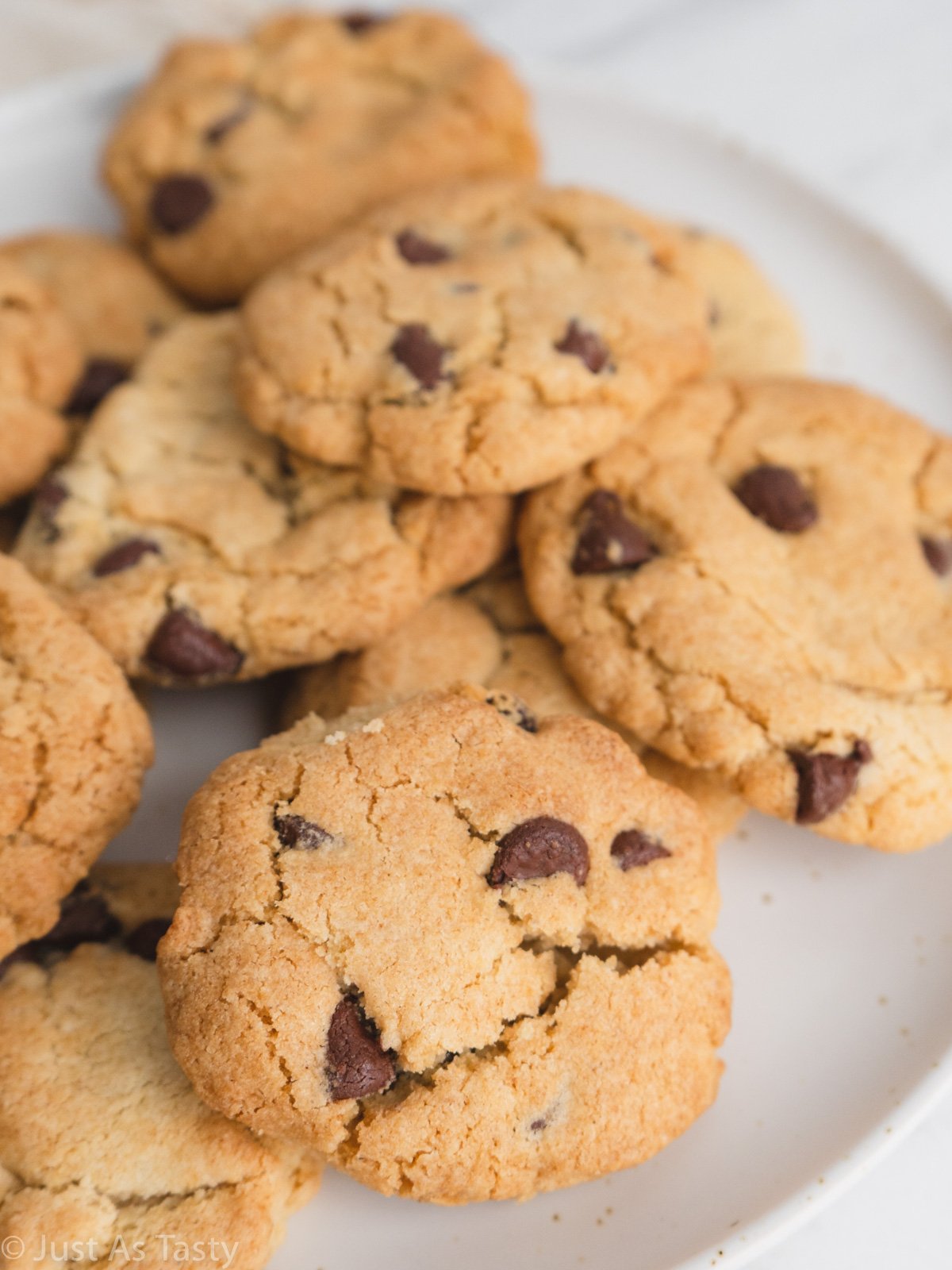 Can You Use Foil In An Air Fryer For Cookies?
You will want to line your air fryer for easy clean-up. However, I'd recommend parchment paper rather than foil. Yes, just like baking in the oven! They even make air fryer parchment paper... but I just used my good old regular kind 🙂
And yes, you can technically make your cookies in the air fryer without parchment paper. Just be sure to give it a light spritz of cooking spray before you do.
Why You'll Love These Air Fryer Cookies...
As I mentioned, that texture is everything. Just look at them! It's the best of both worlds: equal parts soft and crisp.
The flavor is also just the best! These are your classic chocolate chip cookies, just elevated.
I KNOW you're going to love how easy these are. No turning on the oven. No complicated steps or ingredients. Super straightforward, and you're only air frying for 5 minutes.
What You'll Need...
Gluten free flour blend - I always use Bob's Red Mill 1 to 1 flour and recommend it to everyone I know.
Baking soda
Fine sea salt
Unsalted butter
Granulated sugar
Brown sugar - Highly recommend light brown sugar for this recipe but if you only have dark brown on hand, that will totally work.
Bob's Red Mill Egg Replacer
Vanilla extract
Semisweet chocolate chips
How To Make...
To make my air fryer cookies, we'll start by combining the flour, baking soda, and salt in a medium bowl. Give it a whisk, then grab your electric mixer.
Cream the butter with both sugars until it's smooth and creamy. Add in the egg replacer and vanilla extract. Then just add the dry mix in and beat on low speed until a soft cookie dough forms.
Fold in the chocolate chips... and you're nearly there!
What Temperature Should You Air Fry Your Cookies?
We're air frying these cookies at 350ºF. Just make sure you preheat your air fryer for a few minutes. I like to turn mine on and set a timer for 3 minutes, I find that's usually enough.
Scoop out 1-2 tablespoons of dough and arrange in the basket of your air fryer. Air fry for 5 minutes, then let the cookies sit in the basket for 2-3 minutes before removing.
Tips For Making The Best Air Fryer Cookies...
As always, my top tip is to weigh your flour using a scale. This is crucial, especially in gluten free baking, because it ensures accuracy. Too much flour will yield dry and crumbly cookies. We'll need 259 grams for this recipe.
Depending on the size of your air fryer and the size of your cookies, you may need to work in batches. You need the air to circulate, so you can't overcrowd the basket. Plus, the cookies spread just slightly.
Ingredient Substitutions...
Did you try my air fryer cookies? Leave me a comment below or tag me on Instagram @justastastyblog and #justastastyblog! And don't forget to subscribe to receive new recipes right in your inbox each week.
Just As Tasty: Gluten-Free & Eggless Baking Through the Seasons
Be sure to check out my cookbook for tons of festive and easy-to-make gluten-free treats! From Valentine's Day and Easter to the holiday season and every celebration in between, this book has got you covered.
For More Gluten Free Cookie Recipes, Check Out My...
Air Fryer Cookies - Gluten Free, Eggless
Print Recipe
Perfectly soft yet crisp around the edges, these cookies come together in just minutes!
Ingredients
1 ¾

cups (259g)

gluten free flour blend

½

teaspoon

baking soda

½

teaspoon

fine sea salt

¾

cup (170g)

unsalted butter

room temperature

½

cup (100g)

granulated sugar

¼

cup (50g)

light brown sugar

packed

1

tablespoon

Bob's Red Mill Egg Replacer

mixed with 2 tablespoon water

½

teaspoon

vanilla extract

⅔

cup (113g)

semisweet chocolate chips
Instructions
In a medium bowl, whisk the flour, baking soda, and salt together. Set aside.

Using a hand mixer or a stand mixer fitted with the paddle attachment, cream the butter with both sugars. Add the prepared egg replacer and vanilla extract and mix to combine. Add in the dry ingredients and mix on low speed until cookie dough forms. Fold in the chocolate chips.

Preheat the air fryer to 350°F for 3 minutes. Line the bottom of the basket with parchment paper after preheating.

Scoop 1-2 tablespoons of dough and arrange in the air fryer basket, 1 inch apart. Air fry for 5-6 minutes. The cookies may not look done at this point. Allow the cookies to set in the air fryer for 2-3 minutes before transferring to a wire cooling rack.
Notes
Be sure to follow the instructions on the package of Bob's Red Mill Egg Replacer. Once mixed with water, the egg replacer must sit for just a few minutes to thicken.
If you are not looking to replace eggs, you should be able to use 1 egg instead of the egg replacer.
You may need to air fry in batches, depending on how large the basket of your air fryer is and how many cookies you can fit in at one time. You don't want to overcrowd the basket, the cookies will spread slightly. 
Nutrition
Check out my air fryer cookies web story here.