Jump to Recipe
These oatmeal lace cookies with chocolate are such a pretty treat, and they only call for 7 ingredients! The cookies are thin and crisp yet they pack a punch with irresistible caramel and chocolate flavor.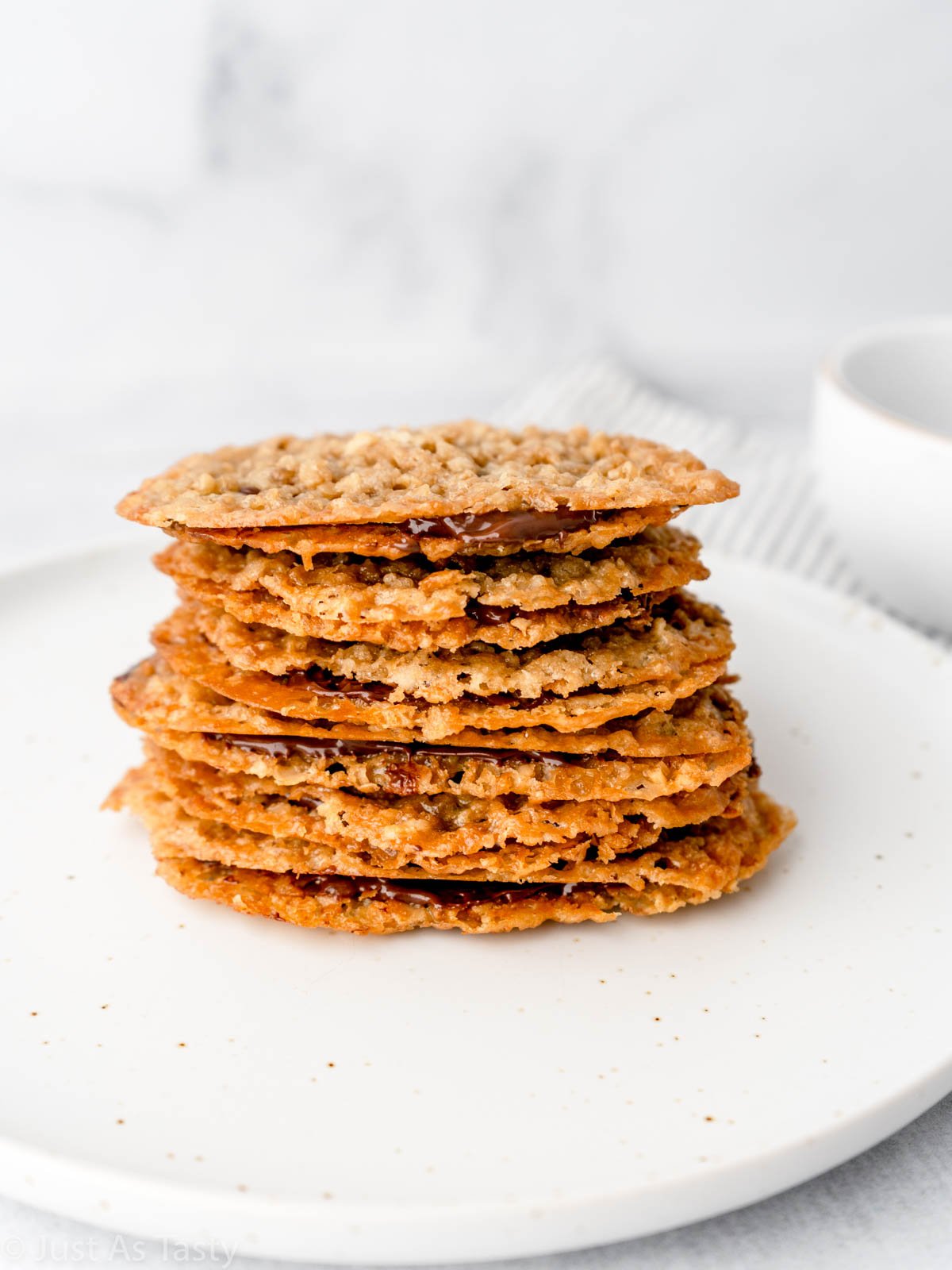 This probably won't come as a big surprise, considering my obvious love of baking... but I'm a huge fan of The Great British Bake Off. I love to see the fun and creative bakes that the bakers come up with. And is it just me or is everyone just so polite and pleasant?
Anyway, all this to say that these oatmeal lace cookies were inspired by Mary Berry and her florentines. While those cookies were the inspiration behind this post and recipe, you'll notice there are quite a few ingredients missing here.
That's because florentines call for nuts, which is an allergen that I don't use in my baking, and dried fruit, which I also opted to skip.
So technically, these aren't florentines at all 🙂 since nuts and candied fruit are key there. Still, these look very similar and follow a similar technique. They're thin and crispy, and you end up with a lovely lace effect (hence the name).
Jump to:
Why You'll Love This Recipe
These lace cookies only call for 7 ingredients, and you mix them all up in one single saucepan (less dirty dishes and no electric mixer needed). And, they bake in just 7 minutes. It really doesn't get much easier!
While I'm a big fan of thick and cakey cookies (remember these?), I do love how thin and crisp (and buttery! SO buttery) these cookies are and I think you will too.
Trust me when I tell you, you are going to want to make your oatmeal lace cookies with chocolate. The melted chocolate that we're sandwiching between the cookies just pairs perfectly with that deep toffee flavor.
Ingredient Notes and Substitutions
Oats: You will want to use gluten free quick-cooking rolled oats for best results. I like Bob's Red Mill.
Gluten free flour: Regular readers know that my go-to gluten free flour blend is Bob's Red Mill 1 to 1. I've never had a negative experience with this flour and use it to test and develop all of my recipes (unless otherwise stated). Any blend should work, as long as it contains xanthan gum.
Brown sugar: I like to use light brown sugar in this recipe. You can use dark brown if it's all you have on hand, it will just give these lace cookies a deeper flavor.
Maple syrup: Make sure you're using 100% pure maple syrup. None of that pancake syrup stuff that is full of artificial ingredients! Some recipes call for corn syrup but I prefer to use maple.
Chocolate: When it comes to the melted chocolate, the sky is the limit. My preference is semisweet or dark chocolate. It's also worth noting that, while I love my oatmeal lace cookies with chocolate, you could technically skip the chocolate altogether or opt to spread the chocolate on each individual cookie rather than sandwich two cookies together.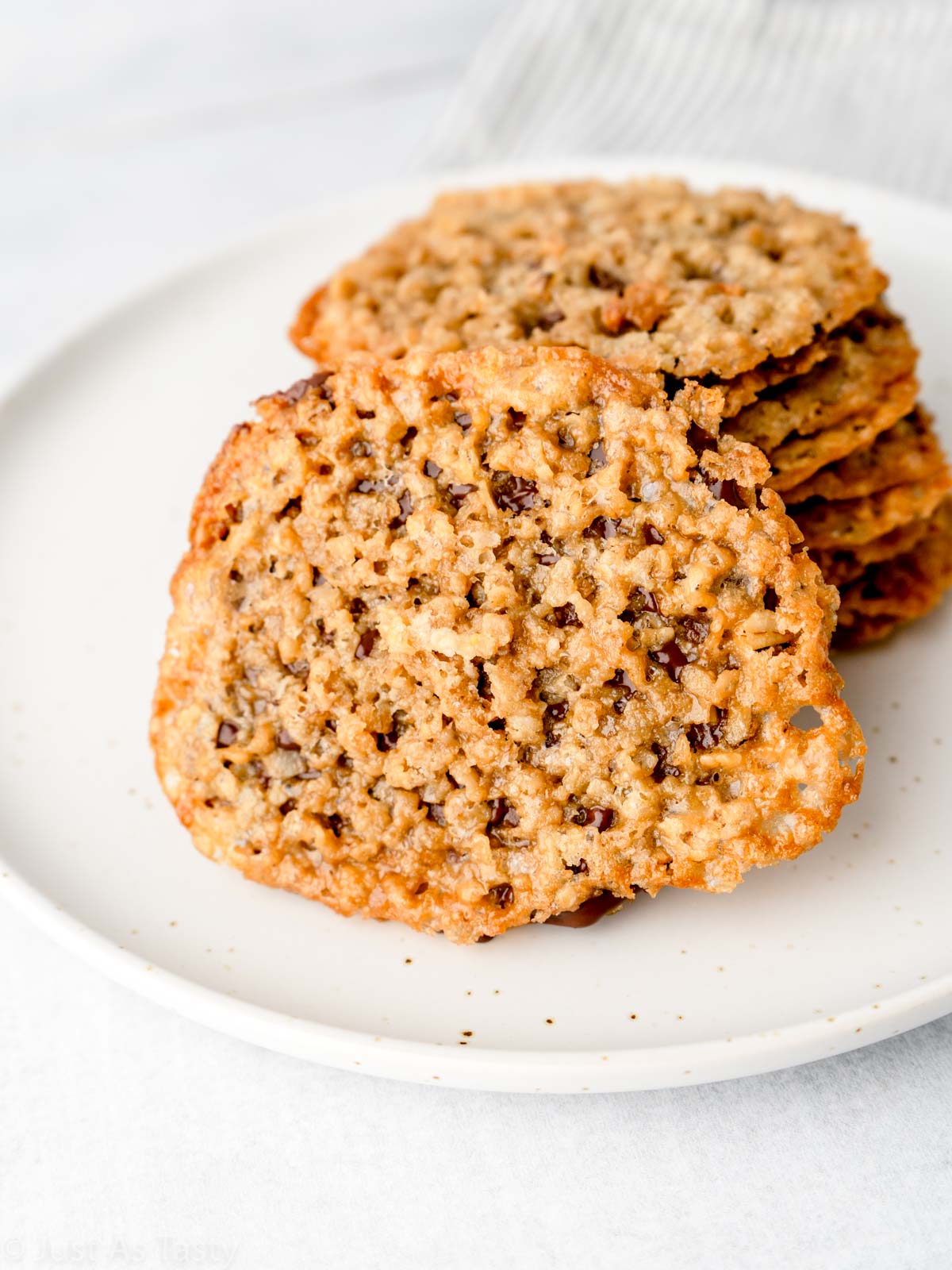 Step-by-Step Instructions
I promise these are the easiest cookies, with minimal steps and even less dirty dishes.
STEP ONE: Melt your butter with the brown sugar and maple syrup in a saucepan over medium heat. Make sure you stir continuously and watch it closely to avoid burning.
STEP TWO: Once the butter has fully melted, turn off the heat and mix in the oats, flour, and salt. Let the mixture sit for about 5 minutes, it will thicken slightly as it cools.
STEP THREE: Grab your baking sheets and line them with parchment paper (I prefer parchment over silicone mats for this recipe). Drop teaspoonfuls of cookie dough several inches from one another. Bake on 350ºF for 7-8 minutes.
STEP FOUR: While the cookies cool, melt your chocolate. Once the oatmeal lace cookies have cooled completely, use a butter knife to spread an even layer of chocolate on top of half of the cookies in your batch, then top each with a second cookie to create a sandwich.
STEP FIVE: Pop the finished lace cookies into the refrigerator for about 10 minutes so that the chocolate sets and hardens.
Expert Tips
It's always a good rule of thumb to weigh your flour using a scale. This is the best way to ensure accuracy, especially in gluten free baking, and you don't want to accidentally add too much flour to this recipe. We're really not using very much flour at all.
These oatmeal lace cookies are meant to be thin. I measure out 1 teaspoon of dough for each cookie. This is very important to get the size and texture we're going for!
You're going to want to use a few baking sheets here. The cookies spread quite a bit, so you'll want to space them out and will probably end up baking these in a few batches, depending on the size of your baking sheet and how many cookies you can fit onto each one.
It's important to allow the cookies to cool on the hot baking sheet for about 5 minutes after removing from the oven. These gluten free lace cookies set and crisp up as they cool, so if you try to move them off the baking sheet too soon, they'll be too soft and difficult to handle. After letting them sit for 5 minutes, you can transfer them to a cooling rack.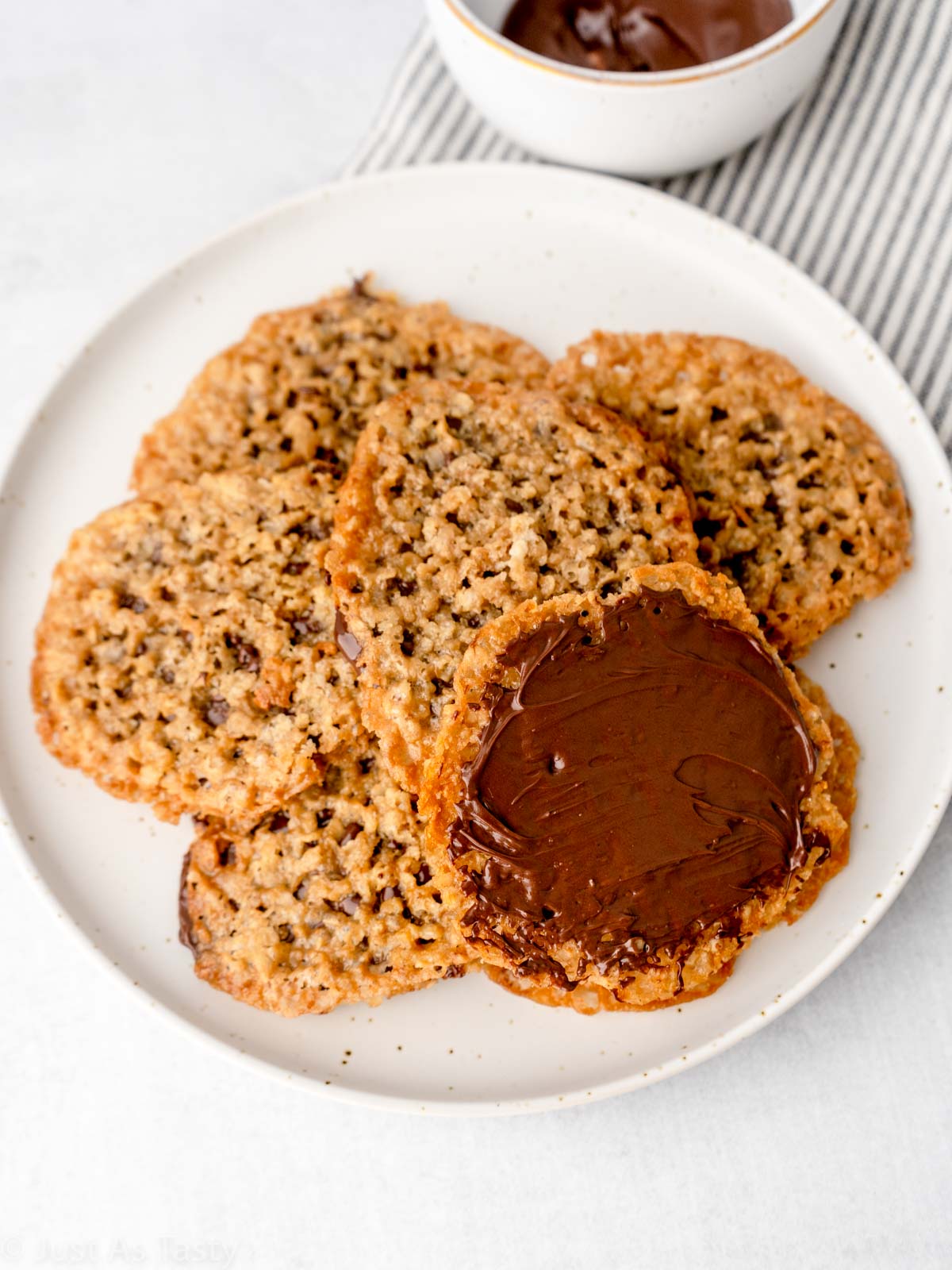 Frequently Asked Questions
Why did my cookies spread so much?
In this particular recipe, the spreading is a good thing! Lace cookies are meant to be thin and crisp. The melted butter in these cookies makes them spread quite a bit.
Can I make these lace cookies dairy free?
I haven't tested these cookies with non-dairy butter, so I'm unsure if that will work. Please let us know if the comments if you try it!
How To Store
These cookies are best the day they are made, but you can store them in an airtight container at room temperature for about 3 days, or in the refrigerator for 5 days. The baked cookies also freeze wonderfully! Wrap them tightly in plastic wrap and freeze for a couple of months. You can freeze the cookies with or without the melted chocolate.
Did you try my oatmeal lace cookies with chocolate? Leave me a comment below or tag me on Instagram @justastastyblog and #justastastyblog! And don't forget to subscribe to get new recipes directly in your inbox.
📖 Recipe
Oatmeal Lace Cookies With Chocolate (Gluten Free)
Print Recipe
Thin and crispy lace cookies topped with rich melted chocolate!
Ingredients
½

cup (113g)

unsalted butter

⅔

cup (134g)

light brown sugar

packed

2

tablespoons

pure maple syrup

1

cup (90g)

gluten free quick cooking rolled oats

¼

cup (38g)

gluten free flour blend

¼

teaspoon

fine sea salt

8

ounces

chocolate

melted
Instructions
Preheat the oven to 350°F. Line 2-3 baking sheets with parchment paper and set aside.

In a small saucepan over medium-low heat, melt the butter with the brown sugar and maple syrup, stirring consistently until fully melted. Remove from heat and stir in the oats, flour, and salt. Allow mixture to sit for 5 minutes to thicken.

Drop teaspoonfuls of the mixture onto the lined baking sheet, keeping them several inches apart. Bake for 7-8 minutes, or until golden brown. Remove and allow cookies to cool on baking sheet for 5 minutes before transferring to a cooling rack.

Once the cookies are completely cooled, gently spread melted chocolate on one side of half of the cookies. Top each one with another cookie, creating a sandwich cookie. Allow to set in the refrigerator about 10 minutes before serving.
Notes
These cookies are thin and crispy. They will spread considerably, so it's important to not place them too close together on the baking sheets. I tend to fit about 6 teaspoonfuls per baking sheet, and bake them in batches that way.
Nutrition
Related Recipes You Might Like