Jump to Recipe
My gluten free biscotti with chocolate drizzle is crunchy on the outside with a bit of softness on the inside, and pairs SO perfectly with a cup of coffee. We're making this biscotti without eggs and almonds, so they're allergy-friendly and Just As Tasty!
I've always been a biscotti lover. You probably know by now that I'm a huge fan of soft and cakey cookies, but there's just something about biscotti that I simply can't resist.
I had never tried to make biscotti from scratch, so when I set out to develop a gluten free biscotti recipe (not to mention without eggs and almonds), I was genuinely curious to see what my end result would be. Thankfully, this one's a winner!
Did you know that biscotti means "twice baked?" Yes, we will be baking these delicious cookies twice -- first as one big rectangular log, and then, after slicing, you'll bake again to get that perfect crunch.
My gluten free biscotti is crunchy but also have a a soft and tender center, which maybe is not like other biscotti you've tried... but I'm not claiming that this is a truly "authentic" recipe. For one thing, traditional biscotti calls for eggs... and you know my biscotti is made without eggs 🙂
Jump to: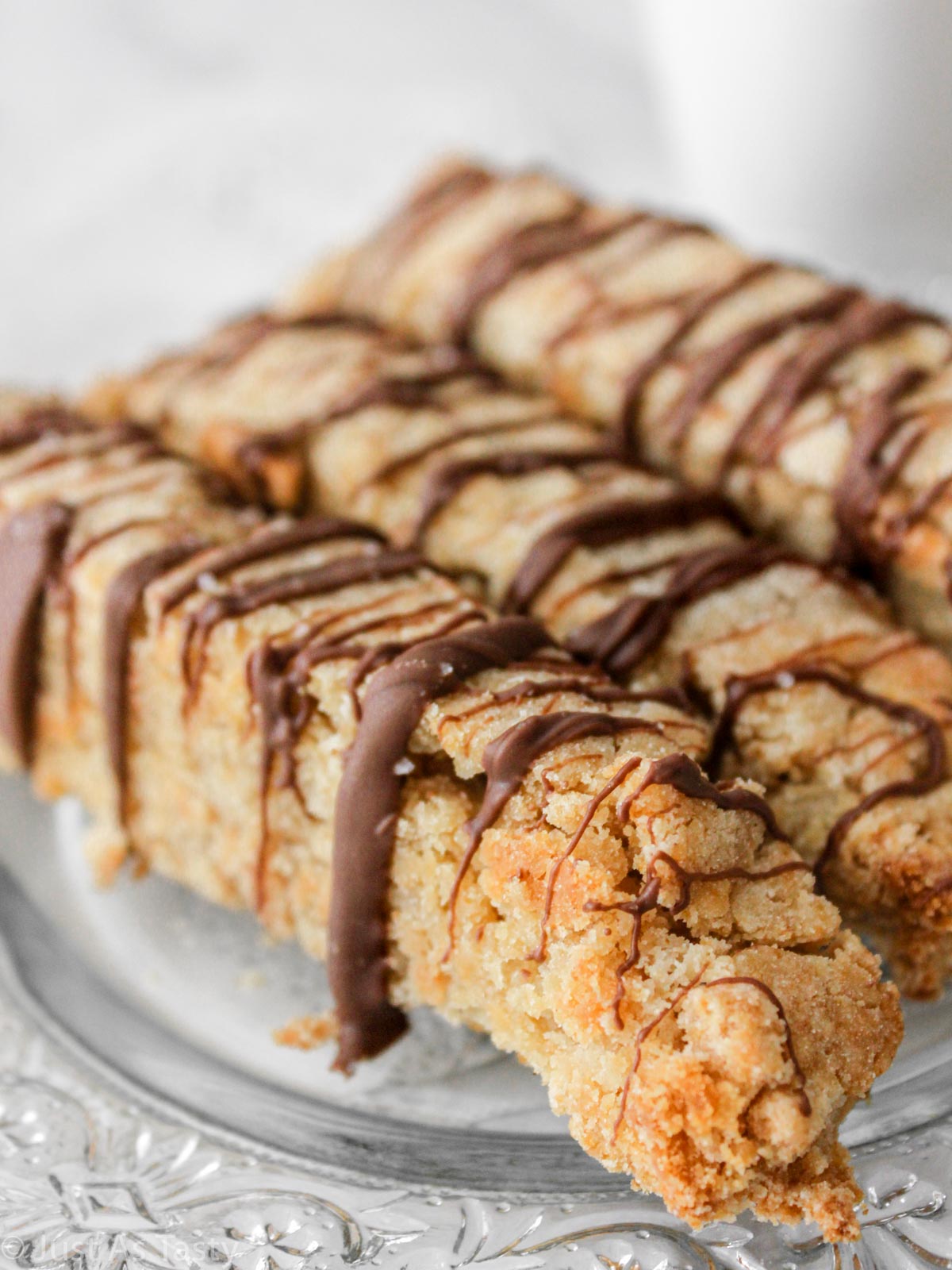 I've also learned that there is a difference between Italian biscotti and American biscotti. Italian biscotti is much crunchier, making it extra good dipped in coffee or tea, while American biscotti tends to be softer. So there you have it!
Jump to:
Why You'll Love This Recipe
It's worth mentioning again that the texture is simply perfect. No one wants a super hard or dry cookie, and this gluten free biscotti is far from it.
It's a super simple process and made in one bowl. You don't even need a mixer for this one!
It's a flexible recipe, meaning you can try using this recipe as a base and mixing in your own add-ins.
Ingredient Notes and Substitutions
Gluten free flour: My go-to gluten free flour blend has always been Bob's Red Mill 1 to 1. I highly recommend using this blend if you can, but any gluten free blend should work. Just make sure the flour you're using contains xanthan gum.
Brown sugar: You can use light or dark brown sugar for this recipe. Either one will be delicious!
Applesauce: This is our egg substitute here. Make sure you're using pure, unsweetened applesauce with no added ingredients.
Chocolate: You can get creative with your chocolate drizzle! Feel free to use semisweet chocolate chips, milk chocolate, dark chocolate... any chocolate will work great.
Step-by-Step Instructions...
STEP ONE: Combine your dry ingredients. Unlike many cookie recipes, this also includes your brown sugar. Whisk it all up.
STEP TWO: Add in cubes of cold, unsalted butter. Use a pastry blender to cut the butter into the flour mixture. The resulting texture should be crumby, and you will likely have pea-sized bits of butter still in your mixture. That's a good thing!
STEP THREE: Add the wet ingredients. Mix in the applesauce, vanilla extract, and canola oil until it all comes together. The dough shouldn't be overly sticky or wet. If you need to, gently knead the dough with your hands just a bit to bring it all together.
STEP FOUR: Shape the dough. Place the dough onto a lined baking sheet and use your hands to form it into a large, rectangular log. Flatten the log slightly with your hands so that it's about ¾ in. thick.
STEP FIVE: Bake on 350ºF for 25 minutes, then remove from the oven and let it cool for 15 minutes. You will want it to be cool enough so that it doesn't fall apart when you are slicing, but not too cool to where it hardens. Make sense?
STEP SIX: Slice diagonally into individual pieces. Once you've sliced, flip each piece onto its side and pop back into the oven for another 12 minutes. Remove, flip each piece, then back in the oven for another 8 minutes.
STEP SEVEN: Drizzle on the melted chocolate. Cool completely before topping the biscotti with chocolate drizzle and a pinch of sea salt. Once the chocolate has set, pour yourself a big mug of coffee and enjoy!
Expert Tips
My #1 baking tip is to weigh your flour using a scale. This is the best way to ensure accuracy, and the reason I include weigh measurements in my recipes.
If you don't have a pastry blender, you can use two butter knives to cut the butter into the dry mix.
This is a dry and crumbly dough. It's important to wait 15 minutes to slice up into individual pieces (after the first bake). If they're too warm when you slice, it'll just turn into a mess. You can see from my photo above that they still crumbled on me a little, but they didn't fall apart. Just be gentle and patient with this step.
Frequently Asked Questions
Can biscotti dough be refrigerated?
Yes, you can make the dough ahead of time and store in the refrigerator to bake later. I wouldn't recommend keeping the dough longer than a day. If you need to store it for longer, I'd recommend freezing.
How do you cut biscotti without breaking it?
Carefully! In all seriousness, it's important to let the biscotti cool after baking. You don't want it to be completely cooled, but you can't slice too soon, either. Also, I recommend using a serrated knife.
Why are my biscotti so hard?
Over-baking will result in hard biscotti. I recommend using an oven thermometer to make sure your oven is accurate. Also, to my point above, don't wait TOO long to slice after baking. The longer the biscotti sit out, the harder they will get.
How should I store biscotti?
You can store your gluten free biscotti in an airtight container at room temperature for up to 5 days. They're best served the day they're made.
Did you make my gluten free biscotti? Leave me a comment below or tag me on Instagram @justastastyblog and #justastastyblog! And don't forget to subscribe to get new recipes straight to your inbox.
📖 Recipe
Gluten Free Biscotti With Chocolate
Print Recipe
The BEST salted chocolate biscotti that's crisp on the outside but softer in the middle!
Ingredients
2

cups (296g)

gluten free flour blend

⅔

cup (133g)

brown sugar

packed

1 ½

teaspoons

baking powder

¼

teaspoon

salt

4

tablespoons (57g)

unsalted butter

cold, cubed

⅓

cup (85g)

unsweetened applesauce

3

tablespoons

vegetable or canola oil

1

teaspoon

vanilla extract

2

ounces

dark or milk chocolate

melted

pinch of

sea salt
Instructions
Preheat oven to 350°F and line a baking sheet with parchment paper. Set aside.

In a medium bowl, whisk the flour, brown sugar, baking powder, and salt together. Cut the butter into the mixture using a pastry blender or two knives, until a crumby dough forms.

2 cups (296g) gluten free flour blend,

⅔ cup (133g) brown sugar,

1 ½ teaspoons baking powder,

¼ teaspoon salt,

4 tablespoons (57g) unsalted butter

Add the applesauce, oil, and vanilla extract into the dry ingredients and stir. The dough will be slightly dry.

⅓ cup (85g) unsweetened applesauce,

3 tablespoons vegetable or canola oil,

1 teaspoon vanilla extract

Transfer the dough to the prepared baking sheet and, using slightly moist hands, form the dough into a rectangular log and flatten slightly (it should be about ¾ in. thick). Bake for 25 minutes.

Remove sheet from the oven and allow to cool for 15 minutes, then slice diagonally into individual pieces. Flip each piece so that it lays flat on its side. Place back into the oven for 12 minutes. Remove, flip each piece, and bake for another 8 minutes. Cool completely before drizzling with melted chocolate and sea salt.

2 ounces dark or milk chocolate,

pinch of sea salt
Nutrition
Related Recipes You Might Like