Jump to Recipe
These homemade gluten free graham crackers are one of my absolute favorite snacks! They're so easy to make and taste so much better than the store-bought kind, with delicious honey flavor and that perfect crisp texture. Plus, they're made without eggs!
If you ask me, one of the challenges of newly diagnosed food allergies is the realization that so many nostalgic treats are now potentially out of reach. Not only are you adjusting to a new lifestyle, you're having to accept that you'll be saying goodbye to some of your favorites.
But I'm here to tell you that you DON'T have to give up graham crackers and s'mores. Because I'm on a mission to prove that gluten free and eggless baking can be Just As Tasty, and that includes alll the classic, traditional goodies.
Just like my gluten free circus animal cookies, these gluten free graham crackers are a nostalgic recipe for me, and the homemade version is SO much better than anything you can get at the store.
Jump to:
Why You'll Love This Recipe
There are endless possibilities! You can snack on these crackers, use them for toffee, grind them up to make a graham cracker crust, or make s'mores.
It's just so easy. I'll walk you through the whole process, but it really is much simpler than you might think.
That delicious flavor is everything. There's the perfect amount of honey, brown sugar, and just a bit of cinnamon.
Ingredient Notes and Substitutions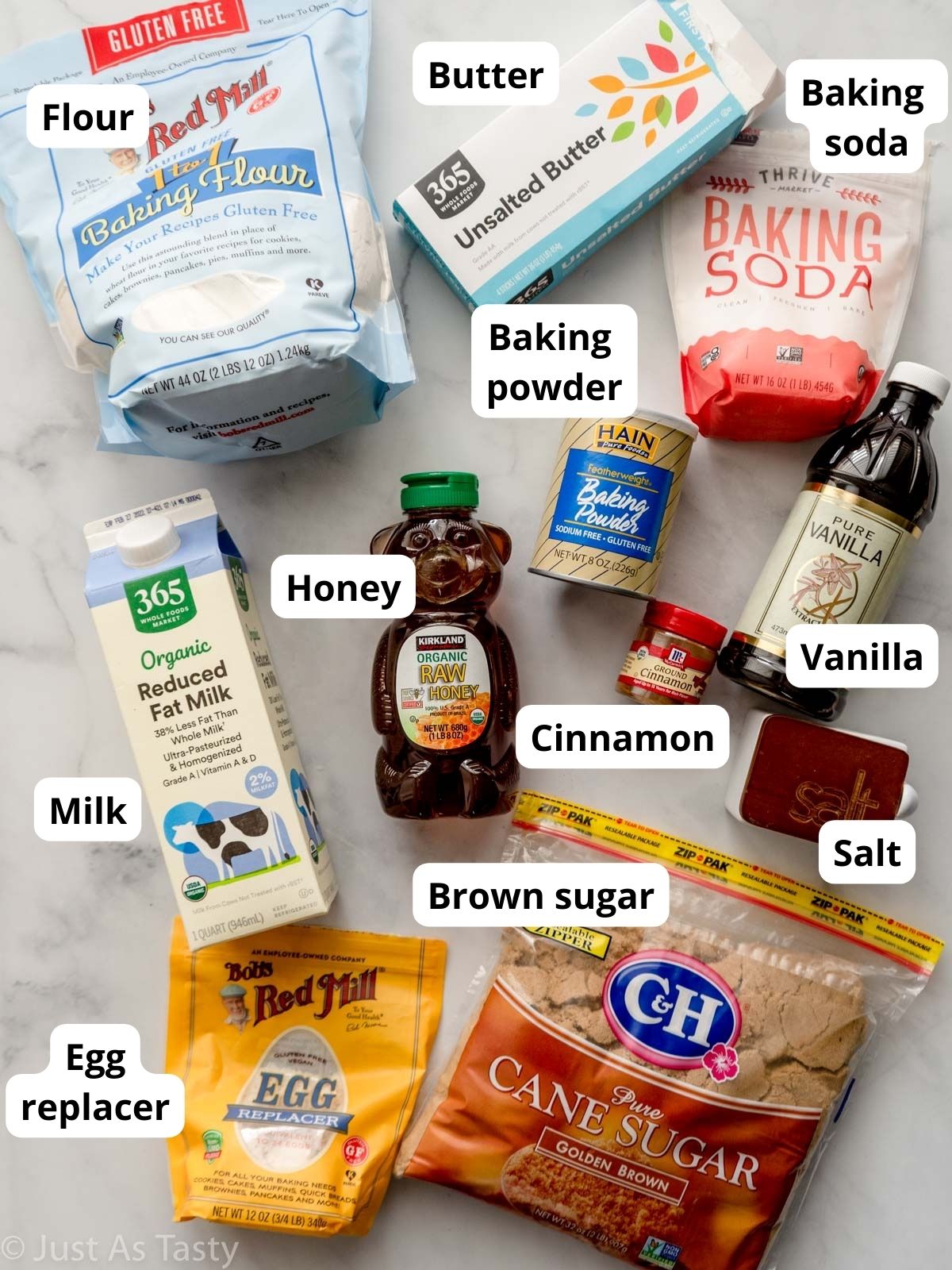 Gluten free flour: My favorite gluten free flour blend is Bob's Red Mill 1 to 1 and I recommend this flour to everyone I know! Any GF flour blend should work, just make sure it contains xanthan gum.
Cinnamon: You can leave the cinnamon out if you're allergic or don't care for cinnamon flavor... but I will say, that little bit of cinnamon definitely takes these to the next level!
Egg replacer: I love this Bob's Red Mill egg replacer so much! Make sure to follow the directions on the package. You'll mix the powdered egg replacer with water and let it sit for 1-2 minutes to thicken. If you're not looking to make these graham crackers without eggs, go ahead and use 1 egg instead of the egg replacer.
Milk: You can really use any kind of milk for this recipe.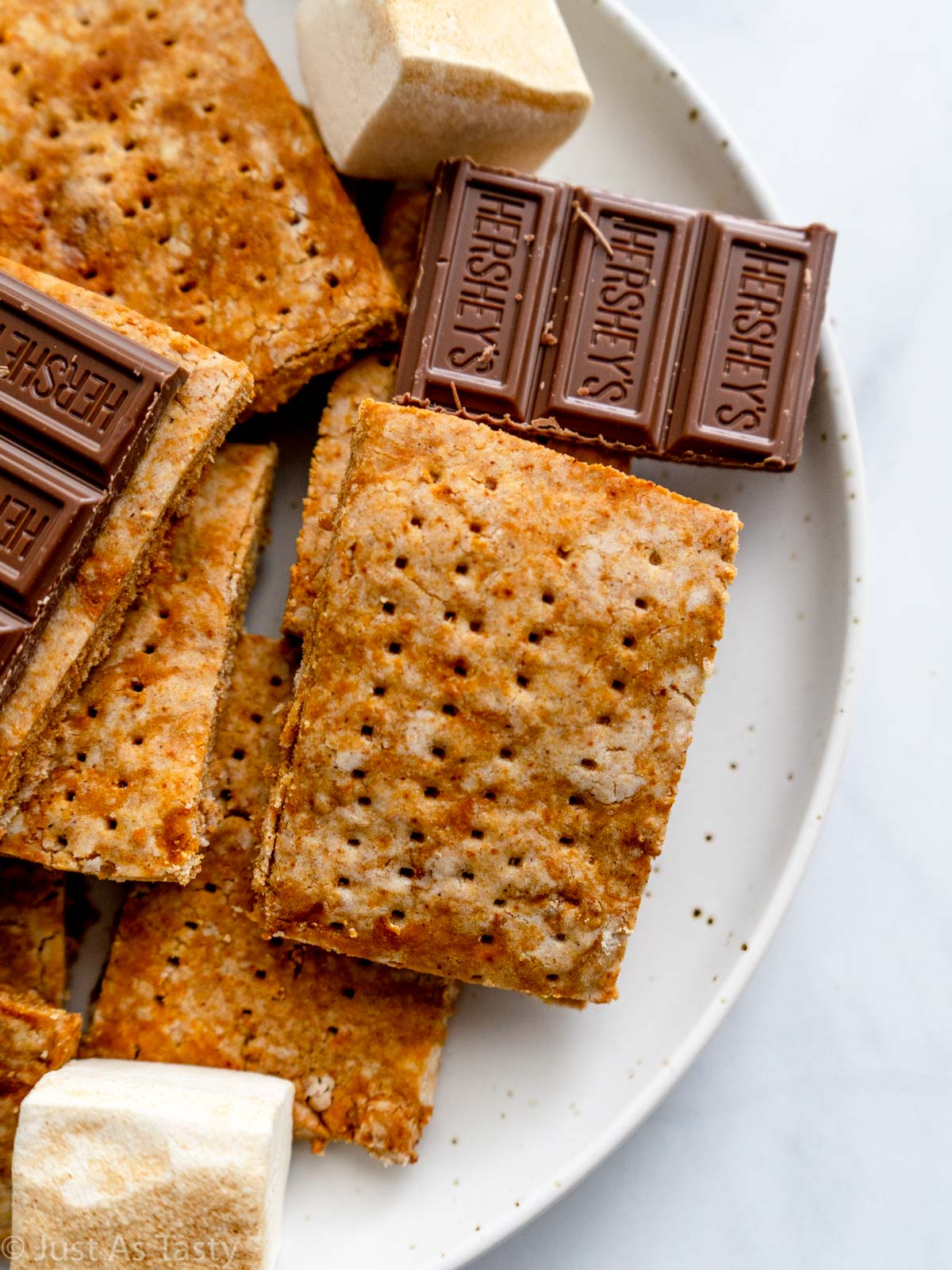 Step-by-Step Instructions
STEP ONE: Whisk the dry ingredients together. In this particular recipe, we're actually adding the sugar to the dry ingredients. So, you'll want to combine the flour, brown sugar, baking powder, baking soda, cinnamon, and salt in a large bowl.
STEP TWO: Add the wet ingredients. Add the melted butter, honey, milk, egg replacer, and vanilla extract and stir until it's all combined. You should end up with a very soft dough.
STEP THREE: Wrap the dough and chill. Form the dough into a round disc, wrap tightly in plastic wrap, and chill in the refrigerator for 1 hour.
STEP FOUR: Roll and cut the dough. We're going to roll the chilled dough out to about ¼ inch thickness. Then, cut out rectangles that measure about 3 inches by 4 inches. This doesn't need to be exact, just get it close enough. Gather up any scraps of dough and re-roll to use it all up.
STEP FIVE: Transfer, score, and bake. Transfer the rectangles over to a lined baking sheet. Use a knife to lightly score each one down the middle, widthwise. Use a fork to lightly prick a pattern all over the surface of each rectangle. Bake for 15-18 minutes, or until the cookies are golden. Allow them to cool for 10 minutes before transferring to a cooling rack.
Expert Tips
As always, I recommend using a scale to weigh the flour. This is the best way to ensure accuracy, as not all gluten free flours are created equal. You'll need 296 grams of flour for this recipe.
The chill time is important! The dough is soft and chilling helps bring it all together and makes rolling much easier.
I like to use my pastry mat any time I'm rolling out cookie dough. It keeps my counters clean and is helpful for measurements, too.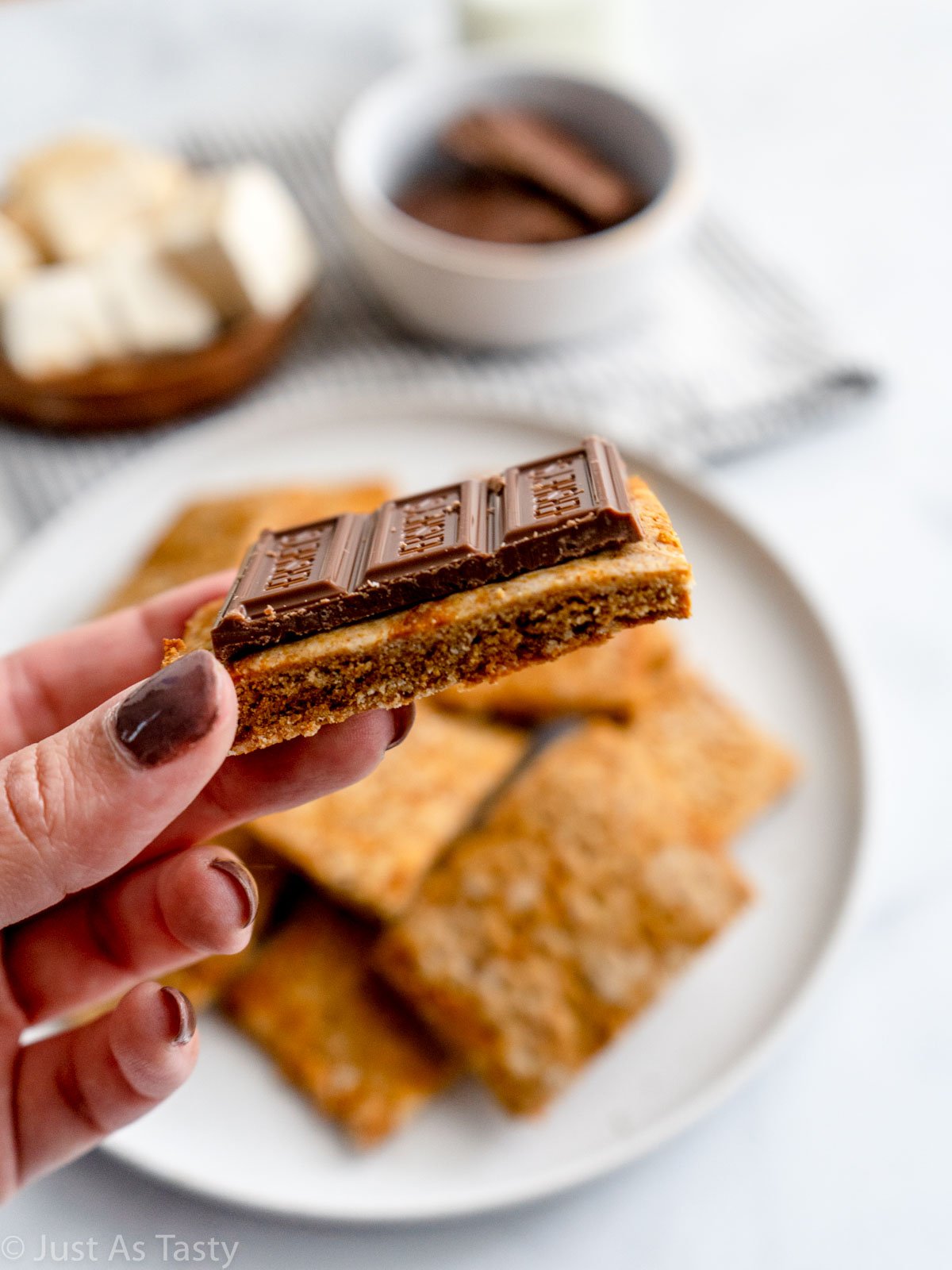 The bake time for this recipe is 15-18 minutes, but I recommend checking in at the 15-minute mark because all ovens are different (and many are inaccurate). The crackers should be golden in color. These cookies are meant to be slightly soft but still crisp enough to break down the middle. For a slightly crispier graham cracker, let yours bake for closer to 17-18 minutes.
You can choose not to score your graham crackers before baking. This is purely for looks and I think it's just fun to make them look like the classic cookies.
Serving Suggestions
It goes without saying that you can use these to make gluten free s'mores! Or you can use this recipe to make a gluten free graham cracker crust (you may want to double the amount of crackers you're making).
Here are some of my favorite recipes that you can use the crust for: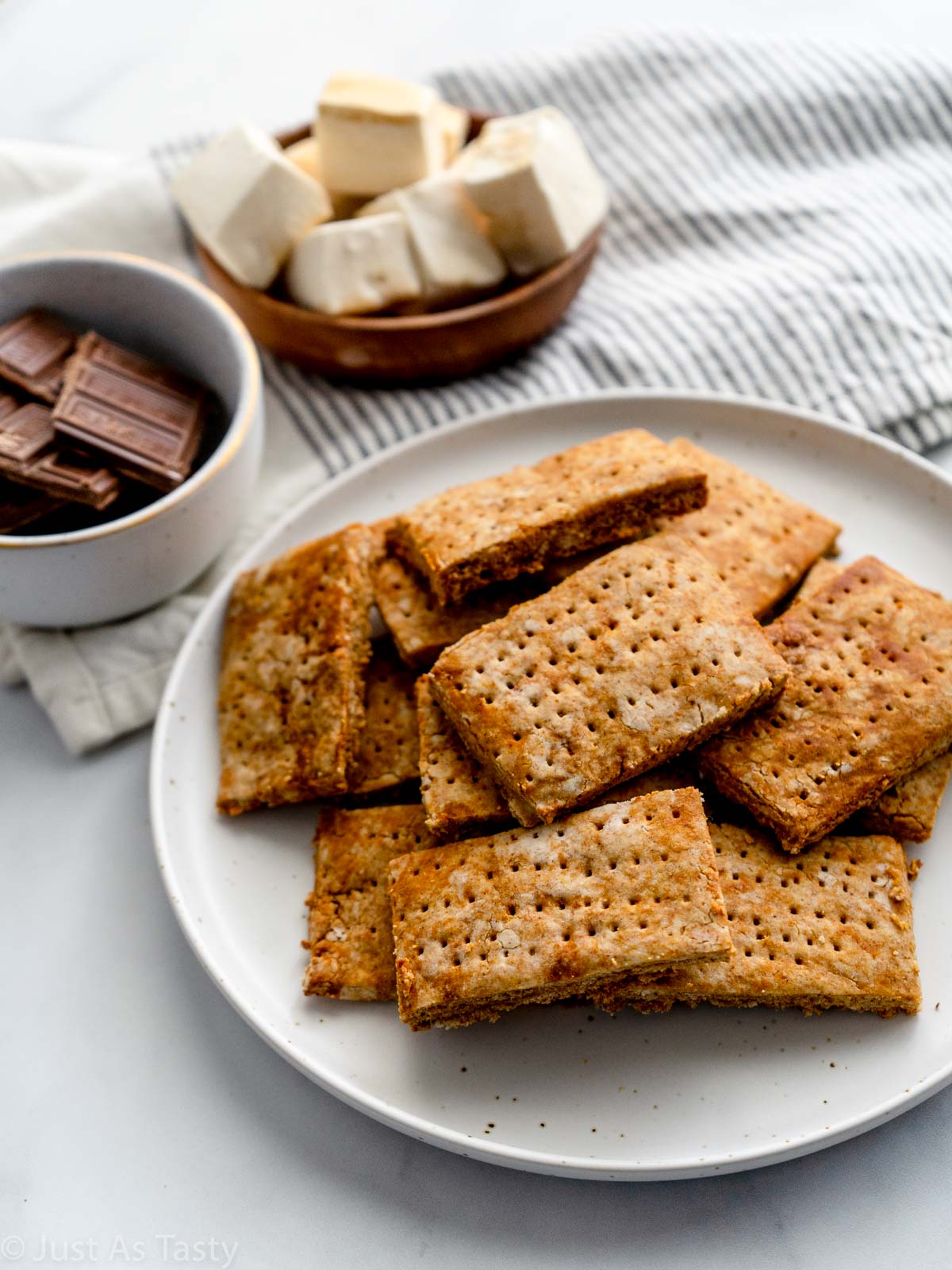 Frequently Asked Questions
Are graham crackers gluten free?
Most store-bought graham crackers are made with wheat flour and therefore are NOT gluten free. There are some gluten free options out there, such as Pamela's.
How should I store gluten free graham crackers?
You can store these crackers in an airtight container at room temperature.
Can graham crackers be frozen?
Yes! You can wrap baked graham crackers tightly in plastic wrap and freeze. You can also freeze the dough to bake later.
Can I make these graham crackers vegan?
To make these graham crackers vegan, you would need to use non-dairy butter and milk. You would also need to swap the honey with molasses. I haven't tested this myself.
Did you make my homemade gluten free graham crackers? Leave me a comment below or tag me on Instagram @justastastyblog and #justastastyblog! And don't forget to subscribe to get new recipes right in your inbox.
📖 Recipe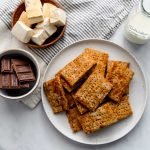 Easy Homemade Gluten Free Graham Crackers
Print Recipe
These delicious gluten free graham crackers are so easy and packed with honey and cinnamon flavor!
Ingredients
2

cups (296g)

gluten free flour blend

¼

cup (50g)

light brown sugar

packed

½

teaspoon

baking powder

½

teaspoon

baking soda

½

teaspoon

cinnamon

¼

teaspoon

fine sea salt

6

tablespoons (85g)

unsalted butter

melted and cooled to room temperature

¼

cup (85g)

honey

2

tablespoons

milk

room temperature

1

tablespoon

Bob's Red Mill Egg Replacer

mixed with 2 tablespoon water

½

teaspoon

vanilla extract
Instructions
In a large bowl, whisk the flour, brown sugar, baking powder, baking soda, cinnamon, and salt together. Add the wet ingredients and stir until combined. The dough should be soft.

Form the dough into a round disc and wrap tightly in plastic wrap. Chill for 1 hour.

Preheat the oven to 350°F. Line 1-2 baking sheets with parchment paper and set aside.

On a lightly floured surface, roll the dough out to ¼" thickness. Use a knife to cut out 3"x4" rectangles. Gather any scraps and re-roll as necessary. Transfer each rectangle onto the prepared baking sheet. Use a knife to score each rectangle down the center, widthwise, then use a fork to lightly prick the surface of the cookies to create the classic graham cracker look.

Bake for 15-18 minutes, or until the cookies are golden in color. Allow the cookies to cool on the baking sheet for 10 minutes before transferring to a cooling rack to finish cooling. Once the cookies have cooled completely, snap each one in half along the line you created.
Notes
Feel free to use whole milk or reduced fat milk. 

Be sure to follow the instructions on the package of Bob's Red Mill Egg Replacer. Once mixed with water, the egg replacer must sit for just a few minutes to thicken.

If you are not looking to replace eggs, you should be able to use 1 egg instead of the egg replacer.

When scoring the crackers, make sure not to slice all the way through. You just want to create a light line on the surface to replicate the look of classic graham crackers, and to easily break the cookies in half when they're finished. Same with pricking with the fork - do this gently and don't go all the way through to the bottom of the cookie. 
This recipe should yield about 8 full sheets of graham crackers or, when you break each one in half, 16 smaller graham crackers.
Nutrition
Related Recipes You Might Like