Jump to Recipe
This strawberry jam cake is so buttery and delicious, you'll have everyone asking for seconds! It's got a bit of a crust on top, so it's almost like an irresistible cookie cake.
Okay, are we ready for a super easy and irresistible single-layer gluten free cake recipe? This cake might seem simple and basic at first glance, but it features a layer of sweet strawberry jam spread right in the center, so you get a bit of that delicious jam filling in every bite.
The sweet strawberry flavor works SO well with this buttery cake. You simply have to try it to know what I'm talking about!
Jam is one of those things we seem to always have in our fridge. We love mixing some in with buckwheat or oatmeal, using it to make my cream cheese thumbprint cookies, or spreading on homemade pancakes.
This one took me a couple of tries, simply because I used the wrong pan the first time. I opted for a round cake pan and, not only was it harder to get out, I did experience a bit of overflow.
So it was back to the drawing board! I used a springform pan the second time, which ended up being perfect. It made for a much cleaner presentation and, because my springform pan is quite a bit deeper than the round cake pan, no spillage! Yay!
Jump to:
Why You'll Love This Recipe
It's such a soft and buttery cake, and the layer of jam really gives it that extra something.
You don't need to worry about decorating! The cake is delicious on its own and doesn't require any frosting... but you can always top it off with a light dusting of powdered sugar.
You likely have all of the ingredients on hand already.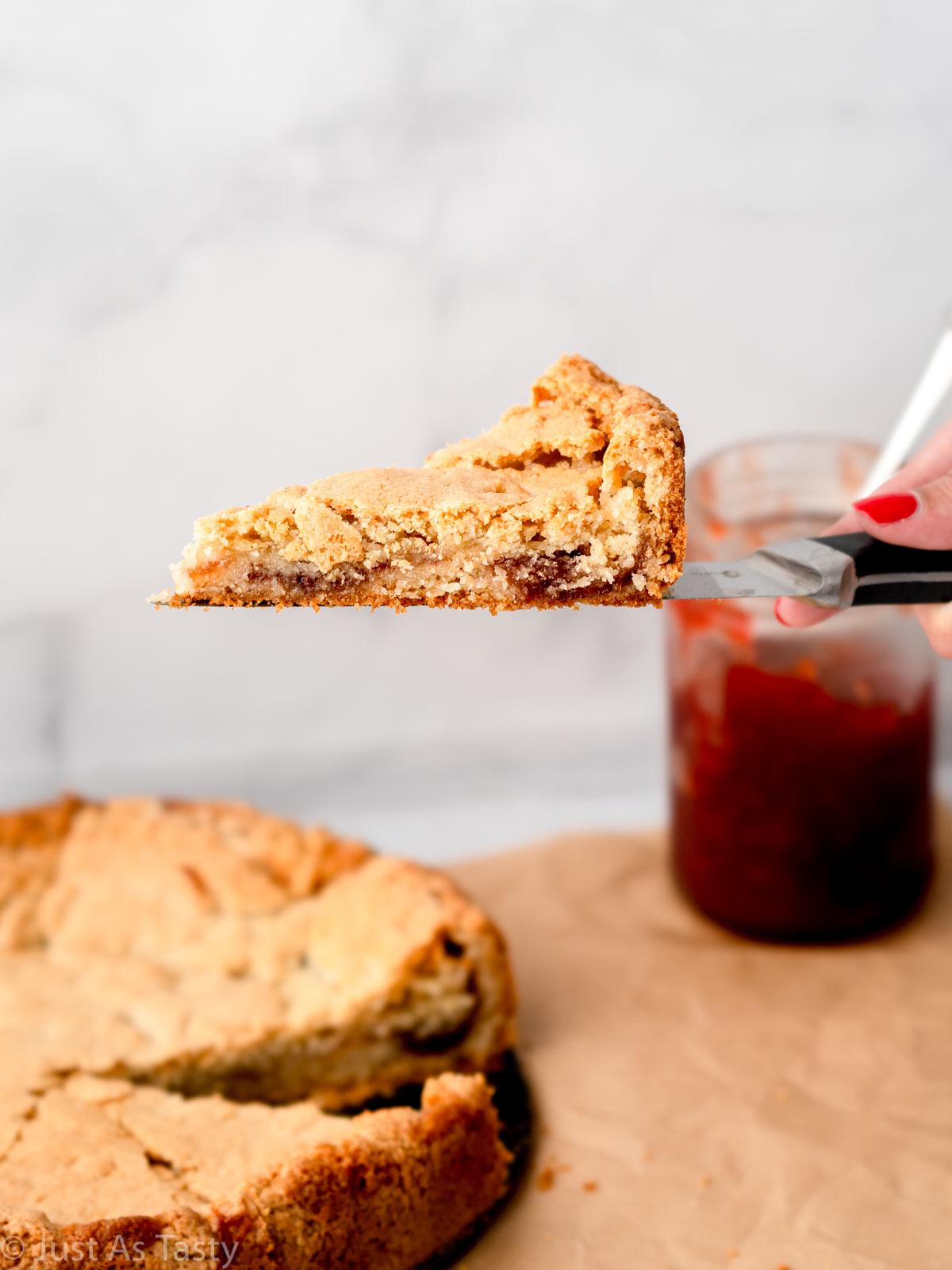 Ingredient Notes and Substitutions
Gluten free flour: My favorite gluten free flour blend is Bob's Red Mill 1 to 1 Flour. Unless otherwise noted, this is the flour I use to develop and test all of my recipes. Whatever blend you are using, be sure it contains xanthan gum. And, because this is a cup for cup flour, you should also be able to swap in all purpose flour if you're not looking to make a gluten free jam cake cake.
Greek yogurt: I love using Greek yogurt as an egg substitute in cakes! It adds so much great moisture and helps bind everything together. Be sure to use plain yogurt. I like to use 0% or 2%, both work just as well.
Strawberry jam: While you could totally use homemade jam here (how delicious would that be!), I went the easy route and used store-bought. I always go for organic jam, made without corn syrup or any weird artificial ingredients.
Step-by-Step Instructions
STEP ONE: Like many recipes, you will start by combining your dry ingredients first, then set that aside.
STEP TWO: Cream the softened butter with the sugar.
STEP THREE: Mix in the vanilla and yogurt until it's all well combined.
STEP FOUR: Add in the dry ingredients while mixing on low speed. This batter is thick, since we're not adding any milk or other liquids... but don't be alarmed! This is a dense and buttery cake, so the thick batter is to be expected and perfectly normal.
STEP FIVE: Now, pour ⅔ of the batter into a lightly greased springform pan. Spread your favorite berry jam on top, then pour in the rest of the batter.
STEP SIX: Bake on 350ºF for about 40-45 minutes. Be sure the cake has cooled completely before attempting to remove it from the pan.
Expert Tips
My top baking tip is always to use a scale to weigh the flour, if possible. This is the best way to ensure accuracy. Too much (or too little) flour will impact the texture of this cake. We'll need 333 grams of flour for this recipe.
Don't worry if the top layer of batter doesn't cover the jam completely. It will spread as it bakes and should cover up any pockets of jam that might be peeking out.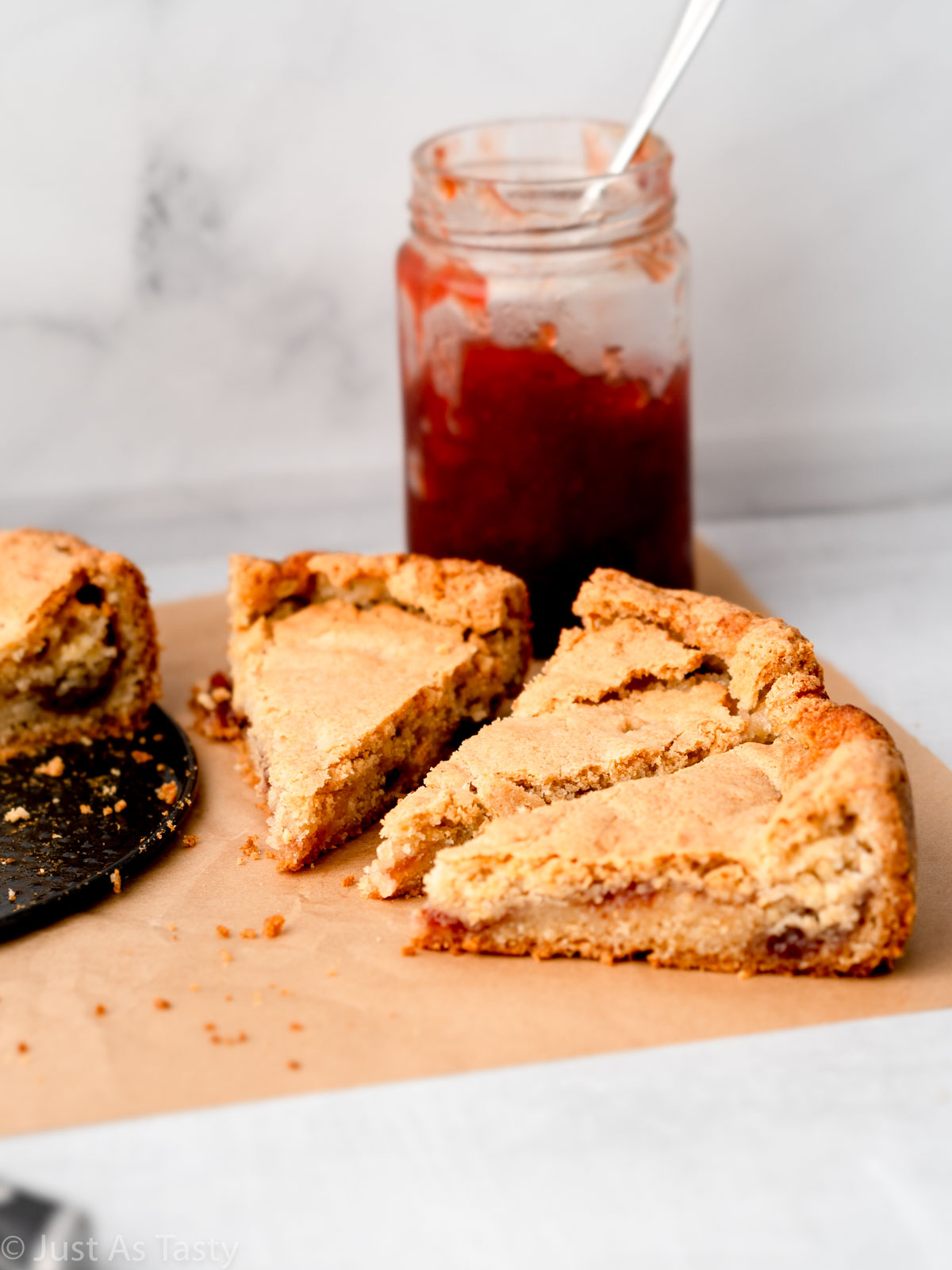 Frequently Asked Questions
Can I use any kind of jam for this jam cake?
Absolutely! While I'm partial to strawberry jam, you can use any fruit jam you like.
How should I store this strawberry jam cake?
You will want to store this cake in the refrigerator, in an airtight container. This cake is delicious both cold AND warm, so feel free to bring to room temperature or slightly warm up in the microwave before serving leftovers.
Did you make my strawberry jam cake? Leave me a comment below or tag me on Instagram @justastastyblog and #justastastyblog!
📖 Recipe
Easy Strawberry Jam Cake (Gluten Free)
Print Recipe
A beyond buttery cake filled with a thick layer of sweet berry jam right in the center!
Ingredients
2 ¼

cups (333g)

gluten free flour blend

2

teaspoons

baking powder

½

teaspoon

baking soda

½

teaspoon

salt

¾

cup (170g)

unsalted butter

room temperature

1 ½

cups (300g)

granulated sugar

1 ½

teaspoons

vanilla extract

¾

cup (168g)

Greek yogurt

room temperature

⅔

cup (226g)

seedless strawberry jam
Instructions
Preheat oven to 350°F. Lightly grease an 8" springform pan.

In a small bowl, whisk together the flour, baking powder, baking soda, and salt.

2 ¼ cups (333g) gluten free flour blend,

2 teaspoons baking powder,

½ teaspoon baking soda,

½ teaspoon salt

Using a hand mixer or a stand mixer fitted with the paddle attachment, cream the butter with the sugar until combined. Add the vanilla extract and yogurt and mix. Stir the dry ingredients in on low speed until just combined. The batter will be thick and slightly sticky.

¾ cup (170g) unsalted butter,

1 ½ cups (300g) granulated sugar,

1 ½ teaspoons vanilla extract,

¾ cup (168g) Greek yogurt

Transfer ⅔ of the batter into the prepared pan. Spread the berry jam on top of the batter, then spread the remaining batter on top. Don't worry if the batter doesn't cover the jam completely. Bake for 40-45 minutes or until a toothpick inserted into the center of the cake comes out clean. Cool completely before removing from pan.

⅔ cup (226g) seedless strawberry jam
Notes
If you are not following a gluten free diet, you should be able to substitute all purpose flour.
Nutrition
Related Recipes You Might Like