Jump to Recipe
These air fryer cinnamon bites are so quick and easy to make. They're perfectly soft on the inside yet crisp on the outside, and full of delicious cinnamon sugar flavor!
The inspiration behind this particular recipe is kind of all over the place. I started out wanting to make air fryer churros. When I was putting pen to paper, though, I started thinking about tapioca flour. I happened to have some on hand after whipping up Brazilian cheese bread (SO good, by the way) and I realized that I just love the chewy texture tapioca flour lends to baked goods.
So there you have it. I decided I wanted to make cinnamon bites, inspired by churros and Brazilian cheese bread. And I wanted to make them in the air fryer. And that's where this recipe came from!
I've been loving my air fryer and use it a ton to make dinner, so you better believe I'm also dabbling in air fryer dessert recipes (see: air fryer apple fritters, air fryer cookies, and air fryer French toast)! It's just so much easier and healthier than deep frying. You don't have to worry about dealing with oil, and most of them are super easy to clean, too. Can you tell I'm a big fan?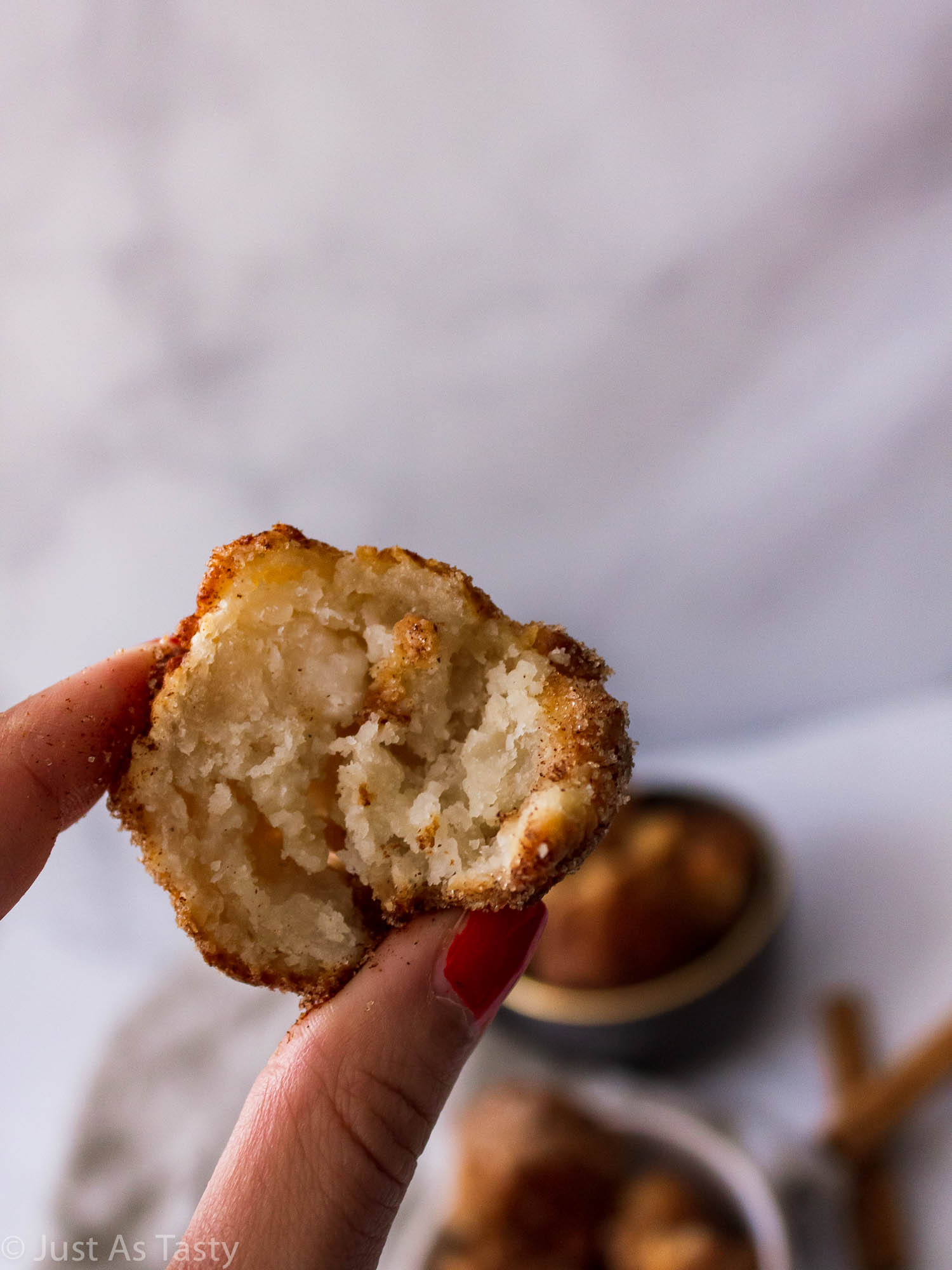 Why You'll Love These Cinnamon Bites...
If you're a fan of warm churros (and really, who isn't?!) then you will absolutely love these little guys.
The texture is so perfect. The outside is nice and crisp, but then the center is softer and almost a little chewy, thanks to the tapioca flour.
They're SO easy! The chill time requires a bit of patience, but otherwise it all comes together in a snap.
What You'll Need...
Baking With Tapioca Flour...
I love using tapioca flour in this recipe because it creates a chewy yet light texture. Tapioca is a starch derived from cassava root and is a staple in many gluten free bakers' pantries. Many gluten free flour blends include tapioca flour (also known as tapioca starch).
I wouldn't recommend using tapioca flour on its own, and you certainly can't use it in my recipes as a substitute for the gluten free flour blend. Still, it's good to keep on hand as it's a great thickener for sauces and works really well in a recipe like this one, alongside the gluten free flour blend.
You should be able to find tapioca flour at major grocery stores. My favorite to use is by Bob's Red Mill.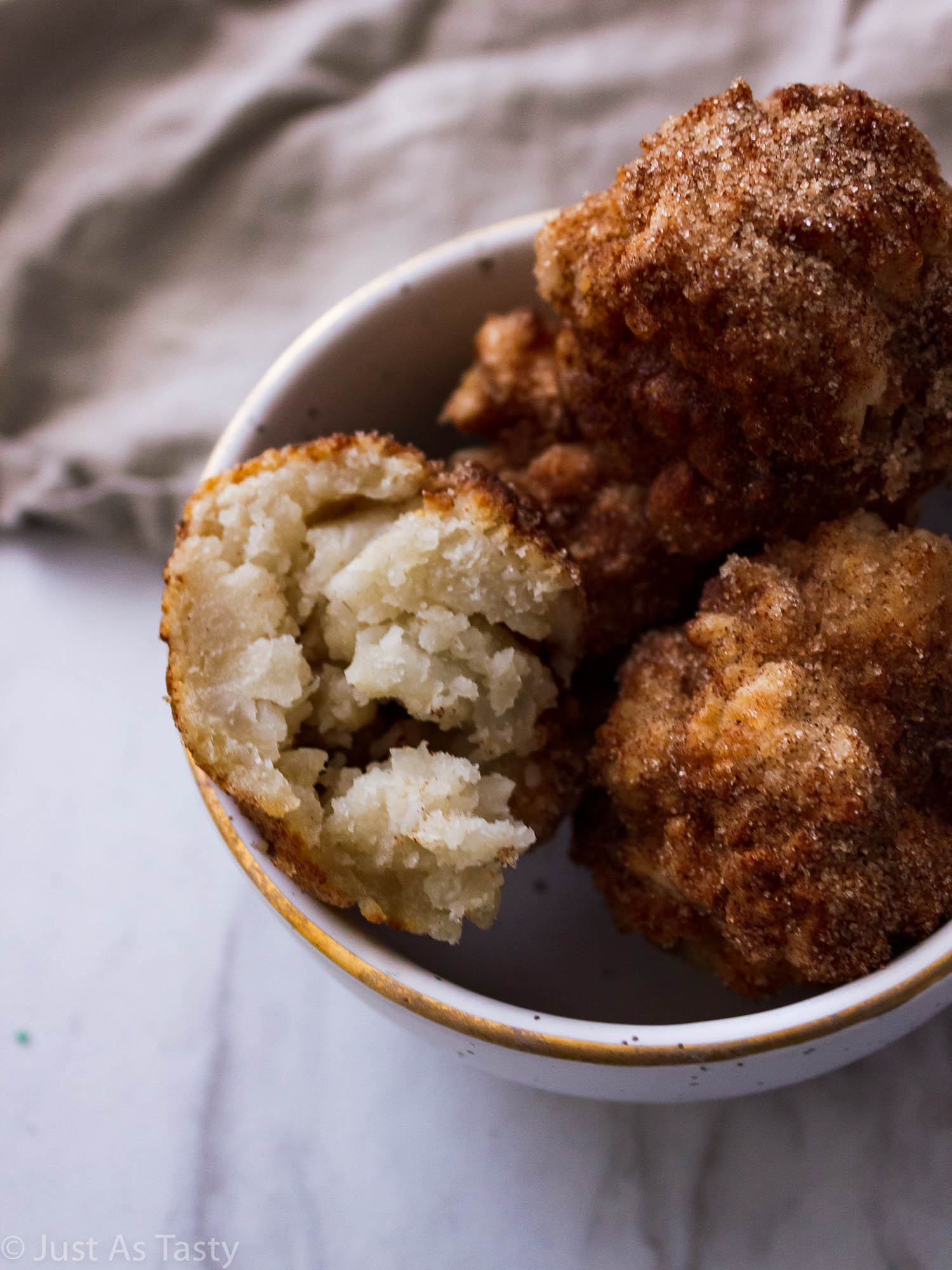 How To Make...
To make my air fryer cinnamon bites, we'll primarily be working at the stove. You'll start by heating the milk, oil, sugar, and salt in a saucepan over medium heat. Allow the mixture to come to a gentle boil, then remove from heat and immediately stir in both flours.
I recommend having both flours combined in one bowl to make this step easier. You really will want to tip the flour in right away, while the mixture is still hot.
After the mixture has cooled to room temperature, transfer it to a bowl and refrigerate for an hour. You can use this time to make your cinnamon sugar coating in a small bowl.
Once the dough has chilled, scoop out even-sized pieces and use your hands to roll into balls. The dough may be slightly greasy, which is totally normal and nothing to worry about.
Arrange the pieces of dough in the basket of your air fryer, making sure not to crowd the basket. Cook on 375ºF for about 10 minutes. Immediately after removing, while still hot, coat each ball in the cinnamon sugar.
And that's all there is to it! I highly recommend enjoying these warm 🙂 the cinnamon bites are best on the first day, while they are still fresh. I don't recommend storing and eating these beyond the first 1-2 days. While they'll still taste delicious, they start to lose that perfect texture.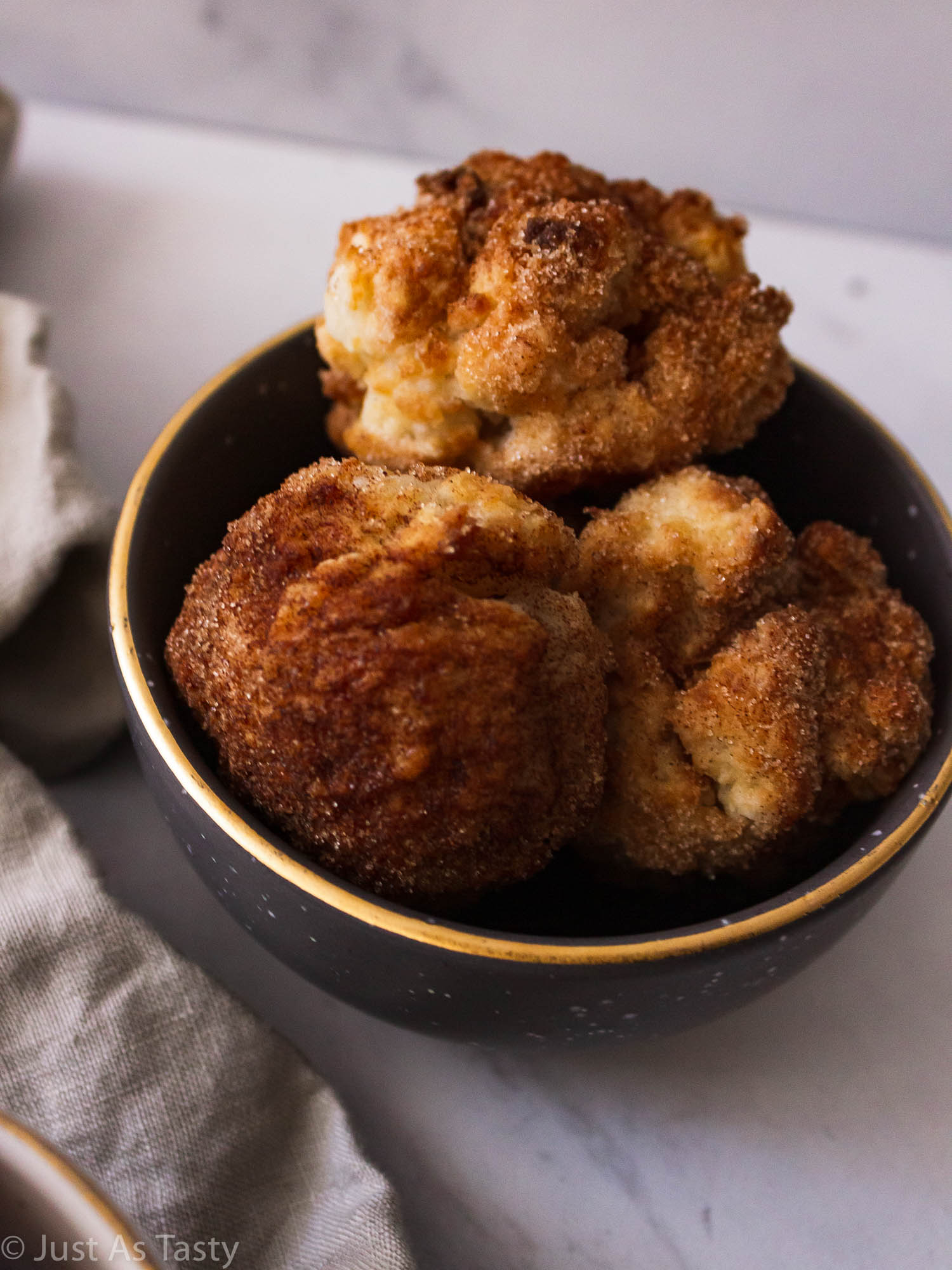 Tips For Making The Best Cinnamon Bites...
Whenever possible, use a kitchen scale to weigh your flour. This will ensure accuracy, as too much or too little flour will always alter the texture of your baked goods. You will need 111 grams of gluten free flour blend (I use Bob's Red Mill 1 to 1 in all of my recipes) and 85 grams of tapioca flour.
The chill time is very important. It allows the dough to really come together, so I absolutely wouldn't skip it.
When rolling into balls, it might seem like the dough will fall apart and not hold together. You just need to be gentle with them. They should stick after you work them with your hands a bit.
It's important not to crowd the basket of your air fryer. Depending on the size of your air fryer, you may need to work in batches. It might be tempting to get all of your cinnamon bites in there, but for best results, you want to have them all in an even layer and not stacked on top of each other.
Feel free to use more or less cinnamon sugar! It all depends on what you like, and you can go as light or heavy-handed with the coating as you want to.
Ingredient Substitutions...
I haven't tested it, but you should be able to make these dairy-free by using your favorite non-dairy milk.
Did you try my air fryer cinnamon bites? Leave me a comment below or tag me on Instagram @justastastyblog and #justastastyblog!
Just As Tasty: Gluten-Free & Eggless Baking Through the Seasons
Be sure to check out my cookbook for tons of festive and easy-to-make gluten-free treats! From Valentine's Day and Easter to the holiday season and every celebration in between, this book has got you covered.
For More Cinnamon Goodness, Check Out My...
📖 Recipe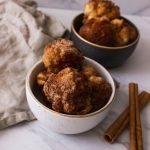 Cinnamon Bites - Gluten Free, Eggless
Print Recipe
Crispy cinnamon sugar bites that are made in the air fryer!
Ingredients
¾

cup (111g)

gluten free flour blend

¾

cup (85g)

tapioca flour or starch

1

cup (240ml)

milk

room temperature

¼

cup (60ml)

vegetable or canola oil

2

tablespoons

granulated sugar

½

teaspoon

salt
For the topping:
3

tablespoons

granulated sugar

1

teaspoon

cinnamon
Instructions
In a small bowl, whisk the gluten free flour blend and tapioca flour together. Set aside.

In a medium saucepan, heat the milk, oil, sugar, and salt over medium-high heat. Bring to a gentle boil, then remove from heat and immediately stir in the flour mixture until combined.

Allow the dough to cool to room temperature, then transfer to a bowl and chill in the refrigerator for 1 hour.

Scoop out even sized pieces of dough and use your hands to form into balls. Arrange in the basket of your air fryer. Cook on 375°F for 10 minutes.

To make the topping, mix the sugar and cinnamon together in a bowl. Immediately after removing the bites from the air fryer, coat each one in the cinnamon sugar.
Notes
The recipe may yield more or less than 12 cinnamon bites, depending on how large or small you choose to make yours. 
You may need a bit more cinnamon sugar for the topping, depending on how heavy handed you are with the coating.