Jump to Recipe
These gluten free Halloween sugar cookies are so much fun to make, and a great way to get into the Halloween spirit!
Let me just start by saying, I had so much fun working on this shoot! I LOVE Halloween and always love to go all-out. I'm not sure what it is about this particular holiday, but it's just always been one of my absolute favorites.
As a kid, I remember waiting very impatiently for my parents to get home from work so that we could go trick-or-treating in my neighborhood. And then my sister and I would sort through our loot and trade candy. What's not to love about that?
But I digress. One of my favorite things to do around any holiday is to bake and decorate eggless sugar cookies! It doesn't even matter that I am still very much working on my decorating skills -- it's fun, and it's something Matt and I like to do together as a little tradition (I bribe him to help decorate in exchange for delicious bakes).
If you've never made eggless sugar cookies, I think you're going to be pleasantly surprised. These are amazingly yummy and the texture is just like classic sugar cookies. You will need to get your hands on some egg replacer, which is luckily easy to find on Amazon, at Target, or directly from Bob's Red Mill.
Fun fact: this gluten free sugar cookie recipe was actually the first recipe I shared when I launched my blog! That should really tell you something -- this is clearly a go-to that I couldn't help but share. And if you really love these roll-out sugar cookies, you may also want to try my chocolate sugar cookies!
Why You'll Love These Gluten Free Halloween Sugar Cookies...
The endless possibilities! You can really let your creativity shine here when it comes to decorating your cookies. If you're doing this with kids, you can have even more fun with candy toppings (i.e. maybe use chocolate chips for the ghost's eyes?).
They're just so delicious. These are super tasty even if you choose to skip the icing. It's that classic sugar cookie taste you know and love, just gluten free and eggless!
The icing I like to make for these is so simple and only calls for a few ingredients. Plus it tastes better than the store-bought kind! PS - if you're a fan of iced sugar cookies, you may also want to try my circus animal cookies 😉
What You'll Need...
The dry ingredients: flour + baking powder + salt.
The fat: we're using two sticks of butter here.
The flavor: granulated sugar + vanilla.
Instead of eggs: I use my Bob's Red Mill Egg Replacer.
For the icing: powdered sugar + a bit of melted butter + vanilla + food coloring (these are my favorite).
How To Make Halloween Sugar Cookies...
I said it before and I'll say it again: I think you're going to be surprised by how easy these Halloween sugar cookies really are. To start, you will whisk the dry ingredients together in a medium bowl. Then, using your mixer, cream the butter and sugar until it's nice and smooth. Add the vanilla extract and the egg replacer and mix it all up!
Gradually stream in your dry ingredients while continuing to mix on low speed. You will want to stop the mixer and scrape down the bowl a few times here to make sure it's all nice and incorporated. If necessary, you may even need to stir by hand.
Now, split the dough up into two round discs. Place between two sheets of parchment paper and roll the dough out to about ¼ inch thickness. Cover and chill in the refrigerator for 30 minutes. I find it much easier to roll out the dough before chilling, while it's still soft and pliable.
After chilling, remove your dough from the refrigerator and use your Halloween cookie cutters to cut into shapes. As you can see, I did pumpkins and ghosts but anything goes! Witches, monsters, haunted houses...
You can collect the scraps of dough and re-roll to get as many shapes as possible. I like to make big cookies, so this recipe always makes around 16 cookies for me, but it goes without saying that this will vary based on how big or small your cookie cutters are.
Once you've cut out all of your cookies, place on a lined baking sheet (or two!) and pop back into the refrigerator for another 20 minutes, while your oven is preheating.
Bake on 350ºF for 10-12 minutes. Let the cookies cool on the baking sheet for about 5 minutes, then transfer to a wire cooling rack. Cool completely before attempting to decorate.
If you want to use the same icing as me, simply mix 4 cups of powdered sugar (make sure to sift to remove any clumps) + 2 teaspoons vanilla + 2 tablespoons unsalted butter (melted). Divide up into separate bowls for each color.
Depending on the shape, I sometimes just spread my icing on with a butter knife or spatula but you can also pipe using piping bags or a plastic squirt bottle.
Whatever you do, just have fun! That's what Halloween is all about 🙂 and for another deliciously fun Halloween bake, check out my easy Halloween cupcakes.
Did you make my Halloween sugar cookies? Leave me a comment below or tag me on Instagram @justastastyblog and #justastastyblog!
For More Gluten Free Halloween Recipes, Try My...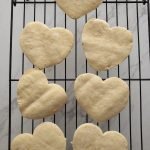 Sugar Cookies - Gluten Free, Eggless
Print Recipe
Classic vanilla sugar cookies that are both gluten free and eggless, and perfect for every occasion or holiday!
Ingredients
2 ¾

cup

gluten free flour (I use Bob's Red Mill 1 to 1 Baking Flour)

½

teaspoon

baking powder

¼

teaspoon

salt

1

cup

unsalted butter

room temperature

¾

cup

granulated sugar

1

tablespoon

Bob's Red Mill Egg Replacer

mixed with 2 tablespoon water

1

tablespoon

vanilla extract
Instructions
Whisk flour, baking powder, and salt in a medium bowl until fully combined. Set aside.

Using a stand mixer with the paddle attachment, cream butter and sugar together until combined. Add egg replacer and vanilla. Lower the speed on the mixer and slowly add in the flour mixture while continuing to mix.

Use your hands to split the dough into two large rounds. Place each round between two sheets of parchment paper and roll with a rolling pin until each is about ¼ inch thick. Cover and chill in the refrigerator for at least 30 minutes.

Preheat oven to 350°F. Use cookie cutters to cut the dough into desired shapes, then place on parchment-lined baking sheets. Chill in refrigerator for another 20 minutes.

Bake cookies for 11-12 minutes. Let cool on sheet for 5 minutes before transferring to a cooling rack and allow to cool completely before decorating.
Notes
Be sure to follow the instructions on the package of Bob's Red Mill Egg Replacer. Once mixed with water, the egg replacer must sit for just a few minutes to thicken.

If you are not looking to replace eggs, feel free to use 1 egg instead of the egg replacer.

As you can see in my photos, I use fairly large cookie cutters. This recipe always yields right around 16 cookies for me, but this will vary based on the size and shapes you are cutting.