Jump to Recipe
These gluten free pumpkin pancakes are such a fun Fall breakfast! They're soft and fluffy, and full of warm flavor, plus they're super easy to make!
I don't know about you, but I'm a big breakfast person. I look forward to my cup of coffee every morning, and I love indulging in a delicious breakfast, especially on the weekends.
So of course, gluten free pumpkin pancakes are a must for me every Fall. It took me a while to crack the code on perfect gluten free pancakes from scratch, but once I did, it was game over. Now I just love coming up with different variations.
Speaking of which, you could totally add chocolate chips to this pancake batter. It's no secret that pumpkin + chocolate is an absolutely delicious combination.
I think you'll be pleasantly surprised by how easy it is to make these pancakes from scratch. And I'm pretty sure you'll be whipping these up for dinner one of these nights, too.
Why You'll Love This Recipe
That pumpkin flavor, of course! If you are a fan of pumpkin (I know not everyone is), then these pancakes will NOT disappoint.
I love the texture, too. While gluten free pancakes might sound intimidating at first, this recipe yields super soft pancakes that are not gummy or chewy.
I said it before and I will say it one more time: they're SO. EASY. TO. MAKE.
Ingredient Notes and Substitutions
Gluten free flour: My favorite gluten free flour blend is Bob's Red Mill 1 to 1. If you use a different blend, you'll need to make sure it contains xanthan gum.
Pumpkin pie spice: This spice blend is pretty easy to find in most major grocery stores, but you can always make your own.
Pumpkin: Make sure you're using 100% pure pumpkin, not pumpkin pie filling (which also comes in a can but contains added sugar and ingredients).
Oil: I like to use canola oil here, but you can use vegetable oil.
Milk: To be honest, it doesn't really matter whether you use whole milk or a lower fat milk.
Step by Step Instructions
STEP ONE: To make my gluten free pumpkin pancakes, we'll start by combining the dry ingredients in a large mixing bowl.
STEP TWO: Give that a good whisk, then add the remaining ingredients right in. Stir just until combined, then let it be. We want the batter to sit for at least 10 minutes, but longer is better.
STEP THREE: That's basically all there is to it! Heat up a greased griddle (or frying pan), scoop about ¼ cup of batter out for each pancake, and cook 'em up.
Expert Tips
I mention this in almost every recipe, and for good reason. I highly recommend using a scale to weigh your flour. This is the best way to ensure accuracy, and too much flour will definitely change the texture of these pancakes. We'll need 296 grams of gluten free flour (I use Bob's Red Mill 1 to 1) for this recipe.
Be careful not to over-mix the batter. You want it to just come together and will likely still see some lumps, which is totally OK. Over-mixing can lead to a gummy, unpleasant texture.
When it comes to gluten free pancakes, letting the batter sit at room temperature is SO important. I've found that this step really thickens the batter and results in softer pancakes. I like to let mine sit for 15 minutes.
It goes without saying, you can make larger pancakes if you prefer. I like to do about ¼ cup of batter per pancake, which is on the slightly smaller side.
Frequently Asked Questions
Can I make these pumpkin pancakes dairy free?
For dairy free pumpkin pancakes, substitute your favorite non-dairy milk.
How will I know when to flip the pancakes?
You'll see the sides start to bubble, that's when you know it's time to flip. It usually takes about a minute on each side, on medium heat.
Did you try my gluten free pumpkin pancakes? Leave me a comment below or tag me on Instagram @justastastyblog and #justastastyblog!
📖 Recipe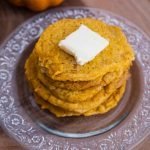 Gluten Free Pumpkin Pancakes
Print Recipe
These super easy pumpkin pancakes are so soft and packed with delicious pumpkin spice flavor!
Ingredients
2

cups (296g)

gluten free flour blend

2

tablespoons

granulated sugar

4

teaspoons

baking powder

1

teaspoon

pumpkin pie spice

1

teaspoon

salt

1

cup (240ml)

whole milk

room temperature

1

cup (227g)

pumpkin puree

2

tablespoons

vegetable or canola oil

½

teaspoon

vanilla extract
Instructions
In a large bowl, whisk together flour, sugar, baking powder, and salt. Add milk, pumpkin, oil, and vanilla and stir gently until just combined, being careful not to over-mix. Let batter sit for 10-15 minutes.

Heat a greased griddle or skillet over medium heat. Drop ¼ cup of batter onto griddle and cook until the sides start to bubble, about 1 minute, before flipping to cook the other side. Grease griddle between batches as necessary.
Notes
Be careful not to over-mix the batter. Some lumps are normal and will cook out.
It's very important to let the batter sit at LEAST 10 minutes, if not more, before cooking. This will yield the fluffiest pancakes!
Related Recipes To Try