Jump to Recipe
This easy gluten free pumpkin cheesecake is so rich and creamy, with the perfect amount of spice in both the filling AND the graham cracker crust.
Okay, get ready because I think I may have just come up with the perfect Thanksgiving dessert. I mentioned in my chocolate chip pumpkin bread post that I've never been a fan of pumpkin pie... at least not the ones you get at the store. I just always feel like there's way too much pumpkin (although maybe that's the point? ha) and the spices are too overwhelming. Enter: my easy pumpkin cheesecake.
Between the cream cheese, the sour cream, and the pumpkin puree, this super easy pumpkin cheesecake is SO creamy. I love it because the pumpkin flavor definitely comes through, but it's balanced out nicely with the tangy cream cheese and sour cream.
We're adding just a bit of pumpkin pie spice (see recipe notes about making your own blend if you don't want to buy some), of course, but not so much so that it takes over. If that makes sense?
We're actually baking this pumpkin cheesecake, and while baked cheesecakes typically require eggs for structure, we can get away with going eggless here thanks to all of that pumpkin (which technically can be used as an egg substitute, depending on the recipe).
And of course, we have that sweet gluten free graham cracker crust. I like to add a pinch of nutmeg here... again, nothing too overpowering. Just enough.
Why You'll Love This Gluten Free Pumpkin Cheesecake...
I see it as a fun take on a classic! It's way more fun than traditional pumpkin pie 😉 so I think it would be an impressive dessert to serve at a Thanksgiving dinner.
I like a good balance of flavors and try not to over-do anything. That's why, as mentioned, the pumpkin and spices are not overwhelming, but I did the same with the sugar. We're not using a ton, just enough.
The texture is SO incredible! Because we're baking this pumpkin cheesecake, the filling takes on a different texture than a no-bake cheesecake. It's deliciously thick and creamy.
What You'll Need...
For the crust: gluten free graham crackers (these are my favorite) + melted butter + a bit of nutmeg + a pinch of salt. A lot of people like to add brown sugar to their homemade crust, which is delicious, but I try not to go crazy with the sugar in my recipes and I think it's just as delicious without. Note that this just makes for a thinner crust.
For the filling: two blocks of cream cheese + sour cream + canned pumpkin puree (make sure it's 100% pure pumpkin, and not pumpkin pie filling, which contains added flavors) + powdered sugar + pumpkin pie spice + vanilla.
How To Make...
To make the gluten free graham cracker crust, first you will want to blend up your graham crackers into crumbs using a food processor. Pour into a small bowl and mix in the melted butter, nutmeg, and salt. Press the crust into the bottom of your springform pan, and use the bottom of a measuring cup to pack it in and form a nice even layer. Pop the crust into the refrigerator while you work on the filling.
To make the filling, start by beating the softened cream cheese with the sour cream until it's smooth and creamy. Mix in the rest of your ingredients and continue to beat until combined.
Pour the filling onto your prepared crust, and bake on 350ºF for about 45 minutes. Once it's out of the oven, cool the pumpkin cheesecake completely, then cover and chill in the refrigerator for at least 1 hour or until you're ready to serve. Trust me, you won't want to miss this step, as chilling the cheesecake is important in allowing it to set up properly.
Even though we baked it, the lack of eggs in this recipe means you still won't fully get the same effect as a traditional cheesecake, and that's why the chilling afterwards helps. You'll be left with a thick and perfect filling that doesn't fall apart on you when you slice. Yay!
Top with whipped cream, or nothing at all! If you do end up with leftovers (which is doubtful), store in an airtight container in the fridge.
Tips For Making The Best Pumpkin Cheesecake...
If you don't have a food processor, feel free to pour the crackers into a zipped top bag and crush using a rolling pin for the crust. Whatever works!
When it comes to cheesecake, always, always go with room temperature ingredients. Not only is it easier to beat, you'll have a nice and smooth filling.
As mentioned above, the chill time is so important here. It can be hard, I know (patience is not my strong suit) but definitely worth it!
Pumpkin Cheesecake Ingredient Substitutions...
If you can't find pumpkin pie spice, you can make your own! There are plenty of recipes online but essentially it's 2 parts cinnamon, 1 part ginger, and 1/4 part each of nutmeg and allspice.
When it comes to the crust, anything goes, really! If you have other gluten free cookies you like, such as gingersnaps, feel free to try that out.
Did you try my gluten free pumpkin cheesecake? Leave me a comment below or tag me on Instagram @justastastyblog and #justastastyblog!

For More Gluten Free Pumpkin Recipes, Check Out My: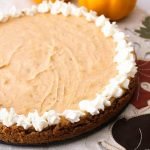 Pumpkin Cheesecake - Gluten Free, Eggless
Print Recipe
A rich and creamy Fall favorite, complete with a gluten free graham cracker crust!
Ingredients
For the crust:
7.5

ounces

gluten free graham crackers

¼

cup (56g)

unsalted butter

melted

¼

teaspoon

ground nutmeg

pinch

salt
For the filling:
16

ounces

cream cheese

room temperature

1

cup (227g)

sour cream

room temperature

1

cup (227g)

pumpkin puree

⅔

cup (75g)

powdered sugar

1

teaspoon

pumpkin pie spice

1

teaspoon

vanilla extract
Instructions
To make the crust, use a food processor to blend graham crackers into crumbs. Stir in the melted butter, ground nutmeg, and salt until combined. Press an even layer into the bottom of a 9-inch springform pan and refrigerate while you make the filling.

Preheat oven to 350°F. Using a stand mixer fitted with the paddle attachment, beat the softened cream cheese with the sour cream for a few minutes, until smooth. Add the pumpkin puree, powdered sugar, pumpkin pie spice, and vanilla extract and beat to combine.

Pour the filling onto the prepared crust and bake for 45-50 minutes. Cool completely, then cover and chill in the refrigerator for at least 1 hour (or until ready to serve).
Notes
Make sure to use blocks of cream cheese rather than the spreadable cream cheese that comes in a tub.
Do not use pumpkin pie filling -- make sure your canned pumpkin puree is 100% pure pumpkin with no added flavors.