Today I thought I would do something different here and share a round-up of 12 easy gluten free Thanksgiving desserts! As always, all of these recipes are also eggless and free of nuts 🙂
I know from personal experience how challenging holidays can be for someone with food allergies, as you try to figure out what to serve or, if you're attending a party as a guest, whether or not there will be anything there you can actually eat.
So here's my round-up of the BEST gluten free Thanksgiving desserts you can make, either to serve at your own dinner or take with you as a guest. Offering to take your own dish will not only ensure that it's 100% safe for you, it's also one less thing your host has to worry about making! I think that's a win-win.
Gluten Free Pumpkin Recipes
1. Easy Pumpkin Bread
My easy pumpkin bread may be the most moist quick bread recipe you will ever try. Plus, all of that chocolate in every bite goes so well with the pumpkin flavor!
Easy Gluten Free Pumpkin Bread
The semisweet chocolate pairs perfectly with the pumpkin and fall spices in this extra moist quick bread!
Check out this recipe
2. Pumpkin Cheesecake
This eggless pumpkin cheesecake has just the right balance of flavors. It's tangy, sweet, and pumpkin-y, not to mention beyond creamy!
Pumpkin Cheesecake - Gluten Free, Eggless
A rich and creamy Fall favorite, complete with a gluten free graham cracker crust!
Check out this recipe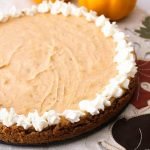 3. Pumpkin Roll
What's Thanksgiving without a good gluten free pumpkin roll? This looks like a seriously impressive dessert, but is surprisingly easy to make! Don't be intimidated -- I walk you through it all in my post.
Pumpkin Cream Cheese Roll - Gluten Free, Eggless
A gluten free and eggless take on a classic Fall favorite!
Check out this recipe
4. Pumpkin Pie Truffles
My no-bake pumpkin pie truffles take all of my favorite things about pumpkin pie, rolled up into little bite-sized treats. That rich chocolate coating is the perfect finishing touch.
No-Bake Pumpkin Truffles
Delicious bite-sized pumpkin truffles dipped in chocolate and topped with a generous pinch of sea salt!
Check out this recipe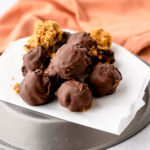 Gluten Free Apple Recipes
5. Baked Apple Cider Donuts
If pumpkin isn't your thing, let's move right along to some delicious apple desserts! These gluten free apple cider donuts are the perfect Fall treat, complete with a warm cinnamon-sugar topping.
Gluten Free Apple Cider Donuts
These baked donuts, covered in cinnamon sugar, will give you all the cozy vibes!
Check out this recipe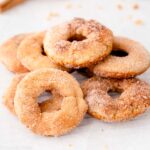 6. Simple Baked Apples
For something a little bit healthier, opt for my simple baked apples. The whole process couldn't be any easier and there's such a warm mix of flavors going on here.
Simple Baked Apples - Gluten Free, Eggless
Super easy to make and filled with the most delicious brown sugar crumble filling!
7. Apple Pie Cookies
When Matt tried these apple pie cookies for the first time, his initial reaction was: these taste like Thanksgiving. If that's not convincing enough, consider this: they're extra soft and packed with white chocolate chips.
Chewy Apple Pie Cookies
Like a slice of warm apple pie wrapped up in a soft cookie, and packed with tons of white chocolate chips!
Check out this recipe
8. Easy Apple Muffins With Caramel Sauce
My caramel apple muffins are always a hit, every time I make them. They may be small but they sure are delicious... the homemade caramel sauce topping really pushes these over the edge.
Easy Gluten Free Apple Muffins
Deliciously warm and comforting apple muffins topped with a drizzle of rich caramel sauce!
Check out this recipe
More Gluten Free Thanksgiving Dessert Ideas
9. Cinnamon Roll Cake
Cinnamon roll cake might not be the first idea that comes to mind when you think of gluten free Thanksgiving desserts, but it should be. This cake is beyond moist and bursting with flavor. It literally tastes like a cinnamon roll!
The Best Cinnamon Roll Bundt Cake
Deliciously moist and sweet, this cinnamon roll cake is sure to be a hit!
Check out this recipe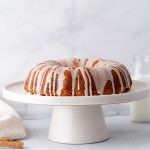 10. Maple Glazed Donuts
If for some reason my apple cider donuts weren't enticing enough, consider maple donuts instead. These really are deliciously soft and cakey, with a rich maple glaze poured right on top.
Maple Glazed Donuts - Gluten Free, Eggless
These classic baked donuts are topped with a rich maple glaze and a sprinkle of sea salt!
Check out this recipe
11. Easy Butterscotch Pie
If you're thinking about departing from traditional pies for something a little more unconventional this year, go for my eggless butterscotch pie. The shortbread crust is slightly salty and balances out the rich filling perfectly.
Easy Butterscotch Cinnamon Pie
A super easy yet decadent and delicious butterscotch pie with a gluten free shortbread crust!
Check out this recipe
12. Sour Cream Maple Cake
And finally, another delicious cake to round out this list: sour cream maple cake. I adapted a beloved recipe to make it gluten free and eggless, so you wouldn't have to do the work!
Sour Cream Maple Cake - Gluten Free, Eggless
Maple-flavored cake topped with the best maple buttercream frosting!
Check out this recipe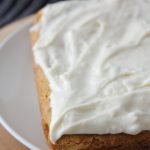 Did you try any of my gluten free Thanksgiving desserts? Leave me a comment below or tag me on Instagram @justastastyblog and #justastastyblog!
Wishing you and yours a very happy Thanksgiving!